Partnerships & Collaboration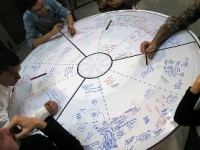 When the library builds partnerships, it strengthens the ties to its community, shares resources, and builds positive relationships with diverse stakeholders. Reaching out to initiate community partnerships begins with identifying both traditional and non-traditional partners and exploring new ways to work together. Effective collaborations are sustained through a shared commitment to serving the ever-changing needs of the community.
Photo: jenlen, CC BY-NC-ND 2.0
Community engagement
Where do you go for inspiration? Invigorate your community engagement efforts with advice from library leaders.