Small Libraries Create Smart Spaces
Overview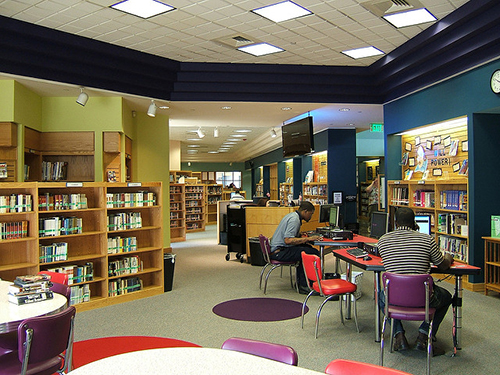 Small Libraries Create Smart Spaces is a new program that will support 15 small and rural public libraries from across the country as they reimagine and reconfigure their libraries into smart spaces. Launched in July 2016, this two-year program is made possible by a National Leadership Grant from the Institute of Museum and Library Services and is implemented in partnership by WebJunction and the Association for Rural and Small Libraries.
What's a smart library space?
Smart library spaces are places designed to meet the needs and desires of diverse communities. Smart spaces are where discovery and community intersect, fostering social connection among people of all ages by providing active learning that encourages exploration and play.
How will libraries create these smart spaces?
Each participating library will begin by reaching out to engage community members in the vision and the plan for the space. Prototypes will be created and tested with patrons, and libraries will create action plans to guide their comprehensive space and service transformations. Libraries will also gather community feedback regarding use of the spaces once they are transformed, and share case studies and resources for the wider library community to learn from. WebJunction staff and collaborating subject matter experts will guide participating libraries as they learn in-depth the many concepts and steps in creating smart spaces, using WebJunction's interactive online learning platform.
Participating libraries will be selected by the end of 2016 through a competitive application process, and begin their learning in early 2017.
How can I stay up-to-date on program activities and resources?
Program updates will be posted regularly on Facebook, Twitter and through our Crossroads enewsletter. You can also email the Program Manager Betha Gutsche at any time with questions, ideas, or feedback: gutscheb@oclc.org.
Photo: Hoover Library, Hoover, AL. Eswift (CC BY 2.0).