Small Libraries Create Smart Spaces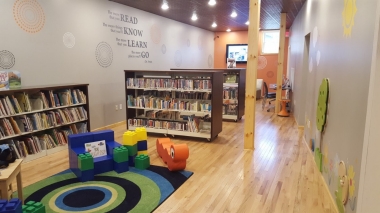 More Smart Spaces Coming Soon
We are pleased to announce that OCLC has received a supplemental IMLS grant that will allow the next iteration of the WebJunction program Small Libraries Create Smart Spaces. The original program led 15 small and rural public libraries from across the country to reimagine and reconfigure their libraries into smart spaces. The supplemental funding provides the opportunity to guide 15 more small and rural libraries through the transformation process to create smart spaces. Participating libraries will receive sub-grants to support the creation of their new spaces.
The application process will open in January 2019 for libraries interested in becoming a Smart Spaces library. Look for the announcement in the Crossroads newsletter and on WebJunction's social media channels.  
What's a smart library space?
Smart library spaces are designed to meet the needs and desires of diverse communities. Smart spaces are where discovery and community intersect, fostering social connection among people of all ages by providing active learning that encourages exploration and play. Participating libraries engaged community members throughout the process of discovering their interests and involving them in design and construction of the physical spaces and delivery of programming for active learning.
Find out how the first cohort of Smart Space libraries made space for active learning. You can do it too!
Transformation Stories: Each library created space and programming aligned with the unique nature and needs of their community. These stories capture the trajectory of each transformation in pictures and words, showing the process before, during and after implementation of the Smart Spaces process.
Smart Space Videos: These brief (1-2 minutes) videos show the highlights of a selection of Smart Space libraries.
Making Space for Active Learning Course: This self-paced learning experience will guide you through the process of rethinking and reconfiguring physical space to make room for active learning and work with your community to create new services and programs. Enroll Now!
How can I stay up-to-date on program resources?
New Smart Spaces resources will be posted on Facebook, Twitter and through our Crossroads eNewsletter. Email program manager Betha Gutsche at any time with questions, ideas, or feedback: gutscheb@oclc.org.
The program is made possible by support from OCLC and a National Leadership Grant (project number LG-80-16-0039-16) from the Institute of Museum and Library Services. The Association for Rural and Small Libraries is the implementation partner for the duration of the project; the Project for Public Spaces provided implementation support in the first round.