Public Libraries Respond to the Opioid Crisis with Their Communities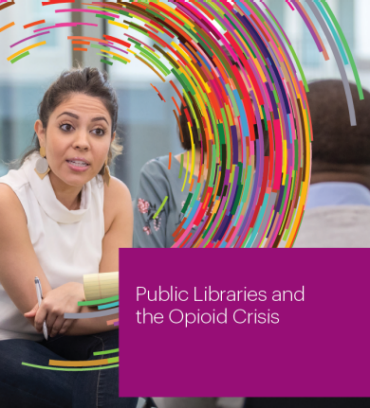 The opioid epidemic was declared a national public health emergency in the fall of 2017, the impacts of which have been further compounded by the COVID-19 pandemic since early 2020. In March 2021, the American Medical Association reported that more than 40 states indicated recent increases in opioid-related deaths and, as before the pandemic, rural areas continue to be impacted heavily. Recent provisional data from the CDC National Health Statistics Center show that between April 2020 – 2021, opioid overdose deaths increased by 28%, from 78,056 to 100,306.
To support libraries choosing to respond to the opioid crisis, WebJunction is developing a set of free online resources that staff at public libraries can use to determine how their library can address opioid use disorder in their local communities through an IMLS National Leadership Grant. This initiative will help strengthen and support libraries—and, more broadly, the communities they serve—as the nation continues to struggle with the opioid crisis.
The resources developed through this initiative will include pragmatic strategies, tools, and other content to help guide libraries—particularly those in rural areas—as they determine their specific communities' needs and define the roles and activities their library is most suited to carry out. These resources will help libraries assess their staff strengths and capacity, identify key local partners with whom to collaborate or coordinate, and plan and implement an initiative that contributes to ending the opioid crisis.
The project is designed to lead to these outcomes:
Provide professional development for the library workforce that helps to build the knowledge, skills, and confidence needed to respond to the opioid crisis in their community.
Produce a free, well-tested set of practical resources for responding to opioid use disorder that WebJunction will host sustainably and promote widely to the library field.
Collect and share stories from up to 15 libraries that use the resources to plan and lead a project that addresses opioid use disorder in their communities. 
Previous work:
This initiative builds on OCLC's IMLS-funded study, Public Libraries Respond to the Opioid Crisis with Their Communities (2018-20), and will provide libraries with resources that align with five recommended areas for action that emerged from that project:
Evaluate local health data
Seek community partners
Educate staff and community members on the issue
Consider staff care need
Offer programs and services that support local needs
Learn more about the previous project's findings and resources at Public Libraries and the Opioid Crisis
The program is made possible by support from OCLC and through a National Leadership Grant (project number LG-250082-OLS-21) from the Institute of Museum and Library Services.