Hunger and Libraries: Snacks, Backpacks and More
WebJunction
/
05 October 2017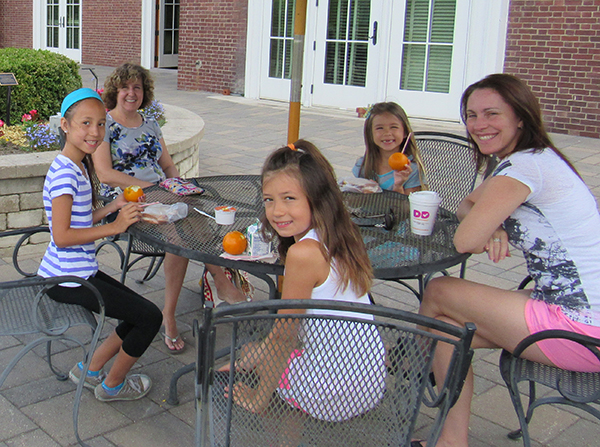 Autumn is an excellent time of year to highlight ways libraries are fighting hunger in their communities, and October is a great month to start planning for summer lunch and learning programs. This list of resources will help you explore how food insecurity is impacting your local community. We've also gathered ideas and inspiration from library staff who are teaming up with local partners to provide after-school snacks, breakfast before schools, backpacks with food to get kids through the weekend, and more.
Hungry in America?
Find out more about the problem of hunger in America by exploring resources from No Kid Hungry.
Use Feeding America's Map the Meal Gap to learn more about food insecurity and the food banks in your community.
The Food Research and Action Center (FRAC) website provides state-specific data, anti-hunger advocate contacts, and other helpful resources. Last June, FRAC issued its most recent Hunger Doesn't Take a Vacation report that features a state-by-state analysis of participation trends in summer food programs and opportunities to reach more kids during the summer months.
Read about the need for summer meal programs from California's Lunch at the Library website.
On racial equity in food systems, see Center for Environmental Farming Systems, Committee on Racial Equity in the Food System at North Carolina State University, and Food System Racial Equity Assessment Tool: A Facilitation Guide from University of Wisconsin

Practical resources to get started
Easy-to-use tools for expanding existing services and programming
Browse Youth Service America's 10 Ways to End Hunger for some inspiration and programming ideas.
Use the Hungry to Help Family Action Plan (pdf) from Feeding America to inspire and empower families with kids to take action and fight summer hunger.
The Lunch at the Library website provides practice-based resources and evaluation tools to help librarians successfully partner the lunch service with summer reading and enrichment programs.
The USDA's Summer Food Service Program website features webinars, toolkits, and a mapping tool to help determine need in the community. The Summer Meals Toolkit is a great place to start.

Ideas and inspiration from other libraries
Kids Cafe afterschool meal sites in partnership with The Seattle Public Library, King County Library System, and United Way of King County (see poster - pdf)

Chatfield Public Library's food drive for their community's weekend backpacks program
Free Lunch at the Library, New York Times, 7/30/17
Sterling library gives children food for mind, body and soul, Cleveland.com, 9/24/17
Summer Learning, Summer Library, Summer Lunch: SL3, Oregon program
Eudora Public Library in Kansas shared a simple infographic to illustrate the impact of donations to their Feeding Eudora program.

Feeding body and mind: [Toledo-Lucas County Public] Library helps feed kids in summer, The Toledo Blade, 8/7/17
Let's Move Libraries, a website collecting resources related to gardening in library programs, as part of movement-based programs. On Facebook and Twitter.
Beautiful Rainbow Cafe, a collaboration of the Gadsden City Schools, City of Gadsden, and Gadsden Public Library. See Gadsden City High School program a tasty success, 12/5/17
Further related articles and learning on WebJunction
Image: Happy participants on the patio at David A. Howe Public Library in Wellsville, NY