Toolkit for Trainers

WebJunction is providing the training materials for instructor-led Supercharged Storytimes training. The full cycle of Supercharged Storytimes training consists of 6 modules. Each module has about one hour of content, with additional resources to review and applied learning activities.
Learn more:
Overview of Supercharged Storytimes
Practitioner Learning Objectives
The Training Framework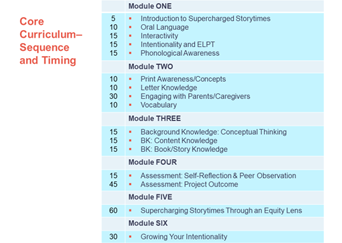 The overarching framework for the full 6-module cycle of Supercharged Storytimes training is an online learning community, which is the locus of the learner experience. Learners will look to this virtual classroom to find:
the syllabus
course materials and assignments
login information about live sessions
and engage with each other over the duration of the cycle through forum discussions and other peer communication modes

The training sequence is designed to include live sessions, which may be delivered online or (partially) in-person. Emphasizing the online learning community as the center of the training supports learners to build practice and confidence in the Supercharged cycle of planning, delivery and assessment/reflection. It also plants the seeds for sustaining peer community connections beyond the end of the training. This learning community would need to be owned and managed by the interested trainer(s).

Training Schedule Scenarios
We offer these possible scenarios for your consideration as you plan. This is not meant to be prescriptive. We strongly recommend allowing enough time in between modules (whether delivered online or in person) to allow learners to apply what they've learned, to give them time to start to build the habit of planning with the Early Learning Planning Tool, trying it out in a storytime and reflecting on how it went.
Each of these scenarios is 9-10 weeks of training:
All Online Option
The entire cycle is delivered online, starting with the launch of the online learning community and getting started activities. Each module will have a live online session.
Blended Option A
It is strongly recommended that the course begin online, orienting learners to the online learning community and delivering the content of Module One, so that learners have time to absorb that foundational information before they come to a live face-to-face session. After the f2f session, learners have time to apply the supercharged practice at work, and then return to the online community to reflect and continue with the rest of the modules.
Blended Option B
This scenario puts a face-to-face session at or near the end of the training cycle, which means at least the first three modules are delivered online. Convening the f2f for modules 4 & 5 provides the opportunity to strengthen community ties, reflect on their application of the early literacy components and the ELPT, and to introduce the more nuanced conversations about assessment and equity in person.
Trainer's Toolbox
We have assembled the materials you need to conduct a Supercharged Storytime training. For each module, you will have slide decks, scripts, outline of learning community content, handouts and relevant resources, and more.
 
---
Module One topics include:
    - Oral Language
    - Interactivity
    - Intentionality & the Early Literacy Planning Tool (ELPT)
     -Orientation to the learning community

Module Two topics include:
    - Early Literacy Planning Tool
    - Phonological Awareness
    - Print Awareness/Concepts
    - Connecting and Engaging with Parents and Caregivers
    - Letter Knowledge

Module Three topics include:
    - Vocabulary
    - Background Knowledge:
        Conceptual Thinking
        Content Knowledge
        Book/Story Knowledge

Module Four topics include:
    - Self-Assessment and Peer Observation
    - Using Project Outcome for Assessment

Module Five topics include:
    - Community Discovery
    - Collaboration and Partnership
    - Welcoming Space and Collections

Module Six Topics include:
    - Advocating for the Value of Storytimes and Libraries
    - Growing Your Intentionality
    - Sustaining Your Momentum
Supercharged Toolkit
for Trainers
---
Supercharged Course

Access the self-paced course here (You will be prompted to login to our free Catalog.)

---
Supercharged Course Facilitator Guide
---
Supercharged Library