Redefining Public Libraries in a Post-Pandemic World: Key Resources from Urban Libraries Council
Paul Negron, Director of Communications, Urban Libraries Council
/
05 July 2022
While public libraries and their communities across North America continue to grapple with the challenges caused by the COVID-19 pandemic, the collective strength of libraries continues to endure and grow. Public libraries have proven during these challenging times that they are essential community assets, and patrons and community members alike continue to hold up libraries as one of the most trusted institutions as they work together to overcome key challenges in the COVID-19 era.
ULC member libraries represent a special network of innovative leaders who are passionate about creating meaningful, positive change. The reach of their work is monumental—together, ULC libraries serve over 100 million people. One of the most amazing aspects of the work together is that it continually evolves, and ULC member libraries are leading the way in addressing structural racism, bridging digital divides, meeting the needs of under-resourced populations, and improving library services. This leadership and collaboration helped establish new models, techniques, and approaches that all libraries can utilize in leading their communities into a stronger post-pandemic future.
Strengthening Libraries as Anti-Racist Institutions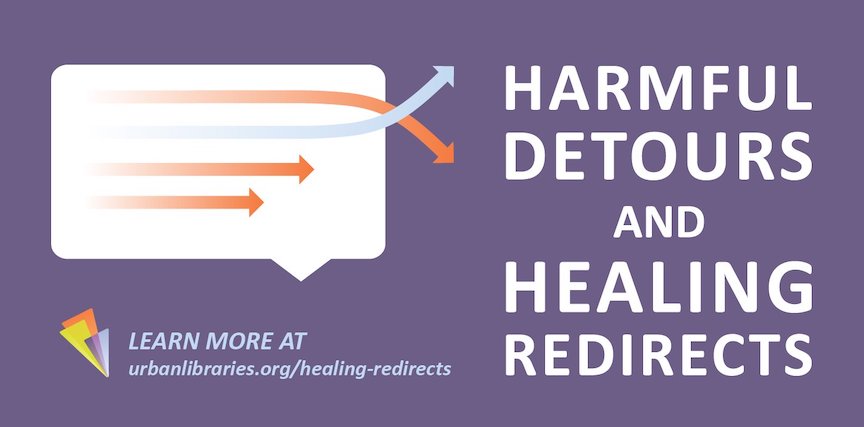 Words matter. The ways we interpret and use—or avoid using—words can make all the difference in enabling critical conversations, shaping perceptions, and building common ground for collaborative action. However, there is no set list of the "right" words to use. Addressing key trigger terms in the current media, social, and political climates, ULC's Trigger Terms: Harmful Detours and Healing Redirects framework is designed to help leaders grow alignment, surface misunderstandings, and find paths forward through difficult conversations. "Trigger Terms" are words or phrases that spur polarization and conflict due to negative connotations, misunderstandings, and competing definitions. With the language developed with the expert guidance of ULC's Anti-Racism action team, ULC's framework names these terms as well as interpretations that can derail productive conversations ("harmful detours") and suggested translations to foster mutual respect and understanding ("healing redirects").
Representing diverse perspectives from libraries across North America, ULC's Anti-Racism action team is dedicated to identifying and helping to create actionable steps and key resources that can help all libraries achieve tangible, immediate progress in shaping an anti-racist future. Leaders on this action team are committed to dismantling structural racism and advancing race and social equity to ensure a more inclusive, just, and equitable future for our communities.
Libraries and leaders can leverage the ULC's Trigger Terms: Harmful Detours and Healing Redirects to:
Define key terms for use in policies, MOUs, strategic plans, and other documents or web pages.
Structure conversations and self-reflection among staff teams and program participants.
Build alignment and shared language with partners such as government and school leaders.
Provide talking points to prepare staff for challenging conversations with external and internal stakeholders.
Building the Future STEM Workforce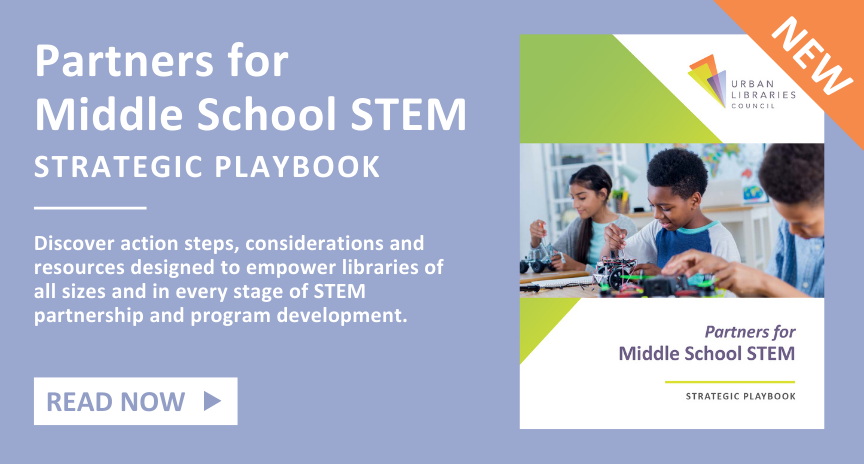 As engines for workforce development, race and social equity, technology access, and lifelong learning, public libraries have a unique and pivotal role to play in actively fostering stronger STEM education outcomes in their communities. Science, technology, engineering, and math (STEM) will define tomorrow's economic health, and fostering a STEM-ready workforce is vital to the future of every community. ULC published two robust new resources that empower all public libraries as STEM education leaders and serve as launchpads for helping libraries of all sizes step up as intentional and active STEM education leaders in order to build a more equitable future for everyone.
ULC's Partners for Middle School STEM Strategic Playbook guides library teams in building successful programs and cross-sector partnerships to advance inclusive and robust STEM learning environments for low-income middle school youth. Complementing the Strategic Playbook, ULC's Building the STEM Workforce: Quickstart Toolkit is designed to orient libraries who are new to this work with strategies for short-term, sustainable progress, as well as resources for deeper exploration.
Reducing Barriers to Equitable Learning Opportunities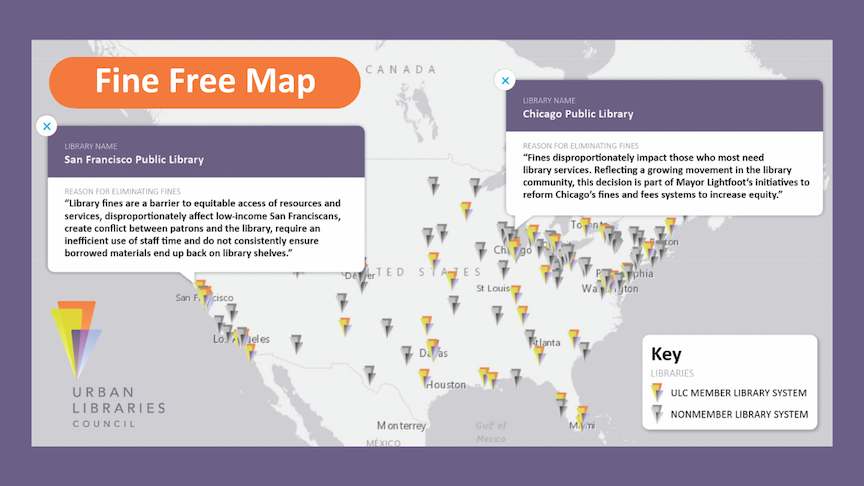 Collecting fines for overdue books at public libraries has been a constant practice for more than a century. The intent was originally seen as a way to collect revenue and encourage patrons to return books. However, over the years, late fines have disproportionately impacted low-income populations and children.
Increasingly, libraries are now eliminating fines and fees even before the onslaught of COVID-19. By going "fine free," libraries reduce barriers for patrons to learn—and research shows that late fines are not effective at encouraging returns.
ULC has been tracking this conversation closely for nearly four years, launching a Fine Free Map in October 2018. The interactive map, which is updated weekly, offers an overview of libraries that have gone fine free (ceasing or limiting their use of overdue materials fines) across North America, including providing notes and links to policies on why the library made the change. Now, nearly 500 libraries are listed on the Fine Free Map, which includes 75% of ULC library members.
The push to go fine free comes from the understanding that libraries provide much more than books. Patrons rely on their local branches for everything from free Wi-Fi to résumé help, which are more essential than ever in the pandemic. Blocking patrons from these resources during an economic crisis does not help the community in the long run.
Strengthening Libraries as Entrepreneurial Hubs
Public libraries continue to serve as an essential resource for entrepreneurs and a core component of local entrepreneurial ecosystems. Library leaders must become more intentional about implementing programs that support local economic development goals in an effort to reach under-resourced entrepreneurs who are most in need of guidance and encouragement.
ULC's Closing the Entrepreneurship Gap: Tools for Libraries toolkit offers strategies and resources to help libraries level-up as entrepreneurial hubs, including navigating a post-COVID world. Updated regularly, the toolkit helps library leaders recognize their unique assets and capacities to create hubs for entrepreneurship. These targeted strategies help libraries advance equity and community economic health by increasing support for all entrepreneurs and particularly for women, people of color, immigrants and veterans.
To learn about the work of ULC libraries and access more resources like those shared here, please visit ULC's website -
urbanlibraries.org
.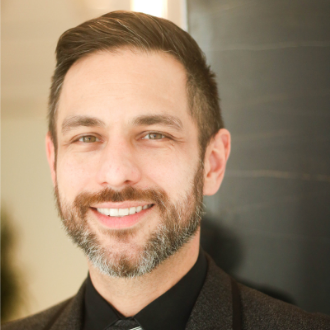 Paul Negron (he, him, his), leads the development and management of ULC's communications strategies, messaging and branding. An experienced storyteller for local, state and national audiences, he has a proven track record of driving communications and social media strategy. Prior to joining ULC, Paul served as the public affairs specialist for the D.C. State Board of Education. He holds a Bachelor of Arts in communications from Washington and Lee University and a master's degree in public relations and corporate communications from Georgetown University.