The Future Is Now: Virtual, Augmented, and Mixed Reality in Public Libraries
This webinar will highlight how two Maryland libraries are building virtual and augmented reality programming.
This event has passed.
Libraries have long been at the forefront of providing community access to new technologies. Virtual, augmented, and mixed reality (VR/AR/MR) are now finding a place in library programming and services, engaging with communities in truly innovative ways. Two Maryland libraries are building their programming with straightforward approaches to community discovery and local partnerships. Join us to hear creative ideas for how to get started using VR/AR/MR at your library, as well as practical tips about applications, equipment and potential uses to meet your community's needs.
Presented by: Jen Bishop, Online Services & Emerging Technologies Supervisor, Carroll County Public Library; and Liz Sundermann-Zinger, Virtual and Media Services Manager, Baltimore County Public Library
Access Recording
Webinar Attachments
Related Resources and Links
For those using the Collaborative Summer Library Program 2019 theme of Space, AR/VR is a great addition. Check out:
Videos:
Platforms and links referenced in chat and presentation:
Date
23 January 2019
Time
3:00 PM – 4:00 PM
Eastern Standard Time, North America [UTC -5]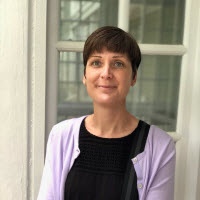 Webinar presenter Jen Bishop



Webinar presenter Liz Sundermann-Zinger