Think Outside the Library with a Sidewalk Obstacle Course
Noah Lenstra
/
11 June 2020
On June 10, 2020, a public librarian from rural Alaska posted the following information about what her library is doing for Summer 2020, to the Programming Librarian Interest Group on Facebook:
"I have moved all my programs outside this summer as well as online. I'm making the library grounds a destination for families by offering several self-led activities. They can do a StoryWalk by reading pages of kids' books posted in our windows. They can do a semi-permanent painted chalk walk obstacle course, and then a scavenger hunt for specially painted honeybee rocks on the lawn and find a cool fact posted nearby. The idea was to give kids the association of fun, learning, and reading with the library even when closed."
This library, and countless others, are thinking about how they can engage communities safely by taking programs and services outside. In late May, WebJunction published Thinking Outside: Libraries and Placemaking in Pandemic Times. In this article, we'll continue and deepen this dialogue by zeroing in on one strategy being used by this public library in Alaska and by public libraries across the country: A sidewalk obstacle course.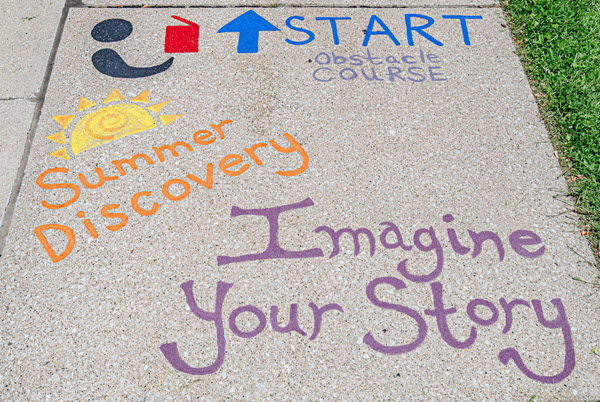 In just one month, this idea of a sidewalk obstacle course has spread through the grassroots communications channels utilized by public librarians to exchange ideas, and has become a national phenomenon. Sidewalk obstacle courses now exist in Alaska, Alabama, California, Illinois, Indiana, Nebraska, South Carolina, Florida (Lake County Library System), North Carolina, Pennsylvania, Ohio, Oregon, South Dakota, Texas, Washington, Wisconsin (see also flyer from Independence Public Library), (and probably even more states we haven't captured!) and it has also spread to Canada, with British Columbia's Coquitlam Library asking "Up for a challenge? Take on the Coquitlam Library Crunch obstacle course at the Poirier branch! Share photos and videos of yourself completing the obstacle for a chance to win a prize! Submit an entry by posting on social media and tagging #CoquitlamLibraryCrunch."
How did this happen? The first COVID-19 Library Sidewalk Obstacle Course that I discovered was created in early May by Jensen Memorial Library in Minden, Nebraska, which is the largest town and county seat of Kearney County (population, 2,923.) A librarian from Jensen Memorial posted the YouTube video to the Programming Librarian Interest Group on May 8, and received, as of June 11, 82 reactions and 11 comments, including "We could totally do this!!!" and "this would be fun to do on our sidewalk!"
It took a bit for the idea to percolate, but by May 14, the public library in Germantown Hills, Illinois, population 3,438, picked up the idea and posted their own YouTube story featuring the obstacle course. That same day, the director of the Illinois Prairie District Public Library, of which Germantown Hills is a part, posted the video on the listserv on the Association for Rural and Small Libraries. The marketing and events coordinator for the library, also reached out to me to share the video, which I then shared on my Let's Move in Libraries social media channels as well as on the listserv of the Association for Library Services to Children.
In a sign that great minds think alike, the next day, Alabama's Public Library of Anniston-Calhoun County posted a video on Facebook stating that "Our head of Youth Services created this great chalk obstacle course for the kids in our parking lot," and shared the video in the Programming Librarian Interest Group, generating 149 engagements and 24 comments, including "Can I make one on the sidewalk in front of the library 🙏🏻," "Fantastic! Thanks for the idea 👍," and "Love ❤️ this idea! Thank you!" and "We should totally do this on the sidewalk!"
A number of the comments on Facebook and on the listservs of ARSL and ALSC also focused on anticipated and actual challenges related to rain washing the course away. In response to this overwhelming interest, on May 19, Donna Forbis of Illinois posted a blog post on the website of the Reaching Across Illinois Library System (RAILS) describing in detail how they did the course at their small-town Illinois library. Importantly, she recommends using paint, not chalk:

"Altogether, chalking the course and painting it took about 5 hours. The craft paint covered well, so for most segments I only needed one coat of paint. The paint dried so quickly that, in most cases, by the time I was finishing painting a segment, the paint at the beginning of that segment was already dry."
Interest in these fun sidewalk activities has continued to grow, particularly in Illinois. Since Donna shared her idea, libraries in all parts of the state have started library obstacle courses, including the Peoria area, the Metro East Area of St. Louis, and the Champaign-Urbana area, among others.
Peoria's WMBD News, a CBS affiliate serving Central Illinois, sent Sports reporter Matt McClain over to the Germantown Hills library to check out their obstacle course. He posted a video to Twitter of himself blasting through the course, with the message that the course was as much for adults as it is for youth. McClain states in his reporting, published in the Local Sports section of their website, that "The obstacle course is not just for kids. Adults and even sportscasters can try it out. It's been a great addition to the Germantown Hills community."
---
Noah Lenstra is an assistant professor of Library and Information Science at the University of North Carolina at Greensboro. He is an active member of the Association for Rural and Small Libraries and in 2016 started Let's Move in Libraries.
Images courtesy Plymouth Public Library obstacle course on Facebook and Woodland Public Library obstacle course on Facebook.