Outdoor Winter Programming Ideas
WebJunction
/
16 December 2020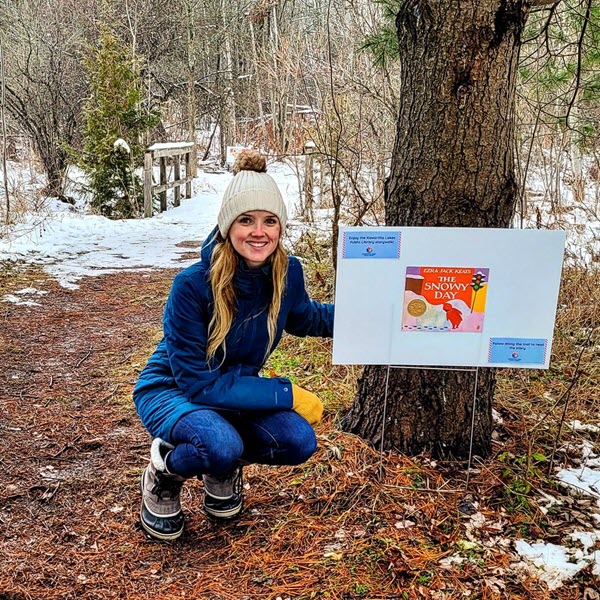 Thank you to Noah Lenstra of Let's Move in Libraries, for helping with this article.
Earlier this year, in Thinking Outside: Libraries and Placemaking in Pandemic Times, we shared how some libraries were moving library programming and services to the outdoors, as a way to stay engaged with their communities during the pandemic. And now, for those communities with colder winter seasons, libraries are looking for more outdoor ideas that can help patrons cope with online fatigue, to be physically active and healthy, and to benefit from spending time in nature (see Nature Deficit Disorder).
In a recent CSL in Session hosted by the Colorado State Library, a multitude of ideas were shared by both presenters and attendees. We're highlighting some of the innovative approaches to outdoor winter programming, but be sure to check out the webinar recording, 'Tis the season for outdoor programs (really?) as well as the collection of resources and ideas (pdf) shared during the session. The webinar explored four facets: possibilities, programs, places and partnerships.
Promote Possibilities
Begin by considering needs that could be met through outdoor programming and ways that local organizations are helping community members get outside.
Educate the community about the benefits of heading outside, especially with increased health issues related to COVID, both physical and mental. Help them get off both the couch and screen, with encouragement and information through your library's communication channels, including on social media. Sharing something like Real Simple's 49 Fun Winter Activities You Can Still Enjoy (Even During a Pandemic), is a great way to start. A webinar participant shared that their library uses social media to post updates on the best hills for sledding!
If people in your community take part in winter outdoor sports, do they need information on where to go and how to stay safe? The Fraser Valley Library (CO) hosted virtual programs in collaboration with local specialists who spoke about safety while uphill skiing and when in the backcountry, where avalanches are a concern. And Ottawa Public Library (ON) lends out winter passes for skiing, snowshoeing and snow-biking trails.
Consider highlighting materials in your collection that are about outdoor health and wellness, whether they be books, magazines, movies or other online resources. Regina Public Library (CA) posted 5 Ways to Explore Nature in Winter, with links to library resources on hiking, bird watching, identifying animal tracks, stargazing and snowflakes.
Promote other opportunities being hosted by local agencies like the YMCA, conservation groups, parks and rec departments or nearby state parks. Even if you're not formally collaborating on any of these events, helping to promote events can be a great way to build relationships for future programs, and an easy way to connect your patrons to opportunities.
Programming Ideas
Whenever library staff around the country come together, ideas multiply! There were so many ideas shared in chat and in the presentation (be sure to take a look at the slides and the collected ideas), too many to list, but here are a few examples.
Many libraries have created StoryWalk (or Story Stroll, as someone in chat suggested, to be inclusive of all abilities) opportunities for their communities. Whether using outdoor spaces or downtown shop windows, a StoryWalk can create meaningful and active opportunities for readers of all ages. Presenter Noah Lenstra has a wonderful collection of resources about creating a StoryWalk on the Let's Move in Libraries site, and in this WebJunction article, Take a StoryWalk Through Downtown with the Library.
Shared in chat, a fun idea for February, the Valentine's Day Phantom Project when, between midnight and dawn on Valentine's Day, a mysterious group of people puts hearts on businesses in downtown.
Saline County Library (AR) hosted a Small Business Scavenger Hunt in November, in conjunction with Small Business Saturday. Visiting businesses to complete the tasks on a bingo card gives patrons a chance at prizes, depending on the number of tasks completed. And Watauga County Public Library (NC) is hosting a month-long Grinch Scavenger Hunt for patrons to help the Grinch find his missing dog, Max. The hunt begins at the library and continues with clues posted on store windows throughout downtown Boone.
Programming Places
Whether stepping outside to library sidewalks, lawns and parking lots, or exploring spaces further out in the community, libraries have responded to limitations on gathering indoors with a multitude of options.
Check out Noah Lenstra's article about the many libraries who are creating a Sidewalk Obstacle Course to engage with community members outdoors, for learning, entertainment and exercise.
For those in snowy climates, use those snowy places for a snow sculpture or scarecrow competition. Extra points for literary themes! Alberta Canada's Fit For Life initiative has a fantastic resource with many ideas for physical literacy in their Move & Play Through Winter, Eh? guide (pdf). They also have a SNOWGA (yoga in the snow) poster with winter yoga poses!
Some communities are even closing off streets (for a day or for the duration) in neighborhoods to create safe gathering spaces for programming.
Partnerships
And as with most library programming and services, there are numerous likely opportunities to partner with other organizations and businesses to leverage expertise and spaces! Presenters shared a number of examples for ways to "hitch your sleigh" to an existing activity, group or organization.
Talk to local sports shops or local outdoor sports enthusiasts to share and hear ideas. Consider workshops or winter walks with experts on everything from birds to bikes.
Are there annual winter events that happen in your community? Make sure the library is a part of the planning, or perhaps you could even lead the planning for a community-wide event.
Partnerships can be with one or a few other organizations or businesses in the community, or, as we learned about in the webinar, it could be a community-wide partnership. Wintermission, a project led by 8 80 Cities, "set out to combat social isolation and increase levels of physical activity in winter for all residents, no matter their age, ability, socio-economic, or ethnocultural backgrounds."
As communities continue to contend with the pandemic, library staff are seeking new ways to serve their patrons. This collection of ideas reinforces the value and importance of sharing our successes (and how to overcome challenges). Thank you to everyone helping to keep their communities moving!