Take a StoryWalk Through Downtown with the Library
Noah Lenstra
/
11 August 2020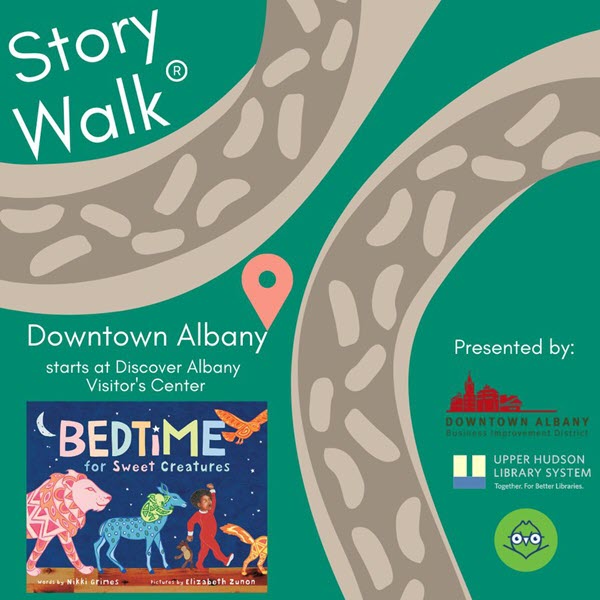 The StoryWalk® ranks among the most ingenious ideas of the last 20 years. Its beauty comes from its simplicity. It literally refers to the idea of reading a story as you walk (or roll) along a path.
StoryWalk® Origins
From humble origins in Montpelier, Vermont, this idea has spread throughout libraries across North America, and beyond. The three parties that came together to develop this program were, according to a how-to guide (pdf) put out by the Vermont Department of Libraries in May 2008: Anne Ferguson, Nancy Schulz of the Vermont Bicycle & Pedestrian Coalition, and Rachel Senechal of Montpelier's public library, the Kellogg-Hubbard Library.
To ensure that the StoryWalk® term is only used for "educational, noncommercial projects … to promote literacy" (pdf), Anne Ferguson secured a registered trademark, and she requests that all StoryWalk® projects use the following: "The StoryWalk® Project was created by Anne Ferguson of Montpelier, VT and developed in collaboration with the Kellogg-Hubbard Library."
StoryWalk® Installations and Collaborations
Any physical book that your library owns can be used for a StoryWalk. As long as you do not alter the pages in any way, you can use them as you see fit. The initial idea was to deconstruct children's books, laminate their pages, and post them along trails in parks using simple, DIY tools like garden stakes. As the project developed, different libraries have taken the concept of the StoryWalk and spun it in all kinds of different directions. Some StoryWalk programs actually focus on adult readers, including an annual PoemCity program sponsored by the Kellogg-Hubbard Library.
Anne Ferguson told me that "Rachel Senechal from the Kellogg-Hubbard Library and I contacted Wendell Berry and Mary Oliver and asked permission to use a few of their poems for a StoryWalk" as part of the annual PoemCity celebrations. "When we received permissions, we sent out a call for artists for works to accompany each line of each poem. A local calligraphy artist volunteered to write each line and a photographer donated her time in photographing each of the art works. From there we coupled a line from each poem with an art work, laminated it and posted them."
Other libraries have created permanent StoryWalk installations in which stories can be swapped out periodically. Once you have a StoryWalk installation in place, you can put in it whatever you want. In Illinois, the Urbana Free Library is working with Urbana Park District and the Urbana Arts & Culture Program to enable community members to tell their own stories on the StoryWalk. For StoryWalk® in Urbana Parks, "Read stories created by the community while you walk in the park. StoryWalk® in Urbana Parks highlights the creativity and ingenuity of our neighbors and presents it in exhibits that you can visit outside while social distancing. The stories on display at each StoryWalk® may change as new stories are submitted."
The most successful StoryWalk programs are community collaborations. WebJunction has supported such community placemaking, including at New Hampshire's Wilton Public & Gregg Free Library, who as part of their participation in Small Libraries Create Smart Spaces (pdf) worked with their community to add a StoryWalk to the library's outdoor active learning space. And WebJunction's Kendra Morgan featured the history of StoryWalk and the power of partnerships in a 2018 article, Take a Walk, Read a Book, Have an Adventure.
Taking StoryWalk® Downtown
Meanwhile, in Massachusetts, a downtown poetry StoryWalk featured poems written by adult literacy learners. Students enrolled in The Literacy Project wrote poems about food. The poems were then posted in the windows of businesses throughout downtown Greenfield, through a partnership with Greenfield Public Library.
This example from Massachusetts brings me to the main topic of this article, namely how and why public libraries work with local businesses to create downtown StoryWalk® programs. It is unknown when the first downtown StoryWalk occurred, but in 2016 Ohio's Tiffin-Seneca Public Library kicked off its summer reading program with a downtown StoryWalk. As community members walked through downtown, they read pages from the story in the windows of 14 businesses, ending up with the last page in the window of the public library.
The next year, in 2017, the Gardiner Downtown StoryWalk emerged in Maine through "a collaboration between Literacy Volunteers of Greater Augusta, Gardiner Main Street," and Gardiner Public Library, with its goals being "to encourage family literacy and introduce people to Water Street businesses."
As typically happens with good ideas, the downtown StoryWalk concept spread widely. The closure of library buildings during COVID-19, coupled with the shuttering of downtown, accelerated this trend. During 2020, I have seen libraries sponsor downtown window StoryWalks in Alabama, California, Connecticut, Illinois, Indiana, Iowa, Kansas, Maine, Massachusetts (see video too!), New Jersey, New York, both Boone and Burnsville North Carolina, North Dakota, Ohio, Oregon, Pennsylvania, Virginia, Greenbrier County and Huntington West Virginia, Wisconsin, and Alberta, Canada.
As a self-paced program, StoryWalk installations can be safely enjoyed while practicing social distancing. By installing the pages in downtown storefront windows you have the added benefit of not having to worry about people touching the different pages as they walk.
A downtown StoryWalk also builds community. Typical partners for such endeavors are Chambers of Commerce or downtown associations. Sometimes librarians just reach out to local businesses and ask them if they'll host a page. Other times that recruitment is made through the chamber. In either case, you'll want to clearly explain to hosts the ideal height at which the pages should be mounted to enable easy reading by those strolling by, including the youngest of community members. You'll typically need about 15 to 18 downtown locations to join you in the StoryWalk.
Libraries often create maps of the StoryWalk that can be printed or displayed online to help orient families to the locations of the pages. Here's an example (pdf) from Appleton, Wisconsin. Here again, you can count on your partners. This map was made by the library's partner, Appleton Downtown Inc., who also spearheaded the recruitment of local businesses. And the map above was created by Albany Public Library, New York, for their downtown StoryWalk.
The long-term benefits of a downtown StoryWalk program include the fact that you will now have working relationships with your downtown businesses, relationships that could be parlayed into enhancements to summer learning at the library, or to host community conversations about economic development. A downtown StoryWalk is yet another way the public libraries throughout the United States add value to their communities, creatively deploying their resources and expertise.
---
Noah Lenstra is an assistant professor of Library and Information Science at the University of North Carolina at Greensboro. He is an active member of the Association for Rural and Small Libraries and in 2016 started Let's Move in Libraries.