Beyond the Welcome Sign: Tailoring Immigrant Services for Success
In this webinar, learn strategies from two LJ Movers & Shakers who help new immigrants feel welcomed by library and community.
This event has passed.
There is much more to supporting immigrants and refugees than hanging out a "welcome" sign at your library. Successful programs and services are specifically tailored to meet the needs of the range of populations who may come through your doors. Hear from Movers & Shakers who work with communities to empower vulnerable and often underserved populations with a sense of belonging and self-reliance. Learn innovative approaches to identifying and celebrating immigrant leaders; how to foster networking between native-born and newcomer populations and between immigrant groups of varying national origins; how to highlight immigrant-positive narratives; and more. You'll be sure to find practical ideas among the multi-pronged strategies that these librarians have used to ensure that new immigrants really do feel welcomed by the library and the community.
This webinar is part of a series highlighting the work of recent LJ Movers & Shakers and is hosted in collaboration with Library Journal.
Presented by: Will Chan, Director of Economic Mobility for North Denver Cornerstone Collaborative and the National Western Center, City and County of Denver, and 2016 Mover & Shaker; Jamie Torres, Deputy Director of Human Rights and Community Partnerships and the Director of Immigrant and Refugee Affairs, City and County of Denver; and Sophie Maier, Immigrant Services Librarian, Louisville Free Public Library, and 2017 Mover & Shaker.
Access Recording
Webinar Attachments
Related Resources and Links
Date
11 May 2017
Time
3:00 PM – 4:00 PM
Eastern Daylight Time, North America [UTC -4]

Webinar presenter Will Chan
(Photo: Shawn G. Henry)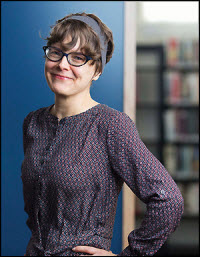 Webinar presenter Sophie Maier
(Photo: Hunter Wilson, Kertis Creative)

Webinar presenter Jamie Torres