WebJunction Collaborator Wins Public Access to Government Information Award
WebJunction
/
13 July 2022
WebJunction is thrilled to share the news that Deborah Hamilton, strategic services librarian at Pikes Peak Library District in Colorado Springs, Colorado is this year's winner of the American Association of Law Libraries Public Access to Government Information Award. (See all 2022 AALL Awards & Acknowledgements). After WebJunction's wonderful collaboration with Deb on the eviction resources, we nominated her for this award to highlight her great work with WebJunction, as well as at her library and in her community.
Through WebJunction's Improving Access to Civil Legal Justice initiative, we collaborated with numerous law librarians who were helpful in translating civil legal content for a public library audience. We have found that law librarians are interested in outreach and increasing their understanding of the services that they can offer, and were very receptive to working with WebJunction, as well as with their public library colleagues. Deb is a shining example of a law librarian who is both generous with her time and eager to help.
Our introduction to Deb came when she enrolled in the five-week online course Creating Pathways to Civil Legal Justice, where she was a knowledgeable and generous participant. It was clear that as a law librarian, she was well-versed in the material and she was literally writing the book – Helping Library Users with Legal Questions: Practical Advice for Research, Programming, and Outreach! During the course, she shared her knowledge and expertise freely with fellow participants.
When WebJunction set out to develop resources for public library staff to use to assist patrons with their eviction questions, we asked Deb to be a subject matter expert. Her experiences helping the public with civil legal information as well as her perspective as a law librarian working in a public library were particularly valuable. She was able to translate her state-specific experience in Colorado to WebJunction's national audience, including the general structures and processes, and also directed learners to find locally relevant materials, including resources from federal agencies such as the Consumer Finance Protection Bureau, the Department of Housing and Urban Development, and Legal Services Corporation. Like many law librarians, she has a robust network of colleagues to turn to for referrals or to invite to be guest speakers at the project's live online events. Her keen feedback helped us create materials that are meaningful and useful to public library staff, and she did so with a commitment to closing the justice gap in a skillful, approachable and empathetic manner.
An example of Deb's local commitment to her work came in 2018 when she met with the managing attorney for Colorado Legal Services. The conversation led Deb to host quarterly legal information sessions at the library about basic estate planning. She worked with volunteer attorneys to set up this program, which continues today. During the COVID-19 pandemic, Deb converted the trainings to virtual presentations so library patrons could continue to receive this information. Deb was a leader in the early transition to virtual platforms. When court appearances moved to a virtual platform, she spearheaded the Virtual Courtroom Program where self-represented litigants can reserve laptops in a designated room at several library locations to appear in court remotely.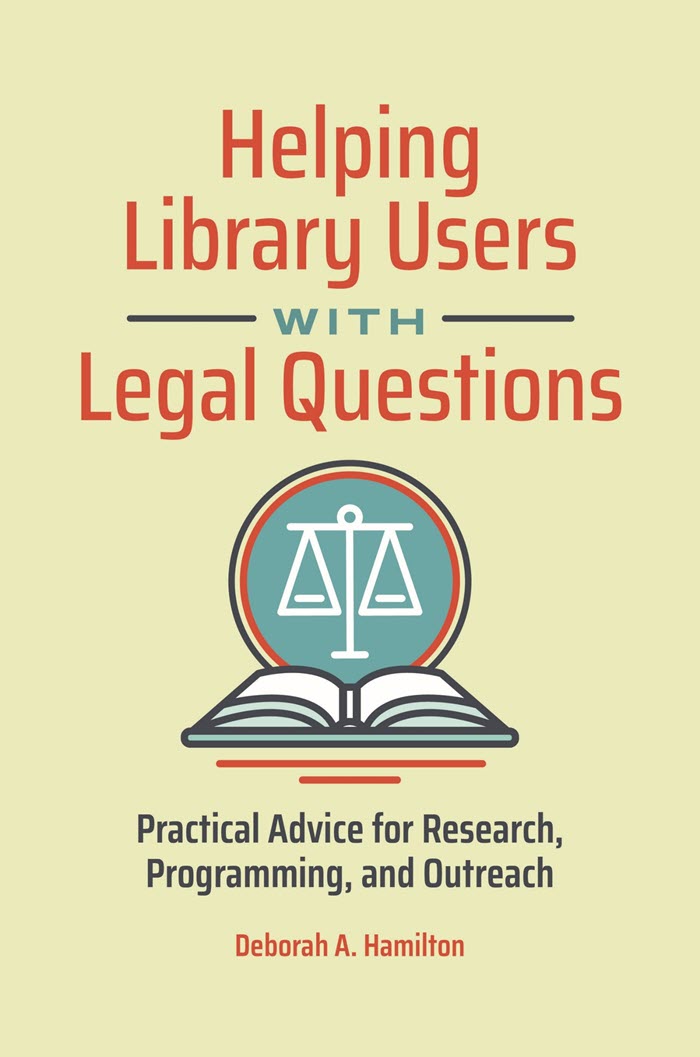 Deb has also supported planning for virtual and in person events connected to Family Law Day and Legal Resource Day, as well as activities with the Self-Represented Ligitant Coordinators group. These are just a few of the projects she has undertaken to ensure access to legal and government information is available to patrons, the Pikes Peak Region, the Colorado Library community, and the WebJunction audience. This doesn't begin to cover the number of written requests, telephone inquiries, and prisoner letters she responds to daily. Deb believes that access to information ensures an equitable result. Her ability to meet a patron at their level, listen to their story, decipher their need, and then help them find their research path, while remaining calm, patient, kind, empathetic, and factual, is a true gift.
She has brought together the legal community, the nonprofit community, and the courts in a way that has resulted in a significant and meaningful increase in access to the court system. We're delighted that Deb's willingness to share her experience and expertise with librarians, to understand best practices for access to government and legal resources, have been recognized in this award from the American Association of Law Librarians. Congratulations Deb!
What is a public law library?
Today, public law libraries are found in courts, state and federal agencies, and as stand-alone law libraries, usually organized by county. Many public law libraries participate in the American Association of Law Libraries, and specifically in the Government Law Libraries Special Interest Section. Public law libraries are typically staffed by law librarians.
Public law libraries usually focus on information useful to practicing attorneys and self-represented litigants and their collections usually include primary sources of law as well as practical guides for handling legal matters and online law databases like Westlaw or Lexis. They typically offer document delivery of resources by fax or scan, chat or phone reference, court forms, e-filing support, and services to prisoners. Some law libraries will host self-help centers and programs that provide legal clinics, lawyer in the library programs, and mediation programs.
How can I find a law library near me?
If you have not connected with your area law library, these two sites offer a place to begin:
There is even a law library of Congress whose mission is to provide authoritative legal research, reference and instruction services, and access to an unrivaled collection of U.S., foreign, comparative, and international law.
How can law libraries and public libraries work together?
Since Deb is a law librarian in a public library, her story offers some examples of how the two entities might partner. Additionally, law libraries have offered trainings at public libraries, have developed tip sheets on common patron problems, and have even provided pop-up reference at the public library. If you're interested in connecting, be bold and reach out! Law librarians are a friendly and generous bunch looking to make their services more accessible.
Learn more about legal services