Socially Connected Communities: Solutions for Social Isolation
Noah Lenstra, University of North Carolina, Greensboro
/
22 February 2022
"Far from being a personal choice, social isolation stems from community designs and systemic injustices that keep people and neighborhoods apart. We must reshape our communities in ways that support meaningful social connection among residents, improve trust between neighbors, and strengthen an overall sense of belonging and community."
A report on Socially Connected Communities: Solutions for Social Isolation published by Healthy Places by Design highlights how librarians and other leaders can work together to address this issue. The report was developed based on a series of conversations in 2020 with nearly 60 people from diverse places and organizations who candidly shared their efforts to reduce social isolation.
Libraries are mentioned throughout the report, both as vital community hubs, and as institutions deeply woven into and supportive of their communities.
Recommendations for libraries in the report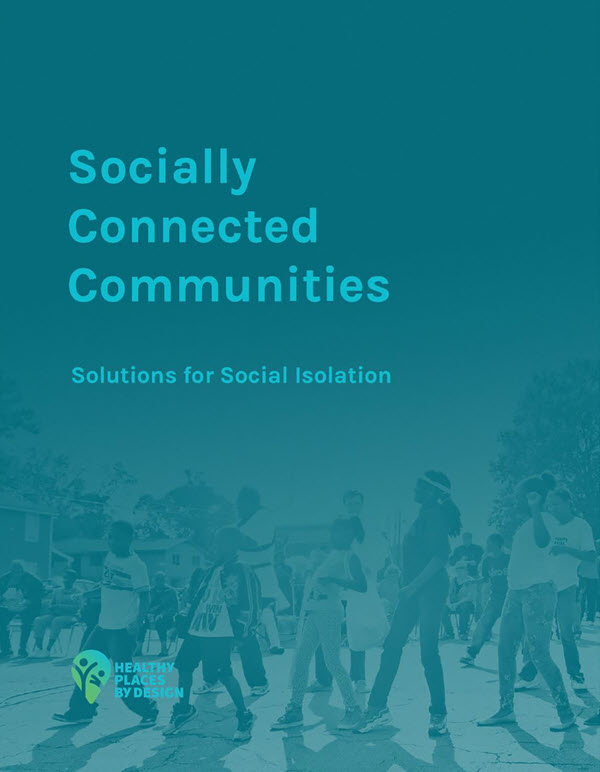 One concrete recommendation the report makes is to "Increase access to public spaces through innovative programs, such as combining library passes with free entry to art, culture, and history institutions." Library pass programs can help those access natural, cultural, and educational amenities that would otherwise be out of reach.
The report also highlights the critical importance of digital connectivity in socially connected communities, raising up how the San Jose Public Library "is making 3,000 hotspots available for 90-day check-out periods. Another 8,000 will be provided to students who need broadband connectivity."
Other library specific recommendations in the report include:
Implement trauma- and resilience-informed practices, including "designating accessible, free public spaces like libraries as safe places for vulnerable groups" and offering programs and services within those places, ideally through community partnerships
Installing Little Free Libraries near schools, parks, and bus stops
Reinforce the identity of the library as a gathering place, particularly in rural areas where there may be a paucity of other public spaces.
Action guide for community leaders
The report includes an Action Guide for Local Government and Community Leaders, which presents five recommendations. To expand on these recommendations, we're providing suggested library-related resources you can use to get started implementing these actions in your community.
1. Weave social well-being into your organizational and community cultures
How to get started: Use resources like those to be shared in the WebJunction webinar, Taking Care of Self, Staff, and Community to make social connections foundational to your work in libraries.
2. Honor community assets
How to get started: Use resources such as DePaul University's Asset Based Community Development for Libraries to learn how to foster what the report calls an "abundance-thinking lens, which lifts, celebrates, and reinforces the assets inherent in every community."
3. Implement community-led and community-based solutions
How to get started: Use resources like the Free Library of Philadelphia's Skills for Community Centered Libraries to learn how to "ensure that community residents are able to decide which specific issues and solutions matter most to them," as the report states.
4. Use a systems lens
How to get started: Get yourself and your library into the systems that shape your community! This action item states that "every sector and resident has a role to play in creating inclusive and relationship-focused places." Understanding the unique role your unique library may play in creating relationship-focused places requires getting out into the community and understanding what other sectors are doing. Get started with "A Place at the Table: Participating in Community Building" published by the American Library Association on how librarians can, if needed, "demand a place at the community planning and development table."
5. Allocate resources toward assets that strengthen connectivity
How to get started: This one is the easiest one for librarians to do! The action item states that local leaders should "Prioritize resources and funds for community assets that strengthen social connections, such as community centers, gathering spaces, libraries, parks, youth employment opportunities, and important frontline services such as mental health, housing, and substance use services." You can get started with this action item by honing your library advocacy skills, using resources like EveryLibrary's Fundamentals of Library Advocacy to ensure your library continues to be adequately funded as a vital community asset.
If you are interested in learning more about this work on Socially Connected Communities, please contact Gabriella Peterson at gabriellap @ healthyplacesbydesign.org for more information.

---
Noah Lenstra is an assistant professor of Library and Information Science at the University of North Carolina at Greensboro. He is an active member of the Association for Rural and Small Libraries and Association of Bookmobile & Outreach Services, and in 2016 started Let's Move in Libraries.