Two Opportunities to Develop Tech Skills with Geek Squad Academy and Best Buy Teen Tech Centers
Steph Harmon
/
28 November 2017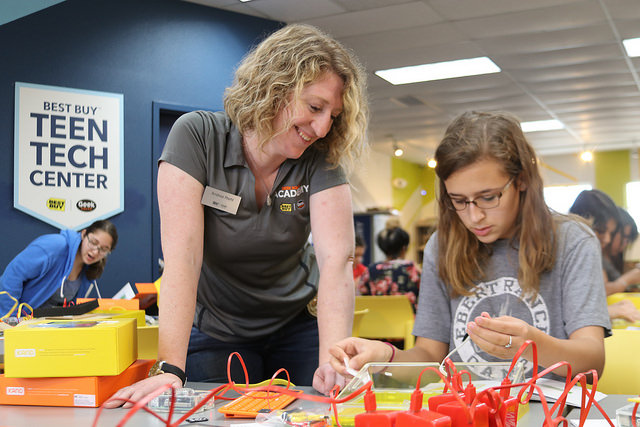 Scientific discovery and technological innovation play a major role in meeting the challenges of the 21st century. By expanding participation in STEM education, libraries are helping to prepare the next generations to meet these challenges.
Best Buy Community Relations and the Best Buy Foundation offer community support for libraries to connect underserved youth to technology education through their two signature programs, Geek Squad Academy and the Best Buy Teen Tech Centers. Both programs are currently accepting new proposals.
"Creators, not consumers": Geek Squad Academy accepting applications
Geek Squad Academy aims to give underserved youth ages 10-18 opportunities to develop tech skills that will inspire future education and career choices. "This program allows students to envision a future where they are creators, not consumers, of the technology that powers the world." Geek Squad Academy participants can explore various aspects of technology such as coding, programming, film production/photography, 3D design, digital music, and digital citizenship.
Eligible organizations across the country may apply to host a Geek Squad Academy event. Applications are currently being accepted through February 1, 2018. Learn more about Geek Squad Academy here and for questions about the Geek Squad Academy, contact [email protected].
Teen Tech Centers expanding, accepting proposals in six new cities
Best Buy Teen Tech Centers are places where teens can develop critical skills through hands-on activities that explore programming, filmmaking, music production, and design. Each location works to bridge the digital divide by providing access to tech education opportunities, relationships that help to build confidence, and a foundation for school and career success.  
Since 2012, Best Buy has partnered with The Clubhouse Network to bring Best Buy Teen Tech Centers to nearly 20 U.S. cities, including one at the Hennepin County Library.
Teen Tech Center grant recipients are awarded funding for renovation and construction, technology equipment and furniture, as well as staffing funds to establish a safe after-school place for teens to learn about technology through project-based experiences.
Building on the success of the current Teen Tech Centers, they will be bringing new centers to twelve additional U.S. cities in 2018. The application process is now open for six of these cities. Organizations that are currently serving teens in Detroit (MI), Hartford (CT), Houston (TX), Indianapolis (IN), Milwaukee (WI), or St. Louis (MO) and have an interest in providing underserved youth with a creative, innovative learning environment with access to high-end technology are encouraged to apply.
Learn more and also view the recording of a recent webinar about the application process at Start A Best Buy Teen Tech Center. The RFP closes on December 21, 2017. If you have any questions, or would like to have more information about Teen Tech Centers, please email [email protected].

Image used with permission from Best Buy.