We're Not Complete Without You: A Collaborative Puzzle Art Project
Paula Wagner, Reference Services Manager, Barberton Public Library (OH)
/
23 March 2021
As libraries continue to look for ways to create meaningful community connections during the pandemic, it was exciting to see this wonderful idea shared in the Programming Librarian Interest Group on Facebook. Thank you to Paula Wagner, Reference Services Manager at the Barberton Public Library in Ohio, for outlining how she implemented a collaborative puzzle art project.
Like many of the ideas gathered from the Programming Librarian Interest Group on Facebook, I had previously seen someone else post (thank you to that person!) about a successful puzzle project at their library. It seemed like the perfect program to engage with the community, especially during times of social distancing for the pandemic—something simple yet impactful, independent yet collaborative. Patrons and staff decorated and embellished 48 different puzzle pieces and I attached them to a plywood backing, and the piece now hangs in our library, across from the reference desk.
Preparing the Puzzle Canvas
To begin, I bought two large 48-piece floor children's dinosaur puzzles (much like this one) that measures 2' x 3' when assembled. [Note: I recommend buying two identical puzzles in case anyone loses their puzzle piece.] I then assembled the puzzle, which is 6 pieces tall by 8 pieces wide. I then marked each of the pieces with both a letter, A through F, and a number, 1 through 8, to indicate their grid letter/number position in the puzzle, for instance, C-2. This shows the patron which way is "up" and to account for the direction the piece will be displayed, which is especially important if they include words or images that need to be viewed in a specific direction. And it also made it easy for me to reassemble when the pieces were returned! The final step in preparing the puzzle is to prime each piece with flat white spray paint, spraying over the puzzle's original image.
Bring on the Artists!
We created an announcement for the project (see announcement) and shared through our social media channels and on the library's website. Here's the information shared in the invitation to participate:
Attention Artists & Crafters: Please join us for a collaborative art project! As we continue to practice social distancing for the safety of our community, it's important to remember that we are in this together, even if we are separate. Join other BPL patrons in creating a large 48-piece wall puzzle (24" x 36") to be displayed in the library. Stop by the Reference Desk to claim a blank puzzle piece and decorate that piece in a way that represents you as an individual. Limited pieces are available; one piece per person. For adults and teens aged 16 and up.
I placed one puzzle piece and a half-sheet with instructions (see instructions) into a zip-lock bag. Patrons could come to the Reference Desk to request one. Their name, phone number, and puzzle piece number were recorded on a numbered sheet on a clipboard. This is very important in case pieces don't come back. And it's a good thing I had purchased two puzzles, because three patrons lost their pieces! We provided a month for patrons and staff to create their puzzle pieces, and return them to the library. The instructions also included these simple rules for participating:
For adults and teens aged 16 and up.
You may paint/Sharpie, decoupage, attach 3D embellishments, etc., but do not decorate the edges or alter the shape of the piece.
No profanity, politics, or hate speech allowed.
Puzzle pieces must be returned to the library by [1/12/2021].
Assembling the Pieces
We were thrilled when the decorated pieces were returned and eager to mount the submissions. We used a 2' x 3', 1/4" piece of plywood to mount the puzzle. Before gluing on the puzzle pieces, we screwed 1" x 2" pieces of wood (one across the top and one across the bottom) to the back of the plywood. These were used to mount the completed piece to the wall.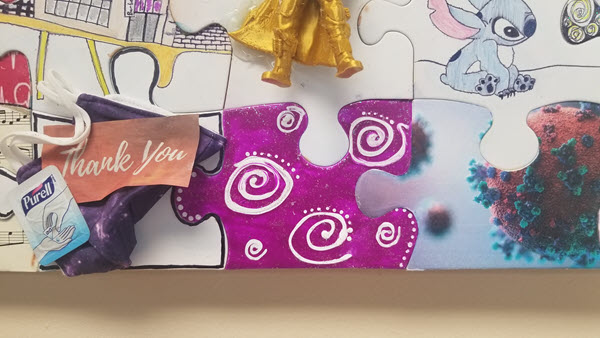 I then attached the decorated puzzle, four pieces at a time, to the piece of plywood using Gorilla wood glue. I placed weights on top of each section until it was securely adhered. [Note: The first two glues that I tried did not adhere completely: Alene's Tacky Glue, and Elmer's Wood Glue.] This is a permanent art piece, so I wanted to make it durable.
Once all of the four-piece segments were secured and the full puzzle was dry, two saw-tooth picture hangers were attached to the top strip of wood on the back. Anchors and screws were used to firmly secure the piece to the wall. As you can see in the photo, we posted a document of the grid, with the artists listed for their correlating piece.
We shared an announcement on our Facebook page when the puzzle was completed and mounted in its permanent home. Many staff members (including our Director!) participated, as well patrons. I had to decorate a few of the pieces myself because, even though some loved the idea, they ended up hesitant to commit to creating a piece. Now that it's hanging up, our patrons love it and have asked us to do it again. I am thinking that every 5 years would be a good goal! Many others have shared in the comments to my Programming Librarian Interest Group post that they've implemented a puzzle project at their libraries, also with great success. I hope you too are inspired to bring this wonderful collaborative project to your community!