Adopt-a-Shelf Program Lets Students Create Book Displays
WebJunction and Liana Etling
/
12 April 2023
Libraries can offer safe, welcoming spaces for young people to access resources and programming, explore their interests, and connect with peers. And these benefits can be even more impactful when young people feel like they can actively contribute. We interviewed Liana Etling, a middle school librarian at Valley Point Middle School in Dalton, Georgia, about a creative program she started to help kids get involved in their school library.
Can you describe how Adopt-a-Shelf works?
Adopt-a-Shelf is a student-driven library program where students are invited to apply to create their very own miniature book display on one of the 24 available shelves. Students' shelves can be themed according to their likes, interests, and specific book genres. Once a student has their application approved, they have the freedom to decorate their shelf with materials from the library or from home, create signage, and display books of their choice. Students are expected to keep their shelf stocked regularly. Students generally keep their shelves from four to six weeks, and will then "move out" to allow another student to adopt. The entire student body at our school is encouraged to peruse the shelves and may check out items from the shelves if they wish!
How did you come up with the idea?
We moved into a new school building three years ago, and we went from a cramped library space to one that is incredibly spacious. I have a set of 24 moveable shelves that I would use regularly to display student projects, photography contest winners, and the like, but never anything permanent. It occurred to me last school year that when students make recommendations to other students, they are MUCH more likely to listen to their peers than me or any other adult. So, I decided to turn those empty shelves into a dynamic program that would hopefully generate conversations and create those peer recommendations in a fun and unforced way.

What has the response been like among students? Do you have any fun or interesting stories that stand out?
We have had a waiting list for students wanting shelves since day one. At the close of our program, we still had 49 students that did not get a shelf, so this will certainly be a program that I run again next year! I thought my avid readers would be the only ones eager to adopt a shelf, but really all kinds of students and readers wanted to decorate or create a theme for a shelf! One student even added a raffle jar contest to her shelf—I just loved how they tried to make their displays engaging and interactive.
Which displays have been most popular?
The shelf of "Books That R Bad To Read" has been quite popular, as it appeals to the angst of middle school. The miniature trash cans where students can write on slips of paper the titles of books they think are the worst, has had dozens of entries.
We also had a beautiful "cottagecore" shelf, complete with a fairy garden and plenty of fake greenery and lights. All of her books were wholesome fantasies.
We also had a horror-themed shelf that was complete with mini red balloons similar to those in Stephen King's Pennywise.
Is there anything else I didn't ask that you'd like to add?
I have been absolutely shocked by the students' response to this program. I initially thought it was going to be a very hard sell to my middle school population, but so many of them truly loved their little shelf and their display. The sense of ownership really ignited so much creativity and imagination.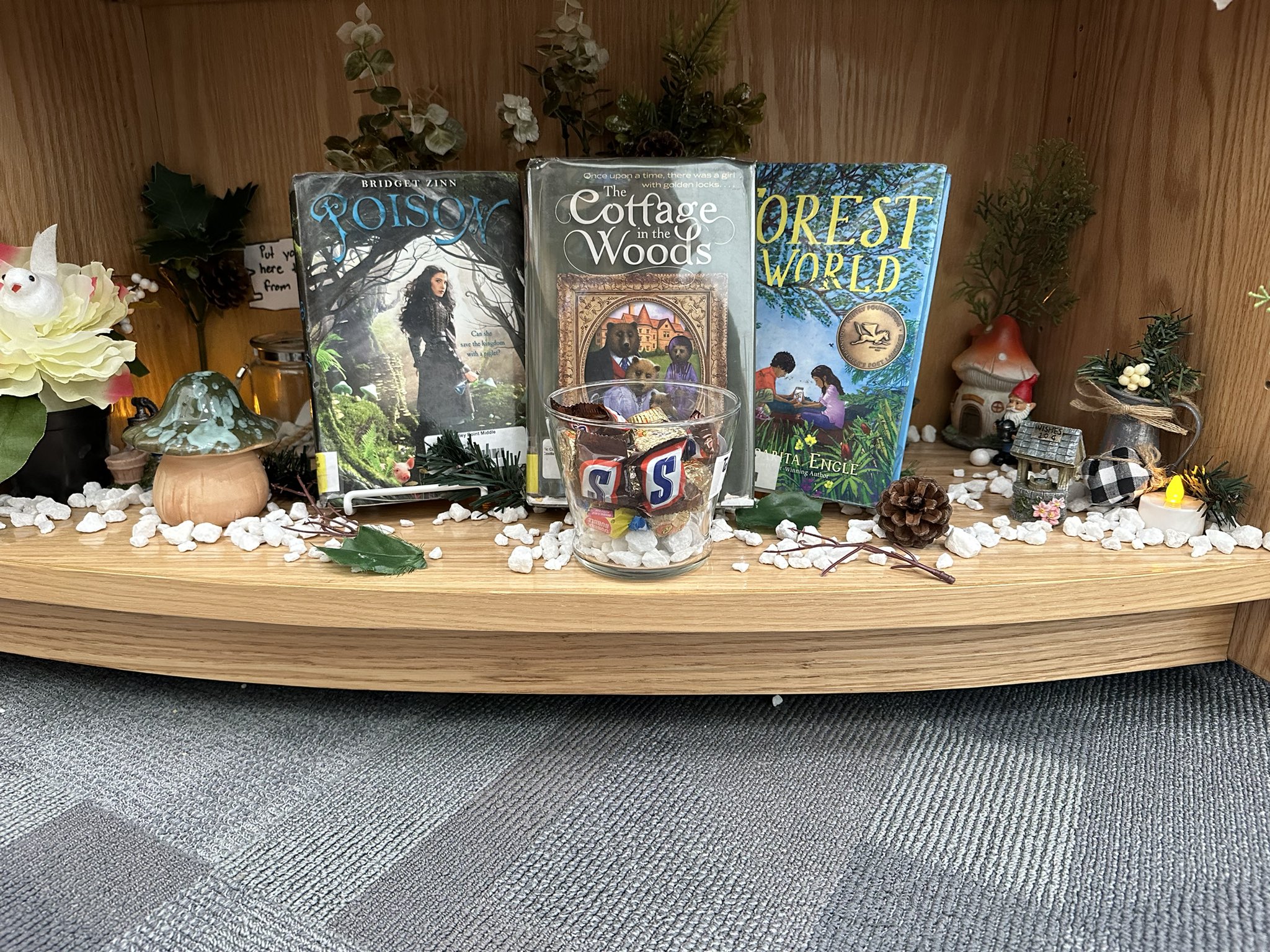 You created and shared a Canva template to promote the program to students. Are there any other resources that helped you when planning this program that you would like to share?
The Canva signage and application were the only two resources I used. I also encouraged students to use Canva when creating their own shelf signage. Anyone is welcome to use these templates to plan their own programs.
Images provided by Liana Etling, Valley Point Middle School, used with permission.
Valley Point Middle School is a Title I public school situated in the northwest Georgia mountains.  
---
Liana Etling is a school librarian at Valley Point Middle School in Dalton, Georgia. She was named Whitfield County Media Specialist of the Year in 2023. Liana holds a dual Bachelors in English Literature and English Education, and a dual Masters in School Library Media and Instructional Technology. This is her tenth year in education. Mrs. Etling believes the school library is a place for students and staff to explore, create, grow, and connect. She is passionate in her pursuit of creating lifelong readers.