Redefining the Library Experience
Global Insights for Future Planning
Christina Rodriques
/
19 September 2023

Originally written and published on 30 August 2023 to OCLC's Next blog.
Libraries are no stranger to change. As community expectations shift, so do our libraries. This adaptability was on full display during the height of the COVID-19 pandemic. But as that pressure has subsided, we're seeing widespread reflection around what libraries will look like in the future. Many library leaders are thinking about fundamental transformations, with the goal of creating a more impactful library experience for their users.
During the past year, OCLC Global Council and OCLC Research explored the idea of the changing library experience by focusing on topics such as community engagement, collaboration, and innovative programs that meet library users' evolving needs and expectations. Planning for this work was informed by efforts associated with our New Model Library: Pandemic Effects and Library Directions research. And it was accomplished through online thought leadership webinars and a global survey that spanned all library sizes and types. What we learned is that libraries will continue to be necessary infrastructure for supporting local communities. And to deliver impact, there's increasing need for partnership and library staff support.
The "Redefining the library experience" global survey collected feedback from more than 1,600 respondents from 77 countries and territories. And while it garnered data across a wide variety of questions, a handful of findings stand out regarding changing library experiences. These include:
Libraries will increasingly play the role of "space providers"
Demand for open access in academic libraries will intensify
Resource sharing through consortia will increase
Partnerships with nonprofit and government agencies will increase for public libraries
Academic librarians expect increased partnerships with consortia and other libraries
Library workers may see more flexible working options and access to mental health care
Additional need for data analytics is expected
The resulting report provides an overview of how these findings relate to what resources and services libraries offer, how libraries engage with their communities and partners, and the evolving needs of library workers.
Library space as a service
The idea of library "space as a service" stood out in the findings. While not a surprise or a new trend, it feels significant when we think about the substantial shifts that will differentiate the library of the future. Not only did respondents and webinar participants indicate an even more diverse array of uses for their spaces, but they also mentioned an increased need for flexibility. In fact, 31 percent of survey respondents said they'd like their library to be described as a "flexible space" 10 years from now.
Respondents were also asked how spaces in their library designed for meetings or collaborative work might change. Nearly 60 percent of respondents anticipate an increase in this type of physical space in the next five to ten years. And while space will almost certainly expand across all library types, the survey indicated that academic libraries are more likely to expect an increase, with an emphasis on multi-use flexible space.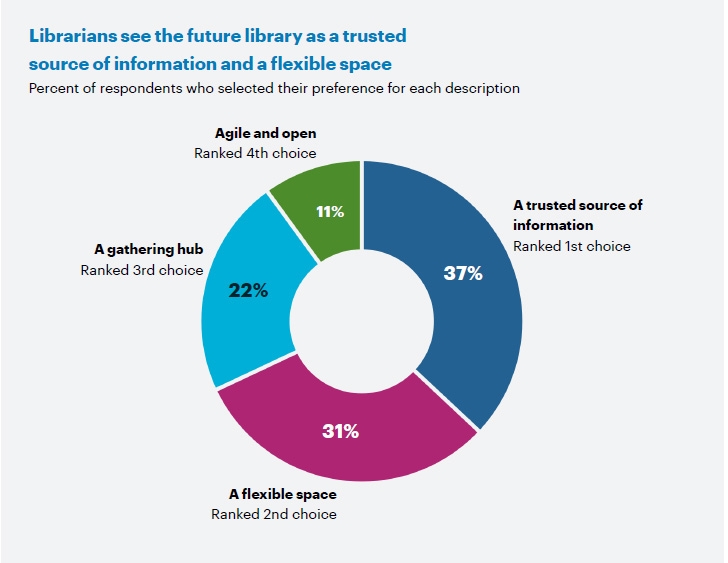 Experience of library workers
The report also highlights how the library experience explicitly includes both library users and library workers. Again, as the pandemic has settled, new awareness of library worker needs has come front and center. Looking forward, how technology will affect workflows and job duties is important but so is the need for flexible work options and mental health support. According to the survey, 44 percent of respondents expect flexible working options to increase during the next decade and 26 percent believe that access to mental health care will expand.
There's tremendous value in bringing together global library insights to inform future practice. Time and time again, we learn that libraries share similar challenges regardless of library type, location, or size; and that by coming together, we can find solutions. So, as you think about the library experience in your future planning, consider this report carefully to compare your ideas with those of your peers from around the world.
View the full Redefining the library experience report, including charts with detailed findings.
---
Global Council areas of focus concentrate efforts around a topic of interest to libraries around the world. This important work spans not only geographic regions, but all types of libraries, while providing opportunities for professionals at all levels of their careers to participate and add their voices and ideas to the conversation. To learn more about the Global Council area of focus work, including previous topic areas, please visit oc.lc/gc-area-of-focus.