Learning Circles - We're Better Together
Kendra Morgan
/
16 May 2016
We can do better together.
That's the idea that has stuck with me since participating in a recent webinar WebJunction hosted with Peer 2 Peer University (P2PU) and Chicago Public Library (CPL) on Learning Circles. A Learning Circle brings a group of learners together in a unique library location over multiple weeks, with a common goal of taking the same online course, but with facilitated, in-person support. P2PU and CPL were the recipients of a Knight News Challenge grant to develop this program to work with patrons using courses from a variety of providers including Coursera, Khan Academy and EdX. These providers offer free, online courses to anyone with an Internet connection, which is an amazing opportunity, but Grif Peterson from P2PU shared that the completion rate for these online courses is estimated to be between 5–10%. So there is a clear opportunity to help improve these statistics, increase participation and provide learning opportunities that are tailored to specific community needs.
Since CPL launched their Learning Circle program, they have seen participant retention rates in the courses at 45–55%, and 90% of those students reported that they were interested in taking another course. This is particularly notable given that many learners had never participated in or even heard of free online courses prior to their participation in CPL's program. These students are clearly gaining from the group experience and the benefits of going through a learning opportunity—they are better together!
One of the major benefits of having the same group of learners come back to the library multiple weeks in a row is that it allows them to gain greater exposure to the many other resources that the library has to offer, and also provides opportunities for library staff facilitators to make impactful use of the library resources available to them.
The staff facilitators represented branches throughout Chicago Public Library and they were able to choose from a list of courses and select something that they were comfortable with and that resonated with the community served by the branch. CPL has been focused on courses that emphasize employability and has seen good success with these choices. One of the most popular choices has been Introduction to Public Speaking, offered through Coursera. Other topics include Introduction to Marketing, Finance for Everyone: Smart Tools for Decision-Making and How to Succeed at Interviews—lots of options that can resonate with any community.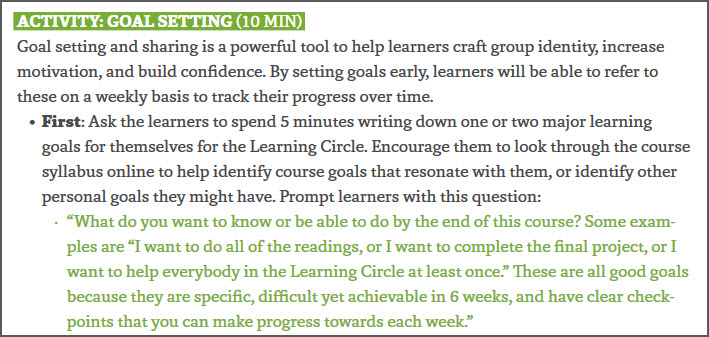 Being a Learning Circle facilitator did not mean that the library staff had to become subject matter experts in the course topics. P2PU developed a robust toolkit that is available for free and includes everything from marketing and promotions through to a complete Facilitator Guide that can be applied to any course. One of the most helpful resources are the "recipe cards," (see example on the right) which leads facilitators through how to manage the group and the types of questions and guidance to provide to keep the sessions engaging and active.
Kate Lapinski of CPL shared that library staff have responded positively to this new programming and that staff who facilitated the Learning Circles reported the following benefits:
deeper personal engagement with patrons
gets adults in the door for programming
also gets them to return
answering a real community need—flexible, based on each neighborhood
exciting because it's different—allows staff to use new skills (but without overwhelming the staff member)
WebJunction is always interested in how libraries of all sizes can implement programming ideas that are shared through WebJunction. Facilitating a Learning Circle can involve library staff, but could also be volunteer opportunity at the library. As you think about Learning Circles for your library, think about the formula that could lead to success and check out the archive of the webinar to hear directly from Grif and Kate and get inspiration for your community.