Programming to the Core: 7 innovative library programs
Betha Gutsche
/
10 December 2015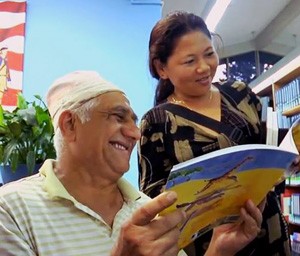 If there ever was a time when public libraries were just static repositories of books, it's long gone. Libraries actively engage with the public through programs of all kinds for all ages. Libraries everywhere are reinventing their programs and services to remain vital through the shifting sands of cultural and technological change. When you look at innovative programs that really connect the library with its community, reach out to new members and elicit enthusiasm, you notice how many of them resonate with the traditional core of libraries—it's still about books and community.
Here are just a few book-focused programs and community-focused programs from libraries around the United States. It's not a clean delineation between the two categories. Community intersections are embedded in most library programming so there is a lot of overlap.
Book-focused programs
Ferry Tales
At the Bainbridge Island (WA) branch of Kitsap Regional Library, adult services librarian Audrey Barbakoff styles herself as a Bookaneer, one who is "navigating the information high seas." She noticed that the island's younger adults (18-35) represented a significant portion of non-users of the library. Since many Bainbridge Islanders commute daily by ferry to jobs in Greater Seattle, Barbakoff realized she had a captive audience; all she needed was an enticement to connect them with the library. She launched Ferry Tales, a floating book group. The group meets once a month for the 35-minute duration of the ferry ride, with occasional visits by authors. Barbakoff also offers onboard ask-a-librarian sessions.

Books on Tap
Bainbridge Island residents have another book-based treasure in their midst. For landlubbers, there is Books on Tap, a monthly gathering at a favorite local pub. The participants engage in literary pub trivia, team and word games, and general good-natured competition over their encyclopedic knowledge of literature. Kitsap Regional Library sponsors the event and the Bainbridge Island branch supplies the reading list. Staff librarian Audrey Barbakoff recently presented a WebJunction webinar, Beyond Book Groups: Fun Library Programs for Adult Readers filled with other ideas and more information about Books on Tap and Ferry Tales.  
Books on Bikes

Seattle is a town of cycling enthusiasts, so it's a natural fit for a team of 16 librarians from the Seattle Public Library to put pedal power together with library books and community outreach to send Books on Bikes to popular community parks and celebrations. "I thought it would be great to combine two things Seattle loves: our libraries and bikes," said Montlake Branch Librarian Jared Mills. With a special trailer designed by Haulin' Colin to hold a lot of weight, the book bike has shelves to display books and other items for checkout, in addition to offering digital downloads, library card sign-ups, readers' advisory and research assistance. And yes, it has an umbrella to protect the goods from Seattle's infamous rain. See also, NBC News coverage of Books on Bikes.
25 Mini-Adventures
Leave it to a creative patron to discover the possibilities of the library as an experience, as more than a quick stop to check out books. As mom to 3 kids, Amy (aka mamascout) came up with 25 mini-adventures in the library, a list of 25 things for a family to do while hanging out at the library for hours.
#5. Everyone find a poem, read it out loud and then copy it into your journal.
#11. Leave a thoughtful review on a post-it note in a book you really loved.
#23. Look in the reference section. What is the weirdest reference book you can find?
Imagine expanding on any one of these ideas at your library to enrich engagement with your patrons.
Community-focused Programs
Get on the LEARN Bus
(This story shared by Paula Kelly, Whitehall Public Library)

The Whitehall (PA) Public Library serves a unique user population of multi-national refugee families who were resettled in the region by Catholic charities. Since 2002, the library, in cooperation with the Greater Pittsburgh Literacy Council and the Friends of the Whitehall Public Library, has sponsored weekly bus transportation so that recently resettled refugees have an opportunity to visit the library, sign up for library cards, check out material, use the computers, and participate in Family Night Storytime. In other words, to provide Library Easy Access for Residents in Need. Library staff have learned that you can't just invite folks into your library and expect them to get it; you need to prepare for a meaningful visit. They reserve a whole bank of computers for the visitors, set up an arts-and-crafts area, and lay out tables with pre-selected library materials for easy browsing. Read more about the LEARN Bus and the program activities.
Library on the lawn
It's a simple idea on the surface: put some comfy chairs on the lawn in front of the library and invite people to "please sit, relax, and enjoy our lawn." What lies below the surface is the power of this simple act to build community and reinforce the library as its hub. Mary Lou Carolan, director of the Wallkill Public Library (NY), was inspired by a Project for Public Spaces (PPS) workshop to make the $200 investment in colorful Adirondack chairs and welcoming signs, and then sit back and see what happened. "It was like magic," reports Carolan. Even on a humid 95-degree day, the chairs are full. "I think that opening up the front lawn to everybody has brought more people in—they get that sense of, 'Well, if I'm welcome on the front lawn, let me go check out what the library is all about.'" And that connection may lead to greater acknowledgement of the library's value to the community. Also check out recommendations from PPS on how to make your library great!
11 Days for Community Unity
In 2004, We, the World launched the 11 Days of Global Unity campaign to link an international vision for peace, sustainability and transformation with local awareness and actions around the globe. The Carbondale Public Library (IL) is a pivotal member of a community coalition that responded to the 11 Days vision and has joined the efforts for the past few years. Under the aegis of Nonviolent Carbondale, the group's mission is to organize and support activities that foster nonviolent and compassionate interactions in the community. In 2015, the library hosted events on mindful meditation and the Human Library (for more on the Human Library, see this collection in a recent WebJunction story.) Throughout the community there were other events which included an interfaith dialogue, a poetry open-mic event, and discussions on compassion. In 2012, the Carbondale Public Library's role in immersing the community in compassion-thinking for 11 days garnered the attention of the American Library Association and the Fetzer Institute, who awarded the library an Excellence in Library Programming Award in 2013.
Additional Resources
Looking for new programming ideas for your library? Check out these resources for inspiration:
ALA Programming Librarian: a place for library professionals to share, learn and be inspired to present excellent programming for their communities. Through resources, ideas and professional development opportunities, this program seeks to help libraries fill their role as cultural and civic hubs in their communities.
Library as Incubator: programming ideas connected to the arts. WebJunction will be hosting a webinar focused on this topic in April 2016. Subscribe to our eNewsletter, Crossroads, to learn when registration opens.
Urban Libraries Council: the 2015 Innovation Awards are full of ideas in 10 categories that can jumpstart a program in your library.
The Social Library: a weekly WebJunction feature to surface some of the amazing work we see coming from libraries that WebJunction follows on Facebook. Published every Tuesday!