Host Your Own Cardboard Carnival
A citywide STEM challenge from the Evanston Public Library
Renee Neumeier and Jenette Sturges, Evanston Public Library
/
28 March 2022
It started as part of a Saturday program with underrepresented students in STEM, paired with mentors from Northwestern University to work on monthly engineering design projects. After several years of one-off projects that were, frankly, a bit stale, the Evanston Public Library (EPL) teen services staff and EvanSTEM staff asked, "How can we get students to pursue a long-term project to build and strengthen STEM skills and bring the community together to celebrate their work?"
Inspired by a cardboard mini-golf showcase fundraiser and YouTube's famous Caine's Arcade story, the concept for Evanston's Cardboard Carnival was born.
The Cardboard Carnival challenges students across Evanston to construct and program arcade games from cardboard and supplied programming tools. Games must include at least three different elements or obstacles, must be motorized and winnable via a scoring system or way to win or lose, and must fit on a tabletop.
Students in grades 5-8 across Evanston are invited to participate, and library and school district staff reach out specifically to Black and Latinx students and girls – groups that are typically underrepresented in STEM fields – to encourage participation. In addition to diverse library staff, a paid internship specifically for Black and Latinx applicants supports the STEM challenge in its goals of reaching and supporting underrepresented students.
The challenge is designed to be as accessible as possible. The library kits, including motors, a control board, a hot glue gun, and other building materials are made available to students who register, and they can indicate if they want the kits delivered to their homes as part of the registration process. Students can complete the challenge at home using the directions, forms, submission guides, and video tutorials that are hosted on the challenge website. Our staff helps students complete their arcade games during local after-school programs, and the original Saturday mentor program with Northwestern University engineering students, and students from the National Society of Black Engineers, continues with this new focus.
Programming and resources
Programming for the Cardboard Carnival begins in late February with a kick-off event followed by a series of six workshops to teach participants new coding and construction skills. The challenge culminates in a showcase held in early April, when friends and family are invited to play the games students have created.
The students are able to attend a series of workshops on specific elements of the games, from coding motors to adding lights or sound to the games, and they earn tokens for each workshop they attend and for adding extra elements to their games. A token leaderboard is updated weekly, and tokens increase the chances that a student will win raffle prizes, which include STEM-related kits and gadgets, from a GoPro camera to a drone, presented at the showcase.
The library also hosts open shops roughly once a week throughout the spring to give students the chance to collaborate and troubleshoot issues with their games with help from library staff and volunteers who have supported the carnival in the past.
A website, cardboardcarnival.org, allows students to register and includes links to a library of tutorial videos and other resources.
The Cardboard Carnival is one of three citywide STEM challenges held annually in Evanston. In the fall, youth compete in the Code It! Challenge, designing their own video games in a similar workshop series leading to a citywide showcase celebration, and in the summer EPL offers the Film It! Challenge with a film screening at the end.
Fueled by partnerships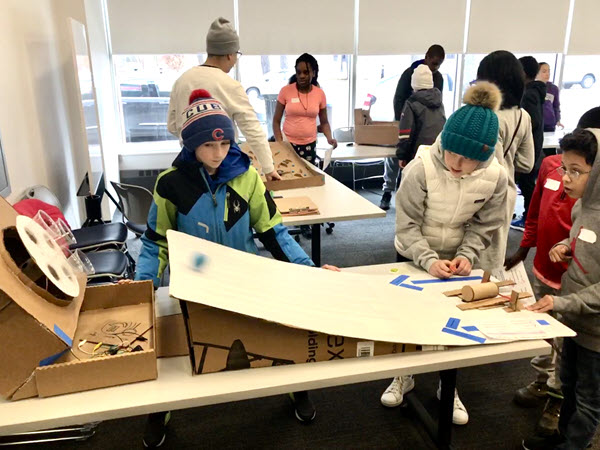 Fueling the citywide challenges is EvanSTEM, a public-private partnership project housed within Evanston-Skokie School District 65 with the goal of creating a local ecosystem of Science, Technology, Engineering and Math educators, program providers, industry leaders and professionals to increase underrepresented student success in STEM programs, courses and careers.
The collaboration brings together the D65 School District, the Evanston Public Library, Northwestern University, and youth-serving organizations providing after-school and enrichment programming for youth across the city.
Cardboard Carnival was funded as a Project Next Generation grant, awarded by the Illinois State Library, a Department of the Office of Secretary of State, using funds provided by the U.S. Institute of Museum and Library Services, under the provisions of the Library Services and Technology Act (LSTA).
Resources
If you have questions about the project, please contact Renee Neumeier at [email protected].
---
Renee Neumeier is the Innovation and Digital Learning Manager and Jenette Sturges is the Marketing & Communications Manager, at Evanston Public Library, in Illinois.
Photos of Cardboard Carnival events in 2019 and 2020, used with permission and provided by Evanston Public Library.