How to Get Your Collection from Awful to Awesome
Quick tips for your library's weeding project, from a WebJunction webinar
WebJunction
/
14 March 2023
Reap the benefits of a well-weeded collection! Mary Kelly and Holly Hibner, co-authors of the popular blog Awful Library Books shared their holistic approach to collection management in the WebJunction webinar Weed 'Em and Reap. Create your own weeding plan using some of their top strategies and examples, watch the full webinar, and use the Learner Guide to help extend your learning.  
Why weed?
Weeding is necessary for maintaining clean, relevant, and current collections. Libraries have limited space, and holding onto items and books indefinitely is not a practical option. Well-weeded collections can increase circulation by making it easier to browse, free up shelf space for creative displays, and ensure there is adequate space for other offerings in your library. Removing materials that contain outdated or inaccurate information and replacing them with updated alternatives can help ensure that collections provide trusted, applicable, and helpful information to your library's community. One recommendation from the webinar is for libraries to have a collection management policy in place to guide staff in decision-making. Here are some questions to ask when creating or revising your library's policy:
Does your collection meet your library's mission?
Are you proud of your collection?
Who is your collection for? (Children, youth, teens, faculty)
What do you collect for those people? (Books, government documents)
What is the goal of your collection? (Archive, popular materials collection)
How are you addressing diversity, equity, inclusion, intellectual freedom, and access?
The Awful Library Books blog features sample policies and plans to help you get started.
Communicate the importance of weeding
Once you have created a collection management policy, it's important to make sure everyone understands it. Include staff, volunteers, and the community in your messaging. Good communication can help dispel misconceptions about weeding and help make the process a positive one for everyone involved.
Demonstrate. Keep a few old, "ridiculous" items on hand to help show why libraries can't keep everything or share a few examples from the Awful Library Books blog. 
Be positive. If someone sees you removing books, try saying, "I'm making space for new books that are coming soon!" or "I'm selecting books for the book sale."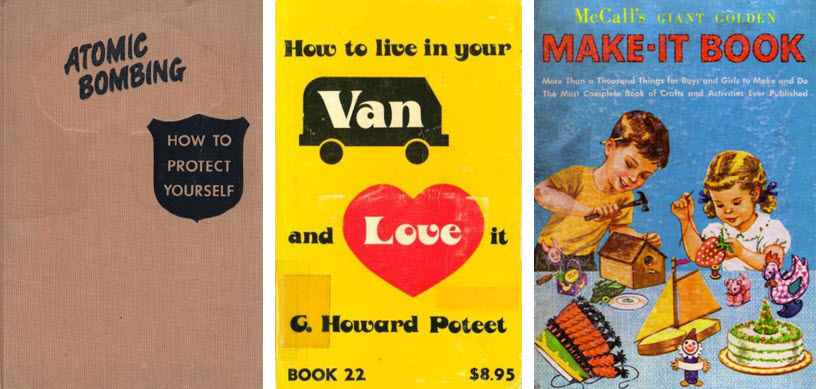 Motivate reluctant weeders
Weeding sometimes gets a bad rap. Library staff can feel overwhelmed by the process or worried about the community's reaction to removing materials. It's natural to feel an emotional attachment to books, and to find it hard to let go. Here are a few objections and possible ways to respond to them.
"It's historical!" Is the book current, relevant, and supporting the goal of your collection? Some historical items are better suited to archives or historical collections.
"Someone might need it!" When is the last time someone used this book? Where else might they find that information? Is the book still relevant and helpful? Are the images appropriate?
"I don't have time." Ensure staff that management will schedule time and resources for collection management and weeding.
"But it's in good shape." Even if a book looks new, it could have outdated information or be duplicative of other more recent resources.
"But we have so much to weed." It can feel overwhelming to start a big project, but it's important to remember that collections management is an ongoing process. It's okay to start with a smaller goal while planning ahead for your library's long-term weeding process.
Avoid the weeding frenzy
Now that you've addressed apprehension around weeding your collection, you need a plan! Following are a few tips to make the process go more smoothly. For a more robust discussion, be sure to check out the full webinar.
Make a weeding plan. Include the following information: How much to remove, who is involved, how many items will be removed, where will they go, how will they get there, what supplies do you need?
Weed continuously. Make collection management part of your routine. Empower staff and volunteers to help when they find a book that needs attention. When everyone is involved, weeding becomes more manageable.
Start small. Set reasonable goals and timeframes and simplify your reports for easier readability.
Weeding can feel overwhelming, but it doesn't have to be. We hope this overview will help you begin to feel more confident and well-prepared to tackle your library's next weeding project. For a deeper dive, be sure to visit the webinar page for a robust collection of resources that can support all your weeding needs.
Many thanks to Mary Kelly and Holly Hibner, and all of our wonderful webinar presenters for the value the library community brings to our webinar programming. We hope you will consider joining us for an upcoming webinar or signing up for our newsletter to stay connected.
Extend your learning
WebJunction Learner Guides can help you extend your learning alone or with others. Here are a few talking points that can help you and your team get started weeding. Check out the full Learner Guide to read all the questions and get a conversation going among your library colleagues.  
Reflect on your library's collection development policy. In what ways does the policy connect the library's mission and goals to its collection?
What collection reports are available through your library's ILS? How can you combine various metrics, like total circulations, date last circulated, and publication date to get the full story of an item in the collection?
For further reading and resources, check out these WebJunction articles and course: