Civil Legal Issues of Natural Disasters Persist, but Change over Time
WebJunction
/
21 November 2022
What do document replacement, contractor scams, and lease terminations have in common? They are all examples of civil legal issues that can stem from a natural disaster, and questions about these could show up at your library's reference desk. Patrons facing legal issues after a natural disaster can often feel overwhelmed, confused, and uncertain of what to do next. But time is of the utmost importance with legal issues.
In collaboration with the Legal Services Corporation, we've been focusing on training for library staff to be better equipped to answer civil legal questions (see more here). Legal issues resulting from a natural disaster are often urgent and time sensitive, but the aftermath of a disaster can be confusing and emotional for those affected. It's helpful to have a reliable tool at the ready laying out possible legal issues and their timelines. The Timeline of Civil Legal Issues After a Natural Disaster (PDF) clearly lays out the legal issues that are likely to arise in the short, medium, and long-term following a natural disaster.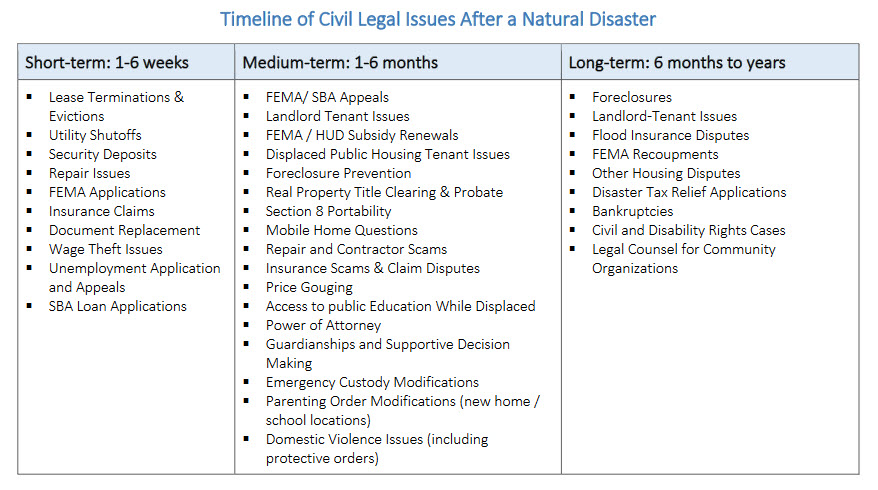 For example, in the first six weeks after a disaster, common issues include housing (leases, eviction, security deposits, utility shutoffs) and the first round of applications for recovery funding (insurance, unemployment, Small Business Association (SBA) disaster relief, FEMA). These applications for assistance often require extensive documentation, so questions around replacing lost or destroyed personal documents will arise in the short-term.
In the medium-term (1-6 months after a disaster), some of the same housing issues continue but become more complicated, such as foreclosure prevention, FEMA and SBA appeals (if the first round was denied), and custody and parenting plan modifications. And new issues will arise as recovery money begins to flow into the area, such as, repair and contractor scams, and insurance claim disputes.
It is important to remember that six months to years after a disaster, civil legal issues will persist. A disability rights attorney who has extensive experience working with disaster survivors said she still has 12 clients waiting for money from damage caused by Hurricane Harvey, which was more than six years ago. She explains that, realistically, some longer-term issues such as foreclosures and flood insurance disputes may persist for a decade.
Understanding the breadth of civil legal issues and the timeline during which they can appear will prepare library staff to assist patrons who show up at the library looking for help. WebJunction's Navigating Civil Legal Issues of Natural Disasters course series equips learners to recognize the legal issues that come with natural disasters and prepares them to offer information and resources to guide patrons. The course series resources include important printable handouts (like the timeline described in this article), videos from subject matter experts, readings, and discussion forums to help boost library staff skills in this area.
Library staff are not allowed to give legal advice, of course, but understanding common legal issues and the information that is available to guide patrons in navigating this tricky territory makes a smoother experience for all. Whether natural disasters in your community are recurring or rare, these courses will equip you to support your patrons when crisis strikes.
Navigating the Civil Legal Issues of Natural Disasters
The three courses in the series include:

Disaster Response Network
Trauma Response and Disaster Assistance
Ongoing Issues and Mitigation