Our Services

You're helping your library staff. How can we help you?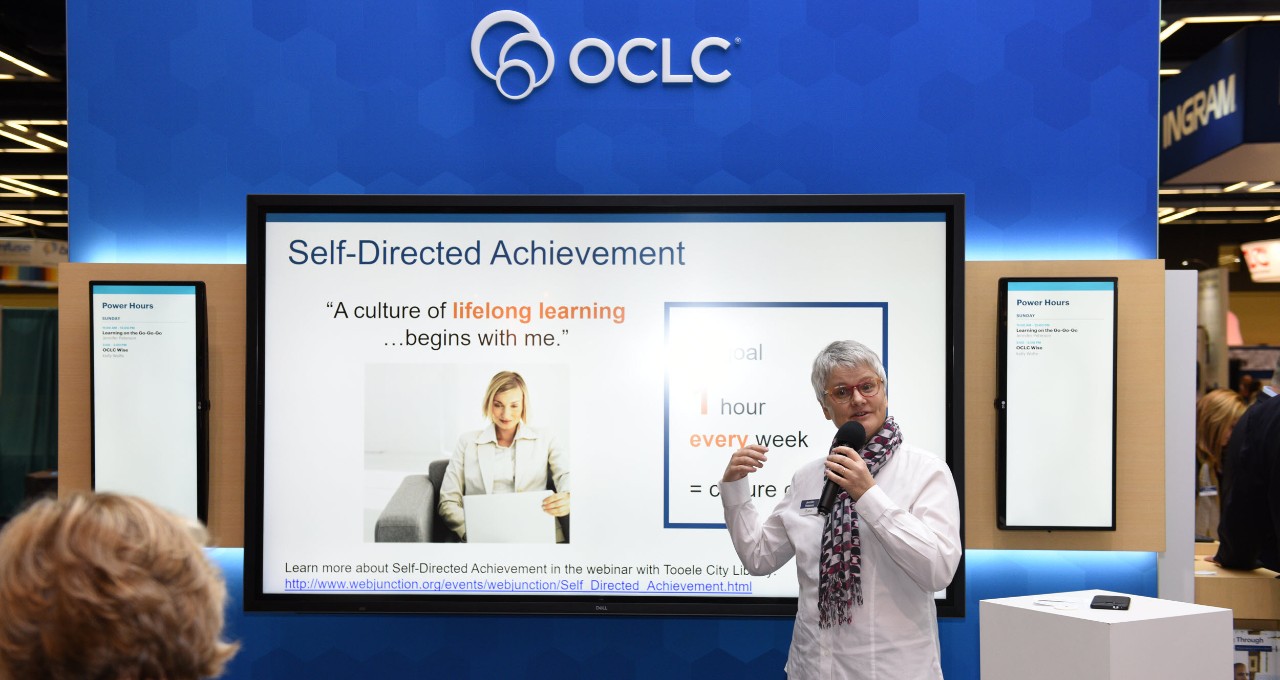 We support your organization's training initiatives and grant-funded projects.
When you work with WebJunction, you gain access to decades of experience in program design and management, training development and delivery, and the team's commitment to bringing useful, actionable knowledge and instruction to library staff.
---
Course Marketing, Promotion, and Access
If you have content from a grant-funded project that needs a home, or if you want to extend the reach of your online self-paced course or other learning content to tens of thousands of library staff, WebJunction can help. We can provide ongoing free access to your course via our course catalog, and promote your content through WebJunction.org and our Crossroads e-newsletter to reach more than 30,000 each month.
Reach more library staff through WebJunction
WebJunction provides a reliable, sustainable channel that can expand the reach of your content or course. More than 20,200 learners took courses at WebJunction last year, and nearly 8,300 people register annually for WebJunction's live webinars, which are offered twice a month and are free to all.
Our audience is primarily U.S. public library staff, with U.S. academic and international library staff comprising the majority of the remainder – all are welcome.
Our twice-monthly newsletter, Crossroads, has more than 24,000 subscribers and more than 30,900 unique visitors a month come to our website, WebJunction.org to read the new articles and stories we post weekly.
---
Webinar Production and Hosting

You have a great idea for a webinar. The WebJunction team has the time, technology, and production know-how to make it a success. You bring your subject expertise and presenters— we'll apply our deep knowledge of online delivery, engagement, and logistics to deliver a high-quality session through the WebJunction platform.
When we host your webinar, the WebJunction team will manage registration, coach your presenters, produce an interactive live session, collect evaluations, and store the recording in our freely accessible course catalog.
---
Online Training Projects
Does your training project need a sustainability plan? An instructional designer? Whether you are looking to improve an existing online training, or need someone to design and deliver a training program from start to completion, WebJunction can provide the level of support you need.
Our team has the curriculum development, instructional design, online production, and learning community management skills to support creation of a training program that features any of the following:
Multi-session online, instructor-led training with facilitated discussions
Self-paced courses and other open educational resources (OER)
Blended (in-person and online) learning
---
Train-the-Online-Trainer
WebJunction will customize an online, in-person, or blended training program to build the skills trainers need to engage, instruct, and inspire their learners in the online environment. Possible topics include
How to produce a high-quality webinar that supports library learning
Designing an online training program
Converting your existing in-person training to an online format
Creating great self-paced learning without breaking the bank
How to set up and facilitate an interactive online training program
Check out our work portfolio to see how libraries and organizations that support libraries are leveraging WebJunction's expertise.
Contact Us
To discuss any of these options or request an estimate, please contact our Program Director, Kendra Morgan.

Our Work Portfolio
Check out our past projects with libraries and organizations that serve the library community.

What our clients say
"From our very first meeting we could tell that it would be a perfect fit. Whenever we needed help, they swooped in to explain things or make a fix, and they worked with our team to help with marketing. We reach an even larger audience through WebJunction's course catalog. We're so grateful for this wonderful collaboration!"
—Arden Kirkland, Project Coordinator, Design4Learning.info