Help/FAQ
Topics
Passwords
If you are creating a new WebJunction.org account, you will need to follow these guidelines for creating a password:
Should be 8 characters or longer, and should contain at least one number and one letter
Passwords cannot be the same as your username.
Passwords are case sensitive.
Webinars
Webinars are one-hour live online training events on hot topics in libraries. You watch and listen to the presentation over the internet, chat with the presenters and other attendees—all from the comfort of your desk. And if you are unable to attend the live session—no problem! We archive every presentation and post it to WebJunction for you to watch at your convenience.
Our webinars are open to everyone; however, registration is required. You can find a schedule of upcoming webinars our Events Calendar. Most all of our online events take place using the WebEx web conferencing tool.
Webinar Registration
To attend a WebJunction webinar, click the registration link on any event listed on the Events Calendar. After filling out the registration form, you will receive an email to confirm your registration. You will also receive an email before the webinar with the login information you need to join the webinar on the day of the event.
Before you Attend
You will be emailed instructions for joining the webinar in both your confirmation email and the reminder email the day before the event. If you have not recieved an email, please check your Junk mail or Spam filter. If you do not find it, contact support@webjunction.org.
We encourage you to join at least 10 minutes prior to the event to make sure your browser and computer are properly set up to view the presentation. You can test your browser here: http://www.webex.com/lp/jointest/ or view OS and Browser Requirements. (At this time, the WebEx Event Center is not compatible with the iPad.)
When you log in from the main WebEx page, you enter your name and your email address. Be sure this is typed accurately, as your name will appear to other attendees as you spell it there; and the email address is linked to your registration.
 
If you encounter any difficulties viewing the slides, you can download a version of the slides from the session's archive page on WebJunction. 
If you and your colleagues would like to attend the session as a group, we encourage you to gather in a common place where you can view and listen to the presentation together. The archive can also be viewed in this manner and is a great way to bring colleagues into discussions around a common topic or project. See also Viewing Party Guide.
WebEx Support
If you have any problems connecting to a WebJunction event hosted in WebEx, please contact WebEx by phone: 1-866-229-3239 and provide them with the unique event number listed in your email.
If you have technical support needs after entering the room, please post your technical support questions to the Q&A panel only. The Chat panel is reserved for questions and comments related to the presentation topic.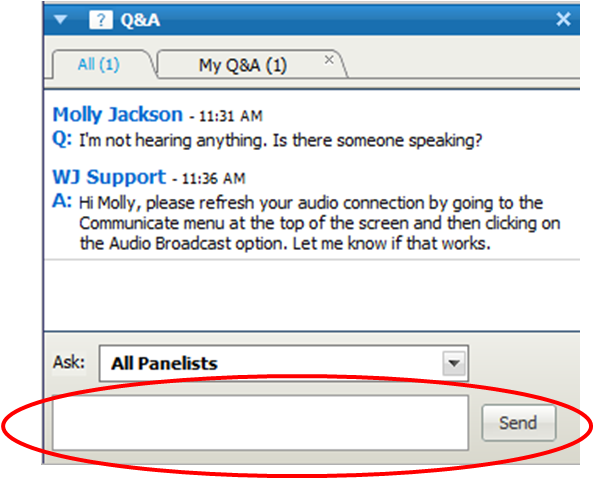 Audio Broadcast

You can listen to the session over your computer's speaker or headset.
You can adjust the volume using your system's settings or using the audio broadcast window which usually hovers over the top left corner of your view. If you have a separate knob on your speakers or headset, make sure it is up all the way first.

Audio Troubleshooting

If you encounter audio issues, first try selecting the pause button on your audio broadcast window. Wait 30 seconds and press play.
You may need to reset your audio connenction.
Click on the small radio tower icon (above chat box).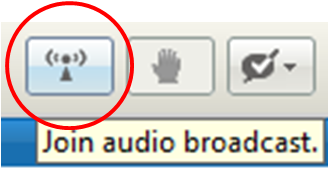 OR go to the Communicate menu (at the top of the screen) and select Audio Broadcast to refresh your connection.
If you hear an echo:

Close one of the audio feeds to eliminate the echo.
Press the "Escape" button on your keyboard OR Click the small "x" to close the extra window.
To join by Telephone:
Select "Join Teleconference" on the "Communicate" tab then follow the instructions on the screen OR click on the telephone icon under the participants list and you will be provided with the teleconference information on a pop-up.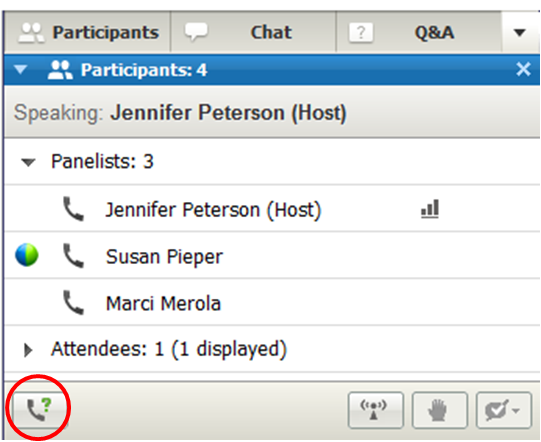 Dial the toll-free conference call number 877-668-4490. There are unique event and attendee numbers listed under the "Info" tab at the far left – top of your screen in the event or via the "Communicate" tab. The operator will ask for this information. Be sure to enter # following each command.
You may need to "Leave the Audio broadcast" or close the small Audio broadcast pop-up window in order for the teleconference option to be available.
Panel Customization

Panels can be opened or closed by clicking on the panel name at the top of the column, or by using the X in the individual panel.
Hover over edge of panels to drag and resize.
Webinar Certificates
WebJunction provides certificates of attendance to members sponsored by a WebJunction state library partner who register for and attend any WebJunction webinar. Certificates will be emailed to the address you used to attend the webinar within one week after the event. If you are hosting a cohort viewing of a webinar, please so indicate in the webinar registration question, "Are you registering on behalf of a cohort that will view the session together?" You will be contacted following the event with a request for additional information. Please note: Decisions about whether the event qualifies for CE or LEU credit is made by your local agency, not WebJunction.
Self-Paced Courses
How do I find and take a course?
Self-paced courses can be found in the catalog of the WebJunction Learning Management System. To take these courses, you must have a course access account that has been approved by one of WebJunction's Partners, who sponsor course use for library staff in their states. To get such an account, please complete the Course Access Request form.

Where is the course catalog on WebJunction?

Self-paced online courses are accessed through the WebJunction learning management system. Access to the courses requires a separate account and approval from one of our State Library Partners. If you wish to preview the contents of the course catalog, you can browse our Catalog Preview.
How do I get into the courses?
Apply and be approved by your state library to have access to the catalog.
Sign in to WebJunction Courses with your username and password.
View the catalog and launch any course, or add it to your My Courses learning plan.
Where can I keep track of the courses I've enrolled in and the courses I've taken?

You can find your current courses, in the My Courses list on the WebJunction LMS home screen. You can see the list of all courses you have completed by clicking on the Completed Courses tile from the home screen.
How long do I have to finish a course once I have added it to My Courses?

You will have access to a course for as long as it remains available in our catalog and your sponsoring organization remains a WebJunction Partner.
What are the system requirements for WebJunction courses?

Since WebJunction offers courses from multiple providers, individual courses may not require all of the following or may play on other systems, but all self-paced courses will work with the following:
Operating System & Browser:

Windows - Internet Explorer version 6 or higher, Firefox version 2 or higher, Google Chrome
Mac - Firefox version 2 or higher, Safari version 3 or higher, Google Chrome

Java version 6 (1.6.0) or higher
Flash version 8 or higher
Internet connection: No specific requirement, but learners on dial-up connections may experience delays loading media elements
One of our course vendors - SkillSoft - provides a browser compatibility check to assist in identifying any potential browser issues. Instructions for using it can be found in our SkillSoft troubleshooting guide:
Any additional requirements for instructor-led training will be noted in the individual course description.

I enrolled in a SkillSoft course, but I'm having trouble launching it. What do I do?

This article on troubleshooting SkillSoft course launching should help you.
How do I get my certificate of completion when I finish a course?

After completing any of the online self-paced courses, you can print a certificate of completion from your completed courses screen. Some courses also offer the ability to print a certificate directly from the completed course.
The following are the minimum passing percentages set by the course provider:

SkillSoft and WebJunction require an overall test score of 80% or better
LibraryU requires an overall test score of 75% or better
What are Continuing Education Units (CEUs)?

Continuing Education Units (CEUs) are a way to formally track non-credit coursework that contributes to professional development. CEUs are awarded by a variety of institutions and organizations, including universities and professional bodies. You will have to find out from your employer or certifying body what courses and learning activities they recognize as CEU eligible, and how they determine the number of units to award.
How do I find courses that are designed specifically for library staff?

The courses developed by LibraryU (Illinois State Library) and WebJunction focus on library-specific topics. These courses are listed under "Featured Provider" at the top of the course catalog.
ReCAPTCHA on Forms
WebJunction uses a CAPTCHA (Completely Automated Public Turing Test To Tell Computers and Humans Apart) tool on forms throughout the site to protect from spam. Forms using CAPTCHA can be found here:

A few things to know about the tool include:
Please enter the words you see in the box, in order and separated by a space. The letters are not case sensitive and you need not type special characters.

If you are not sure what the words are, either enter your best guess or click the reload button next to the distorted words.

Visually impaired users can click the audio button to hear a set of words that can be entered instead of the visual challenge.
Thank you for your patience and for working together to keep our site safe from spammers.