Delivering Literacy to Families through Stork Storytime
Jennifer Jordebrek, North Liberty Community Library (IA)
/
24 October 2018
When Jennifer Jordebrek, assistant director at the North Liberty Community Library (NLCL), was a new mom, she struggled to start and maintain a daily reading routine after bringing her first child home. She knew it was important to do, but adjusting to this new little person—and all the changes that came with him—made a daily reading routine more hope than reality. After beginning her career in library land, she saw firsthand how critical developing a love of reading and becoming proficient in it was to a child's future success, not only in school, but in life.
Jennifer realized that if she had difficulties establishing a regular reading routine in the beginning, other caregivers probably did, too. Families are faced with many challenges and changes after baby arrives, but implementing a daily reading routine with their newborn doesn't need to be one of those things. And so began her desire to develop the Stork Storytime programs to help prepare and educate parents and caregivers, enabling them to be more confident as a child's first teacher, right from the very beginning.
The Stork Storytime initiative is a completely new and original approach that delivers literacy by focusing on the expecting family. This expecting family education initiative encourages the development of a daily reading routine before baby (and chaos) arrives, enables parents and caregivers to learn about early literacy skills and how children learn those skills, and connects them with resources and social services in their community.  
Current early literacy programs are good, are making a difference, and need to continue. They all, however, focus on caregivers and children after they're born. The Stork Storytime initiative moves that timeframe up to deliver literacy before a child's arrival by focusing on the expecting family.
The NLCL has developed multiple programs under the Stork Storytime umbrella. The Stork Storytime Reads program encourages expecting families to do 100 "read alouds" before baby arrives. For convenience, read alouds are determined by the family, counting either books or times spent reading. Prizes are earned as the family progresses through the program. The NLCL gives books as prizes, getting books into the home and starting the child's own personal library. There are multiple benefits to participating in this reading program. Adults become more comfortable reading out loud and children can practice their literacy skills. It's a wonderful bonding experience and sets the tone and expectation that reading is important and valued at home. This program is also a great segue to the 1000 Books before Kindergarten program that many libraries currently offer.
The annual Stork Storytime Expo connects new and expecting families with valuable resources in the community. Non-profit organizations, social services, and businesses share their expertise with attendees and each other at this event. Mini library programs and screenings are available for families with children. The mini programs give attendees a chance to sample regular library programming and screenings include car seat safety, vision, dental and speech/language/hearing checks.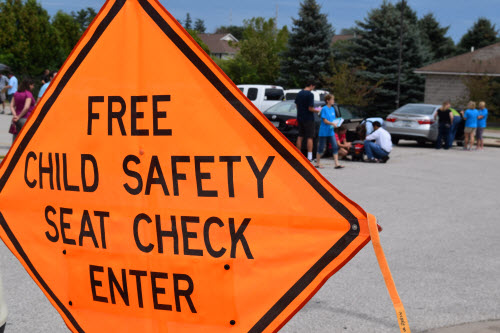 The Expo is free for the public and non-profit vendors. A small fee is assessed to for-profit businesses, which provide funding for the Reads program.
The monthly Stork Storytime Talks podcast enables adult caregivers to listen and learn from local experts when it's convenient for them, whether that's during their commute, child's naptime or a 2 a.m. feeding.
New programs take time, staff, and money to develop and implement. Libraries are constantly working within these limited parameters. The NLCL developed the Stork Storytime Librarian Toolkit so libraries of any size can easily implement these early literacy programs without having to recreate everything from scratch.
The toolkit includes everything libraries need to implement the Stork Storytime Reads program and will be updated soon with the other programs. The free downloadable online toolkit includes a guide, print materials and logos. The guide provides detailed information on implementing the Reads program, access to statistics, addresses funding and sponsorship, and has implementation and timeline information.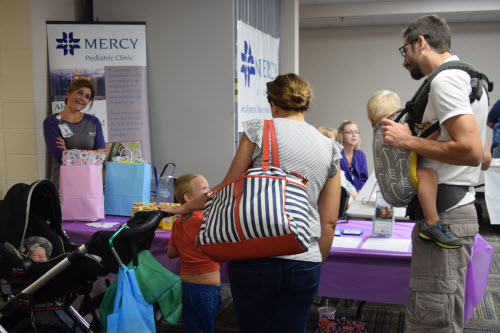 The print materials section contains a reading log, signage and patron survey. These are customizable so libraries can add site specific information. The logos section includes a style guide, sample new release and the Reads logo. Visit the NLCL website to access the Stork Storytime Librarian Toolkit and begin delivering Stork Storytime programming at your library.
Jennifer Jordebrek is Assistant Director at North Liberty Community Library. Please contact her with questions about Stork Storytime at JJordebrek@northlibertyiowa.org or 319-626-5731.
All photos by North Liberty Community Library, used with permission.