Start from Scratch: A New Program of the Bucks County Free Library
Shaun Pall & Regina Fried
/
15 July 2015
by Shaun Pall, IT Coordinator and Regina Fried, Marketing and Public Relations Specialist, Bucks County Free Library

Last month, Bucks County Free Library began offering Start from Scratch, a new program aimed at helping members of the public connect to the digital world.
During Start from Scratch sessions, patrons bring their "mostly dead" PCs to a Bucks County Free Library (BCFL) branch, where staff members bring the computers "back to life" by installing preconfigured open source software. Patrons who can't attend a Start from Scratch session can download the software directly from our website and install it themselves.
The impetus for this program was BCFL's strategic plan. We believe that libraries today are where people get access to information and technology, and one of the main goals of our strategic plan is to help the residents of Bucks County connect to the online world. We decided to make reviving old computer equipment the primary goal of Start from Scratch, as this would give patrons access to the online world, whether they wanted to use a computer for email, browsing the Internet, streaming digital content, or gaming. We were inspired by Geek Squad and other commercial offerings that provide similar services for a fee.
The timing for this program couldn't have been better given Microsoft's recent decision to stop supporting Windows XP. Currently, about 250 million -- or 24% of all -- computers are running Windows XP. Given the security issues this raises, we felt the need to create this program and to help patrons get the information they care about quickly and securely.
Initially we set out to provide a Windows alternative, and after trying various Linux installations, such as Ubuntu and Debian, we finally ended up with Zorin OS. This was the most Windows-like in appearance and, in our opinion, the most user-friendly.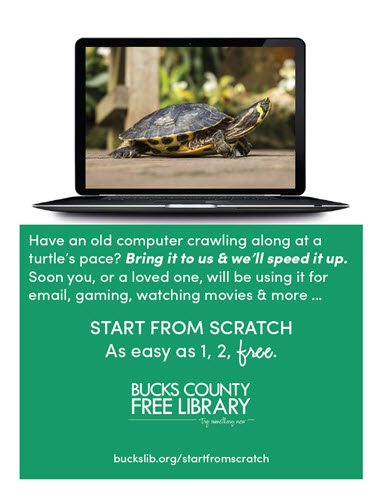 Zorin comes bundled with software that appeals to people familiar with Windows. It includes Libre Office (Microsoft Office alternative), Chrome, Gimp (Photoshop alternative), Audacity (for audio editing), and OpenShot (for video editing). With Zorin, users can open Windows-compatible documents. They can also install Windows-compatible programs using WINE or PlayOnLinux, which are also preinstalled. As Zorin is Linux-based, the risk of viruses is low, but it includes a built-in firewall.
After Zorin is installed, it automatically searches for software and driver updates. In one case, a computer lacked the wireless network card driver for Linux. This happened with an old netbook, and the patron was satisfied with plugging in a network cable, as needed.
After successful test installations of Zorin, we realized that not everyone needs, or wants, a Windows alternative. Many people already have newer, faster laptops that handle Windows-type tasks. So we came up with two alternative operating systems: Kodi and Steam. Computers using Kodi OS function as media center PCs. Steam OS is ideal on computers dedicated to gaming or on computers being used by children.
Our initial intent was to use DVDs exclusively for installation, but we realized that not all computers have DVD drives or, perhaps, working DVD drives. As a result, we created a flash drive installation version, as well. Another issue we ran into was that we discovered that we can't perform the installations on MACs or PCs with less than 1 GB of RAM or less than an 8 GB hard drive.
At each Start from Scratch session, we have demo versions of the installation options available for patrons to use. Once a patron selects an operating system, the installation then takes place. This takes approximately 30 to 45 minutes, depending on driver updates. Prior to installation, patrons must sign a liability release. This confirms that the patron is aware that all previous data will be overwritten and unrecoverable. After installation, we provide patrons with a Quick Start Guide for easy reference.
During Start from Scratch sessions, we also answer general technology questions and have provided trouble-shooting for patrons having problems with their computers. This has happened frequently enough that we've added a new program to provide patrons with help on their digital devices. We're calling it Device Advice.
We're helping an average of 15 patrons per three hour session.
Currently, we offer Start from Scratch three times per week, but we expect to increase our number of sessions. The program is open to anyone. Users do not need to have a library card.
Start from Scratch was developed by Shaun Pall, IT Coordinator, and Shawn Loughlin, IT Specialist.
Links & Additional Resources:
http://www.buckslib.org/startfromscratch