Outreach Programming: Serving Hidden Patrons
Erica Melko, OCLC Communications Coordinator/Editor, Membership and Research
/
23 January 2020
Angie Bates, Assistant Director of Perry Memorial Library, delivered a presentation on the library's outreach initiative in a talk titled "Serving Hidden Patrons" at the Association for Rural & Small Libraries 2019 Conference.
Perry Memorial Library (PML) in Henderson, NC is a rural library serving Vance County where approximately two-thirds of the county's population is either under the age of 18 or over the age of 60. Yet mobility issues and lack of transportation meant these demographics were not reflected in the patrons visiting the brick-and-mortar library. Because these patrons were not using library services, explains Assistant Director of PML Angie Bates, they were hidden from library staff's view. With such a large population of Vance County residents unable to reach the library's physical location, PML developed an outreach initiative aimed at serving these "hidden patrons" with goals to:
Identify hidden patrons and connect with them to make their needs visible to library staff
Adapt and expand already-existing community partnerships, library services, and staff expertise to fulfill outreach needs
Determine the best way to meet patrons where they are and deliver library services directly to these hard-to-reach patrons
Based on the county demographics, PML divided their outreach goals into two focus areas: youth services and senior adult services.
Youth services
PML identified that 27% of the Vance County population is under the age of 18, with 12% under the age of five. With a strong early literacy program and trained staff already in place, PML collaborated with Smart Start—an initiative to help North Carolina children enter school healthy and ready to succeed—to reach the 49 daycares across Vance County. Using their existing collection, PML created themed book baskets and activity kits that are delivered to the daycares and offered to hold storytime programing on site. By adapting their early literacy programming to reach daycares directly, PML has grown their program to serve 29 daycares, or over half of the total number of daycares in the county.
With this early success in youth outreach programming, PML looked to their statewide library consortia network to extend their reach to elementary, middle, and high school age groups. To make access to their collection easier for school-aged patrons, PML coordinated with schools throughout the county to deliver requested books and pick up returns at the schools. Students can also check out books using their school ID in place of a public library card, making the library's collection more easily accessible for youth. Bates reports that the schools in the outer reaches of the county have been the biggest users of this new program by far.
Senior adult services
PML observed that many library patrons over the age of 60 had stopped using their library card. One of the challenges for these patrons, PML quickly learned, is mobility, with many senior residents in Vance County fall into the category of "shut-ins," or are unable to transport themselves at will. To reach independently living seniors, PML collaborated with meal service organizations Meals on Wheels and The ACTS (Area Christians Together in Service) House to deliver surveys along with meals to learn what books and resources are of interest to these senior patrons. These partnerships enabled PML to deliver books and multimedia resources tailored to the patron's individual interest and to build relationships with a community that had long fallen out of reach of library services.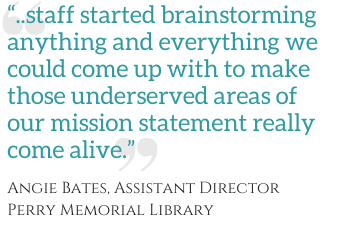 Library staff next consulted the Department of Senior Services in the Vance County Social Services Department to locate senior living facilities and nursing homes. The senior centers expressed interest in group programming with built-in social activity. PML therefore repurposed "Bi-Folkal" Kits, which they had purchased with a previous grant, to promote group activity, sharing, and communication in senior facilities. PML describe Bi-Folkal Kits as a "focus on a time or topic in the past as a starting point for remembering and discussion. The kits include multisensory and multimedia elements and can be shared with a group of any size." These kits have engaged a range of senior patrons in social activities, from those experiencing memory challenges to those interested in forming book clubs or memoir-writing groups.
The popularity of the senior services outreach program has grown quickly by word of mouth, and PML now delivers resources to over 30 individuals in total and provides programming to eight senior care facilities each month.
Making the most of what you already have
To get started with their outreach vision, Bates and PML Library Director Patti McAnally carefully examined their mission statement to identify what areas of their mission that they could expand on for their five-year strategic plan and then sought input from the broader library staff. "The PML staff started brainstorming anything and everything we could come up with to really make those underserved areas of our mission statement really come alive," explains Bates.
For PML, the success of their outreach initiative relied on clearly identifying the demographics they wanted to reach, listening closely to what those patrons want out of library services, and finding creative ways to meet patrons' needs. For rural libraries with limited resources, Bates suggests that defining realistic goals and collaborating with community partners is key to success and sustainability for an outreach initiative. It's also important to remember that even taking one step towards reaching underserved or hidden patrons is a move in the right direction, work with the capacity you have and when possible, find partners that share similar goals and missions.