Racial Equity in the Library, Part Two: Diverse Collections, Programming, Resources
Erin M. Schadt
/
17 February 2016
For this two-part series, WebJunction takes a look at a complex and broad issue: racial equity in the library. Read "Racial Equity in the Library Part One: Where to Start?" for more context and information.
---
"So this group of rowdy teen/tween boys came into the library today. They weren't really causing trouble, but they were a little loud and just … looked like they were looking for mischief, you know? So then they started going through the non-fiction shelves pulling books, seemingly at random, off the shelves and looking at them—but not like browsing—like they were on a scavenger hunt of some sort. Again, they looked like they were up to mischief. I offered to help find them stuff, but they shrugged me off. As I sat back down at the desk I overheard one of them saying to another, 'I found you. This is you right here.' They left after another minute or two and told me to have a nice day.
Later, I went through the shelves and found the stack of random books they had grabbed: they were all books with African-American men on the covers. They were literally trying to find people who looked like them on books in the public library. And this is why we desperately need diverse books."
—Emily Rose Laidley via Facebook: Storytime Underground
What is We Need Diverse Books, why is it important and how do I make my library's collection diverse?
In 2013, publisher Lee and Low Books took a look at diversity in children's books published from 1994 to 2014. They found that even though 37% of the U.S. population consists of people of color, the average percentage of children's books that contained multicultural content was just 10%, and that percentage has remained consistent throughout those 21 years. See a chart and more information here.
We Need Diverse Books began in 2014 with a Twitter exchange expressing frustration at this lack of diversity in children's literature, and it turned into "a grassroots organization of children's book lovers that advocates essential changes in the publishing industry to produce and promote literature that reflects and honors the lives of all young people," according to their website.
This organization is just one of many grassroots efforts at changing the landscape of literature to be more inclusive. Seeing yourself reflected in the world around you and your community is powerful. No one should enter a library and not see their own face, story or experience.
"Libraries that are inclusive don't just feature diverse titles in February or promote diverse titles only to diverse youth. In inclusive libraries, diverse books are promoted year round with all teens—just like the other books in our libraries. Every display—whether fantasy, graphic novels, anything!—includes books with diverse characters. If we're having trouble doing that, then this might be a sign that our collections aren't deep enough," write Sandra Hughes-Hassell, Ph.D., a professor and coordinator of the School Library Media Program in the School of Information and Library Science at the University of North Carolina at Chapel Hill, and Julie Stivers, school librarian at Mt. Vernon Middle School in Wake County, NC, on the Young Adult Library Services Association (YALSA) blog.
If you are looking to broaden your collection, here are two places to start:
We Need Diverse Books: Where to Find Diverse Books
School Library Journal: "An Expanded Cultural Diversity Booklist: SLJ Readers Respond"
6 Myths About Diversity in Early Childhood Storytimes (and How We Can Read Diverse Books in Our Library's Storytime Now)
Equity is so much more than a diverse collection, how can my library move beyond thinking about equity simply as diverse books?
"Do not stop with a diverse collection—that is only the first step in building a more equitable library," says Hughes-Hassell. "Diverse resources then need to be used. Staff need to be trained in cultural competence. Barriers to access and use need to be identified and removed."
Though the blog is aimed at teen and youth librarians, the two-part series "The Inclusive Library: More than a Diverse Collection" (Part One and Part Two) by Hughes-Hassell and Stivers provides good context to start thinking beyond your collection. The posts outline what cultural competency entails, how to use those diverse collections, and how to identify and remove barriers that may prevent diverse youth from feeling welcome.
Holly Wyrwich, Program Manager at Thrive Washington, an organization committed to closing the opportunity gap for kids in Washington State, emphasizes that practicing listening—and then engaging with and truly listening to diverse communities—is very important. She says, "We have to accept that everyone is in a different place in their journey on this, and we have to create brave spaces—not safe spaces—for them to develop their understanding and skills."
We haven't done programming in this area before, where do I start?
Use the resources your community already holds, and encourage diverse communities to see the library as a resource and opportunity for engagement.
"In every community there are people and organizations working to end racism. Invite them in. Make space for those voices and invest in those organizations. Libraries can create a platform for community dialogue and, most importantly, let communities impacted by racism lead the process," says Amy Sonnie, Librarian at Oakland Public Library (CA).
Judy Woodward, History Coordinator at Ramsey County Library (MN), recommends flexing those reference muscles. She has organized various series at the library that feature different communities in the county, from hosting the first history program that was entirely in Spanish to, most recently, holding a three-part lecture series "Black Lives Matter: A Movement in Context" this month.
She stresses that she is not the expert but is always seeking and reaching out to those who are. In the case of this lecture series, she heard Duchess Harris, Professor of American Studies at Macalaster College (MN), on a local public affairs program, and reached out to her about presenting at the library.
"I am really interested in doing programs like this," says Woodward. "To understand the present we need to know something about the past. If you understand the background of an issue, get people in the same room and hear about why we got to where we are, then understanding an issue becomes possible."
She also relies on colleagues to connect her to ideas and communities. "We have a diverse staff. To give you an example, a staff member told me that a group in the Hmong community had won a grant to do an interesting program where they translate the oral traditions and legends into modern day art and performance pieces. As soon as I heard that, I thought the library would be a wonderful venue, and I called up the person who got the grant and invited them to present at the library."
Woodward has a strong reference skill set, which is important in making these connections to diverse communities. If you are interested in learning more about how to make connections such as these in your community, the free WebJunction course Leaving Fort Ref – Reaching Out with Reference is a good place to start.
For more on reaching diverse communities specifically, check out the archived free WebJunction webinar Community Engagement: Serving Diverse Communities Where They Are. In the session, presenters CiKeithia Pugh, Hayden Bass and Rekha Kuver of Seattle Public Library (WA) explore what it means to provide inclusive outreach to and engagement with members of your local community. This includes how to identify needs, provides examples of effective approaches and offers a framework for making an action plan.
This is kind of overwhelming, how do I make and keep this a priority at my library?
Building racial equity and creating an inclusive experience at your library will take time and commitment.
"It's really important that people dedicate the time and space for these discussions," says Wyrwich. "It doesn't happen quickly. It's not like a regular training, where you go to one session and you can check it off the list for the year. It's all the time. So, while we know that anyone can take up this work from wherever they sit, it's also important for there to be leadership buy-in if librarians and library staff want time and space for these conversations to happen on the clock."
"Equity work is hard work. At times it can feel hopeless. It is imperative that we become part of a professional community that is committed to the work, proactively challenging the dominant ideology, and working to create equitable social institutions," says Hughes-Hassell.
"My favorite sayings that came out of our racial equity work were from one of our facilitators," says Wyrwich. "She often said these things: Your experience is not up for debate. We are the ones we've been waiting for. Be open to outcome."
What are some resources I can bring to my colleagues for discussion?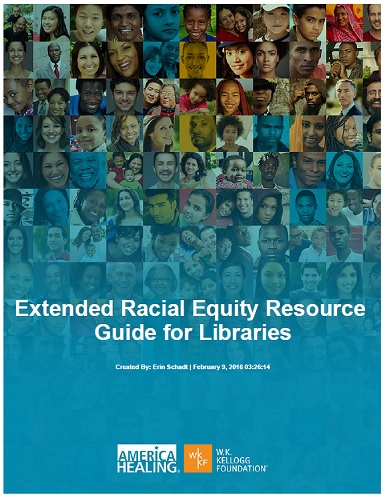 The W.K. Kellogg Foundation (WKKF) is among the largest philanthropic foundations in the United States, and in 2010, WKKF launched America Healing, which they describe as "an effort to put structural inequality behind us by first putting it squarely in front of us—understanding it, acknowledging it and joining together to change it." Since then, the foundation has funded several hundreds of organizations advancing racial equity and has convened four conferences on race and racial equity. In fact, they have recently announced new initiatives in this area that you can explore on their website.
In 2015, they created the customizable Racial Equity Resource Guide. The guide aggregates media, research and organizations and can be built in nearly infinite ways. Feel free to build your own, however, we have built the "Extended Racial Equity Resource Guide for Libraries" to save you some time! The guide contains a list of organizations that could be potential partners, sources of background information, and examples of solid programs. It also includes a wide spectrum of resources from videos and reading recommendations to guides and toolkits for reference.
Websites:
Libraries, Literacy, and African American Male Youth

Undoing Racism, People's Institute for Survival and Beyond
National S.E.E.D. (Seeking Educational Equity and Diversity) Project
Southern Poverty Law Center, section Teaching Tolerance
Rethinking Schools, a nonprofit committed to equity.

Articles:
Listen, Learn, Participate: A #BlackLivesMatter Resource Series:
10 Simple Ways White People Can Step Up to Fight Everyday Racism
How is Black Lives Matter Winning? by Waleed Shahid, Dissent Magazine
The Class Politics of Black Lives Matter by Barbara Ransby, Dissent Magazine
Books:
Ferguson is America: Roots of Rebellion by Jamala Rogers
From #BlackLivesMatter to Black Liberation by Keeanga-Yamahtta Taylor
Towards the "Other America": Anti-Racist Resources for White People Taking Action for Black Lives Matter by Chris Crass
Between the World and Me by Ta-Nehisi Coates
We Too Sing America: South Asian, Arab, Muslim, and Sikh Immigrants Shape Our Multiracial Future by Deepa Iyer
An Indigenous People's History of the United States by Roxanne Dunbar-Ortiz
Libraries, Literacy, and African American Youth:  Research & Practice by Sandra Hughes-Hassell, Pauletta Brown Bracy, and Casey H. Rawson, Editors
Multimedia:
Cracking the Codes film and conversation guide (See also info on World Trust)
What are you doing in your library related to advancing racial equity, building a diverse collection or reaching diverse communities? What resources would you add to this list? We'd love to hear from you!
Image credits, from top:
Cover of March: Book One, and award-winning and acclaimed graphic novel by Congressman John Lewis, Andrew Aydin, and Nate Powell.
Promotional graphic for the series "Black Lives Matter: A Movement in Context" at the Ramsey County Library (MN).