How to Make Space for Active Learning in Your Library
WebJunction
/
22 June 2018
Are you ready to imagine the possibilities that can come with an active learning space in your library? WebJunction has you covered! We're nearing the end of our IMLS grant-funded project, Small Libraries Create Smart Spaces, and we're excited to share the transformative outcomes of the fifteen small and rural libraries who participated, and to announce the new free, online course available to anyone interested in creating smart library spaces.
What's a smart library space?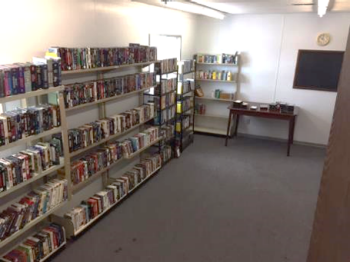 Smart library spaces are designed to meet the needs and desires of diverse communities. Smart spaces are where discovery and community intersect, fostering social connection among people of all ages by providing active learning that encourages exploration and play. Participating libraries engaged community members throughout the process to discover their interests and involve them in design and construction of the physical spaces and delivery of programming for active learning.
Webinar Recap
WebJunction hosted a webinar to highlight ideas for smart spaces and the libraries who participated in the project. More inspiring than an HGTV remodel show, the 'before and after' library space transformations at the Glenns Ferry Public Library in Idaho, and the Hot Springs Public Library in North Carolina brought about a virtual standing ovation in the webinar.
Glenns Ferry Public Library chose to reimagine a space that previously held their large collection of VHS tapes (see image above, right). After weeding and relocating that collection, library director Jennifer Trail was left with a blank space full of possibilities and was determined to create a space that would better serve her community.
They closed off two small openings at either end of the room and created a new large entryway to make it feel brighter and more open. The space has transformed into one that can be used for book clubs, after school programs and community meetings while still being versatile and adaptable. With the acquisition of a 3D printer, maker kits, and new storage, the community of Glenns Ferry now has an exciting makerspace to explore a variety of active learning opportunities!
The Hot Springs Library in North Carolina, serves a community of under 600 residents just off of the Appalachian Trail. The library renovated a storage room to expand the library and create a smart space that serves patrons of all ages. In the webinar, Hot Springs Library Director Melanie Morgan shared the story of their dramatic transformation, including overcoming an unexpected structural issue with the building! Check out their before and after pictures below.
View the webinar recording to hear more about the project, and the principles of active learning, placemaking and design thinking. Begin to explore how your library might create smarter spaces where your community can learn and create together as well as strengthen social bonds. Hear about the innovative process that libraries of all sizes can follow to uncover community needs and translate them into flexible, lively learning space. And take a look at the webinar's Learner Guide (doc) if you'd like to explore some initial steps in the process.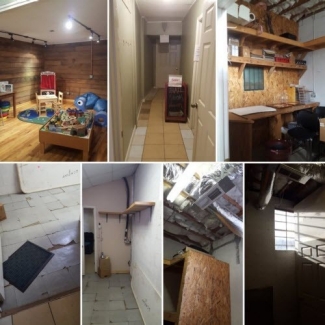 New Courses for Smart Spaces

One of the project deliverables is a series of three self-paced, online courses called Making Space for Active Learning in Your Library, which will guide your library through the process of rethinking and reconfiguring physical space to make room for active learning and work with your community to create new services and programs.  
1. Active Learning and Community Discovery introduces the concepts of active learning and placemaking, and the tools and process for community discovery.
2. From Discovery to Design builds on the results of the community discovery process, adapting design thinking approaches to arrive at an actionable idea and a space ready for transformation.
3. Action Planning and Implementation takes the planning through the steps of making the space and service transformation happen.
Learn More
WebJunction's Betha Gutsche presented a Spotlight Session at the OCLC booth at ALA to share about the community-led Smart Spaces project. View the recording to get a visual tour of the small, rural libraries that invited community members to re-envision their spaces that encourage hands-on learning and strengthen social connections. Hear how libraries of any size or type can apply elements of placemaking and design thinking to create more dynamic, engaging spaces.

And stay tuned to the Small Libraries Create Smart Spaces project page for a series of transformation stories and videos about the participating libraries which document their journeys and provide inspiration. We look forward to sharing more of the incredible outcomes from the project participants and to showcase the impact this important work is having on their communities.