Hooray for Freedom! Webinars on the Legal and Ethical Foundations of Library Practice
WebJunction
/
17 June 2019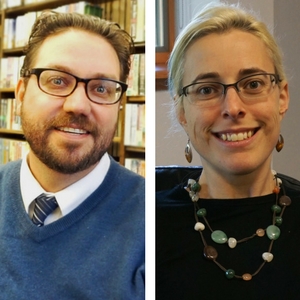 This summer WebJunction was pleased to host, in collaboration with the Association for Rural and Small Libraries and Library Journal, a two-part webinar series exploring library policies and procedures related to intellectual freedom, privacy, and confidentiality. Margo Gustina and Eli Guinnee, co-founders of Hooray4.org, and authors of Why Social Justice in the Library: The case for shifting library policy, practice, and culture toward radical inclusivity, brought expertise and practical experience to the topic.
Margo serves as Special Projects Librarian, at the Southern Tier Library System in New York, where she supports mostly small and rural libraries in staff training and trustee development, and she has been recognized as a 2018 Library Journal Mover & Shaker for her great work.
Eli Guinnee is the State Librarian of New Mexico, where he serves the residents of the Land of Enchantment and 98 public and tribal libraries statewide.
Margo and Eli know that it can sometimes be difficult to meet our professional ethics when faced with the realities of running a library. They help navigate the complex legal and ethical grey areas inherent in our profession and offer approaches that empower us to get closer to meeting the demands of our shared values. These approaches include policy, training, programming, culture building, and better understanding legal risks and protections.
Margo says, "In any community, big or small, there a plenty of forces wanting to limit an individual's privacy, and we believe it is especially important that the library serve as a radically inclusive space that always errs on the side of protecting privacy, confidentiality, and intellectual freedom."
"The most common comment we get," Eli shared, "is 'I haven't talked about this stuff since library school!' and it is true that we simply don't talk enough about the values and professional ethics we share and how to live up to those. We can't move from ethical grey areas into actionable policies without first having those conversations, even if they are uncomfortable."
July 11
Hooray for Freedom! Part One: Privacy, Confidentiality, and Intellectual Freedom in the Library
Privacy, confidentiality, and intellectual freedom are core values of librarianship that are easy to agree with, but difficult to implement. Hooray for Freedom! helps you assess your professional practice, gives you the legal and ethical context to support democracy in your library, and helps you identify practical ways to implement improvements.
In this webinar, learners:
Gain familiarity with the legal undergirding of intellectual freedom in libraries.
Recognize methods that help shrink the gap between ethics and practice for libraries of any size.
Learn strategies to use in real-time situations related to the legal and ethical foundations of library practice.
August 8
Hooray for Freedom! Part Two: Developing Policies in Support of Ethical Practice
Building on part one, this webinar helps you assess your library's current policies and procedures within a legal context, and helps you draft specific policy language. We explore considerations for libraries of all sizes in order to codify the library profession's values for our institutions.
In this webinar, learners:
Increase understanding of the language in, and policy implications for, the 1st and 4th Amendments.
Learn how to translate legal opinion into policy considerations for libraries.
Recognize how to avoid policy drafting traps by maintaining focus on mission and purpose.
View the recordings for these sessions alone or invite your colleagues to join in learning about these important library topics!
Image: Eli Guinnee and Margo Gustina, used with permission.