Golden Hour with the Library
WebJunction and Lorraine Lane
/
14 February 2023
Forsyth County Public Library is taking programming on the road to meet some of their senior community members where they live. Golden Hour with the Library offers interactive activities based around a theme, such as travel, holiday traditions, or crafting. Participants are invited to take part in multi-sensory activities that include songs, games, images, and activities centered around the theme. The events take place monthly at ten senior living facilities, and are facilitated by the library's five Outreach Team members. We connected with Lorraine Lane, the outreach manager at Forsyth County Public Library in Georgia to learn more about this impactful series.
How did you come up with the idea for Golden Hour with the Library?
Back in 2019, our Outreach Team was visiting a handful of senior living facilities to present Tales & Travels (a program by retired librarian, Mary Beth Riedner). Over time we revamped it, offering presentations on a myriad of topics. We changed the name in 2022 to represent a larger sphere of programming options. The name Golden Hour came about as we considered that the later years of a senior citizen's life are often referred to as their "Golden Years."
Can you give a summary of what a Golden Hour with the Library event looks like, and what types of activities are included?
The Golden Hour is a presentation that educates on a particular topic while also evoking fond memories. The presentation always begins with fun facts, and  to encourage audience participation, we incorporate discussion questions throughout the presentation. Props are sometimes used for a more hands-on approach. At the end of the presentation we always have a game of sorts to engage the group even more.
What are some examples of topics or themes you've used?
Our travel events have taken our residents to Italy, Las Vegas, Massachusetts, and Hawaii, to name a few. Themes aside from travel have been on topics such as Holiday Traditions, Miss Christine's Farm (an outreach specialist's personal farm), Connecting with Nature: A Wellness Program, History of Puppets, Sensational Singers, and Yarn.  
Which themes have been most popular?
Surprisingly, the History of Puppets was very well received. We brought along puppets for the seniors to try out and even entertained them with the puppet show, Falling for Rapunzel. Our presentation about yarn was also incredibly interactive and engaging. One of our staff wore a sweater made from the yarn of her sheep, Harley, and the residents were fascinated! As we circulated different types of yarn, one of the residents was reluctant to return the yarn. When staff went to ask about getting the yarn from her, the resident held the outreach team member's hand and caressed it gently. This was a very special moment that emphasized the power of touch in the lives of our senior citizen clientele.
Do you have any events planned for the future that you're excited about?
We look forward to presenting the Golden Hour each month. Some future topics we're considering include The Beauty of Music, a Trip to Switzerland, and April Fools: A Play on Words.
Do you have any interesting stories to share about a particular event, or a person that really enjoyed an activity?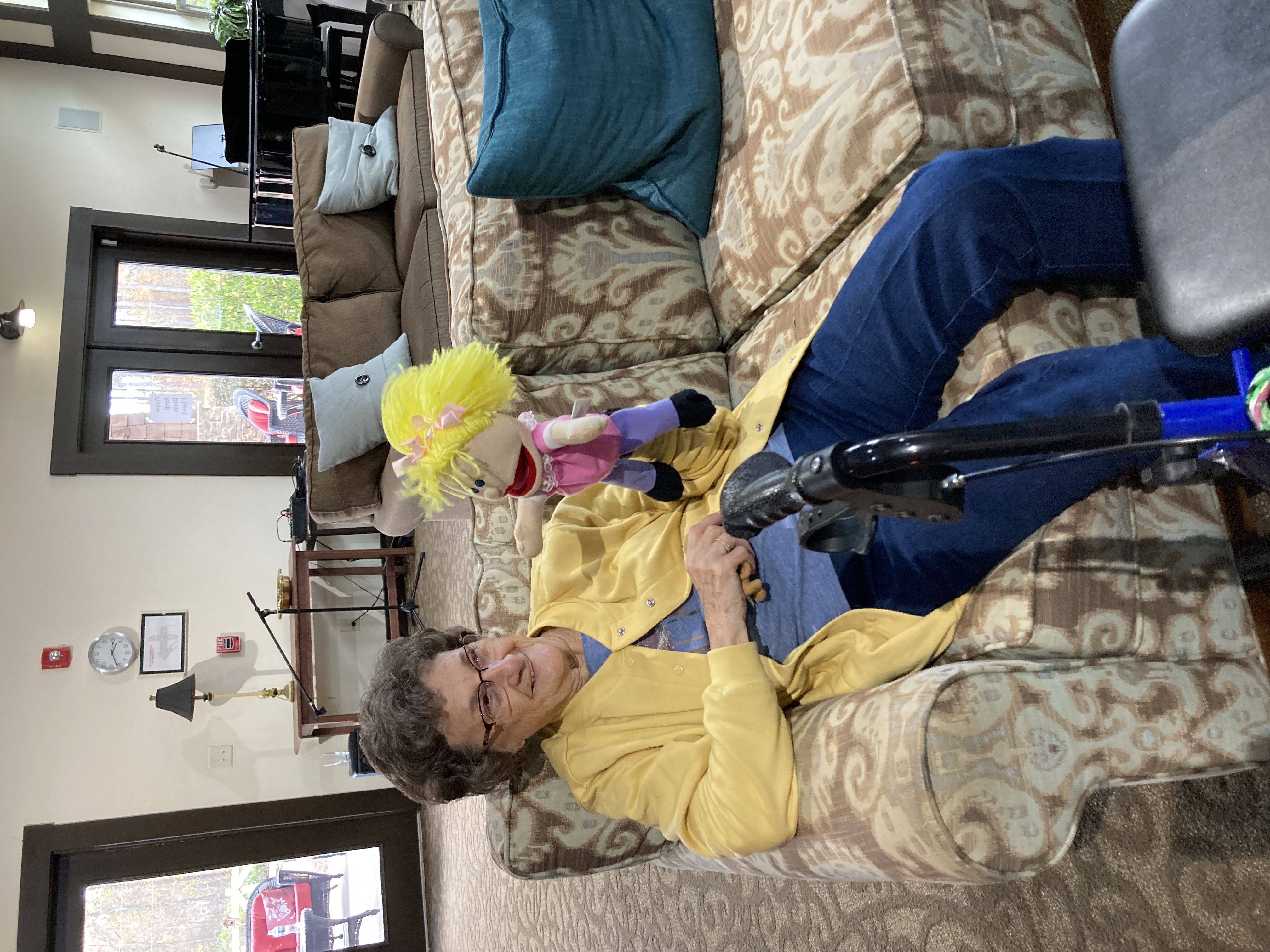 Wow, there are so many, however one that comes to mind was during our Holiday Traditions presentation. While on-site at The Oaks at Hampton senior living facility we noticed one of the residents was particularly despondent when we arrived. Later in the presentation, as we shared with the group a cookie cutter, her face lit up with joy and she began to share a heartwarming story with us. Even though we could not quite make out what she was trying to say, we could tell from the look in her eyes that she was remembering a moment that was very special to her. Her face radiated with a smile that reached clear up to her eyes and her laugh filled my heart with such joy! It was a wonderful reminder of why we do what we do. I laughed and smiled and nodded along with her, this was such a sweet moment.
The above photos were taken at Golden Hour with the Library events, including at Oaks at Post Road and Cumming Health and Rehabilitation.
Forsyth County Public Library (FCPL) is located in Cumming, Georgia. For more information, please visit the FCPL Outreach Services page.