What is Geek the Library?
Geek the Library was a campaign designed to highlight the vital role of public libraries and raise awareness about the critical funding issues many libraries face. This campaign was developed based on the research findings included in From Awareness to Funding: A study of library support in America. This study, published by OCLC in 2008, found that increasing funding support for public libraries requires changing community perceptions. (See also 2018 updates to this research.)
With funding from the Bill & Melinda Gates Foundation, OCLC conducted a pilot campaign during 2009-2010 in partnership with nearly 100 public libraries in Georgia, Illinois, Indiana, Iowa and Wisconsin. The results of this pilot are documented in the report, Geek the Library: A Community Awareness Campaign, and includes the finding that Geek the Library gets people's attention, raises awareness, and encourages action.
Between 2010-2015, OCLC engaged another 1,600+ libraries across the U.S. to run a Geek the Library campaign in their community. The campaign has also been translated into four languages and used in Austria, Germany, The Netherlands, and Switzerland.
Download the final project report: Local Action and National Impact: A Summary of Project Outcomes and Learning from Geek the Library.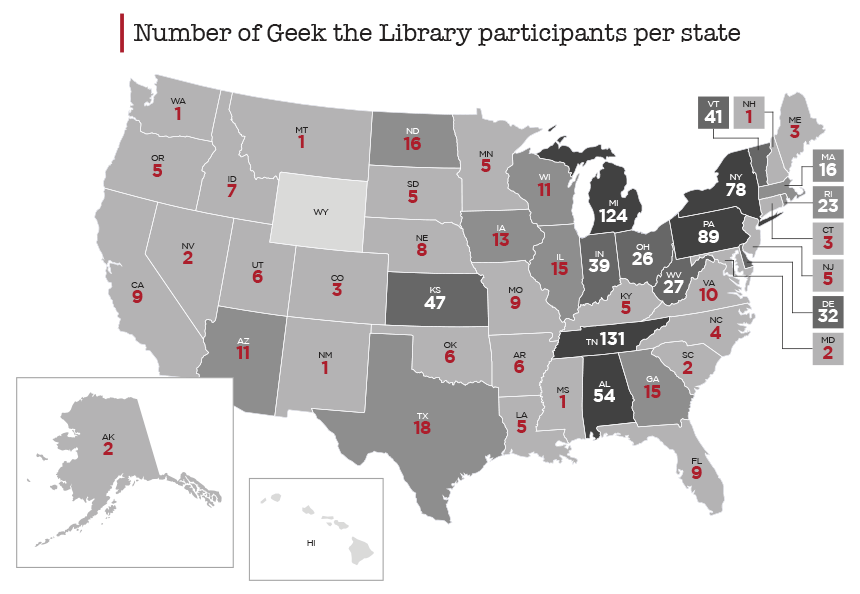 How does it work?
The Geek the Library campaign grabs people's attention and serves as a reminder about the immense value public libraries have for individuals and for communities. The awareness campaign introduces the word "geek" as a verb and illustrates the fact that everyone is passionate about something—everyone "geeks" something—and that the public library supports it all. (And you will find people who are excited to tell you what they geek.)
As people see Geek the Library campaign elements around the community, their curiosity increases. The campaign provides an effective platform to educate and engage people about the critical nature of public library funding, and feeds a growing awareness that everyone plays a role. The campaign aims to reach influential members of the community and key library supporters (who aren't necessarily your most regular patrons) who can help educate others regarding about the library and its funding future.
---
This page contains archival information about the 2009-2015 Geek the Library program. For up-to-date advocacy news and resources, see Advocacy or follow the Advocacy in Action links below.
"Geek the Library resonated so well because it is a progressive awareness campaign that leads up to what we all need to do, which is ask for support. You can warm people up, you can take them out to lunch, you can show them the programs, you can show them the smiling faces of the kids, but at some point, you have to say, 'Look, we really need your support.'"
—Wallkill Public Library in Wallkill, New York, Director Mary Lou Carolan
"The campaign acted as a launching pad for activating library teams at the local level. We were pleased by how enthusiastically the libraries took it and ran with it. Geek the Library gave all of us the confidence to get out there. We learned that it's great to use something like this as a springboard to starting conversations."
—Deputy Director Beth-Ann Ryan, Delaware State Library