Battledecks! 2010
Last Modified: 21 March 2012
Originally presented December 2, 2010 as part of Serving the 21st Century Patron Online Conference.

 And the winner.....Angie Manfredi. Outstanding performances by all!
View full Archive (combined archive of audio, slides, and chat) Make sure you open the chat...it's very funny!

What is Battledecks?
Peter Bromberg provides a nice definition of Battledecks:
Battledecks is a fun improv exercise that challenges contestants to deliver a presentation on the fly using an unknown slidedeck containing random (and often hilarious) slides. The contestants are judged on their ability to create a coherent presentation that incorporates the slide content smoothly. Laughs and getting through all of the slides on time are a plus.
How it works:
Each presenter will be given 5 minutes to present 12 slides.
They have not seen the slide deck before today.
Attendees will judge the presentations based on a set of criteria.
You are encouraged to use chat during the presentations.
There is a slide from one of the conference presentations in each of the decks!
Criteria for judging:
Believability, humor, and integration with conference theme.
Ease and presence in online conferencing tool, engaging the audience.
Presentation flow with minimal pauses or stammering, and getting through all of the slides
The presenters: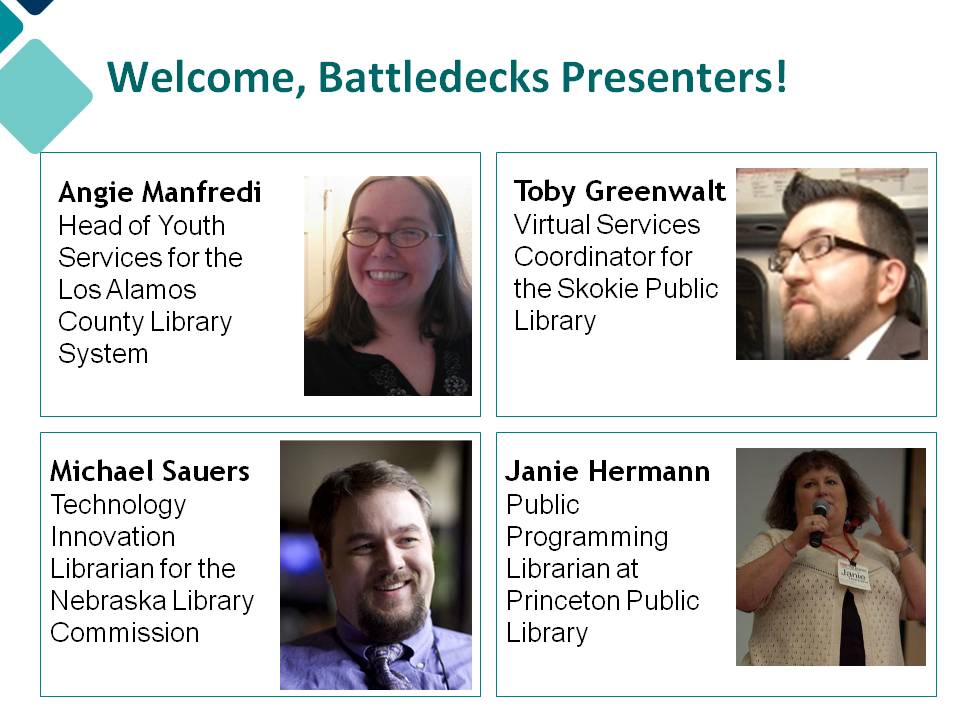 This work is licensed under a &nbspCreative Commons Attribution 3.0 United States License