Welcoming Children with Disabilities at Your Library
Anna Shelton
/
03 November 2014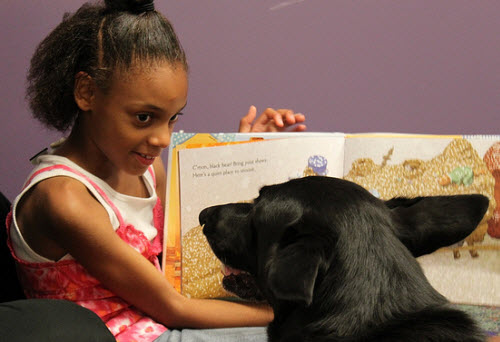 Every community, no matter the size, has the opportunity to serve children with special needs. Libraries have unique opportunities to raise awareness and strengthen services for children with disabilities and their families. In the recent webinar Serving the Underserved: Children with Disabilities at Your Library, Renee Grassi, Youth Department Director at Glen Ellyn Public Library shared strategies for making libraries more inclusive, comfortable and welcoming for all. Read on for the webinar recap.
Getting started
Renee encouraged listeners to remember one of her favorite quotes: "inclusion is about the spirit, not the space." Even without tremendous resources or time, it's possible to accomplish a lot. Here are suggested starting places:
Provide disability awareness training for all library staff members. Each staff member needs the tools to provide inclusive customer service throughout all library interactions.


Partner with the special education district. Local special education districts may allow you to visit to a special education classroom to learn about setting up spaces for people with disabilities; share local statistics about children with disabilities in your community; and more.


Assess the need in your community. While you may learn informally from parents about unmet needs to provide library services for children with disabilities, you can also consider collecting more detailed feedback through a survey. See Renee's sample survey designed and delivered in partnership with a special education district.


Partner, partner, partner. Reach out to special education professionals in your community, search meetup.com to find local support groups who may want you to provide a talk, or coordinate with other nearby libraries to seek support and avoid duplicating services.


Secure funding. If funding is needed, potential sources exist, including ALSC/Candlewick Press Light the Way grants.
Inclusive customer service strategies
Whether at the desk, in the stacks, or during a library program, every interaction is an opportunity to provide inclusive customer service.
Use language that acknowledges the person first and the disability second. Use this tip sheet to help think about the words you use and become more inclusive in your language. Remember that disability may touch people's lives in ways that are not visible.


Be prepared to adjust your mindset. Kids with disabilities perceive their environment in different ways; a child may be attentive without holding your gaze or sitting still.


Ask simple questions and use simple language, such as "First we're going to read a story, and then we're going to play a game." Give extra time for children to process what you're saying.


Welcome feedback and acknowledge the library is working to improve.
Choosing program methodology
When thinking about programming, imagine a spectrum ranging from targeted programs to inclusive programs. Targeted programs, commonly sensory storytime or outreach to special education classes, are designed to address the unique needs of kids with disabilities. Inclusive programs, such as children's play groups or resume-writing classes for teens, are developed to meet the needs of everyone, regardless of ability.
Both targeted and inclusive programs can have benefits and drawbacks. In a targeted program, the parents of a child with disabilities may feel that fellow parents are less likely to pass judgment of their family than in an inclusive program. However, targeted programs also deny children with disabilities the chance to learn from their same age, typically developing peers. Inclusive programs offer the benefit of allowing children to learn about each other's differences and build friendships across those differences. However, inclusive programs may not always be successful in addressing the unique needs of children with disabilities.
Renee has offered sensory storytime as a targeted program for children with disabilities; and as an inclusive program for everyone. The targeted program, for children with autism and other disabilities, was a drop-off program at Deerfield Public Library supported by storytime volunteers including local special education teachers and teens trained in disability awareness. The inclusive program, developed at Glencoe Public Library in partnership with the Lekotek Center, was geared toward the whole family. Lekotek facilitated sensory play with accessible toys around themes like movement, food, seasons, and transportation. Each program was successful in different ways. The targeted program helped develop children's independence, and the inclusive program provided rich opportunities for parent-child interaction.
Strategies to make accommodations for kids with special needs
Whether a program is designed to be inclusive or targeted, incorporate strategies to provide the best possible experience for children with disabilities.
Use visual supports. Walk through a visual schedule including large pictures and simple text so kids can anticipate what's coming next. To go even further, let each child track the schedule physically by ripping each completed task from a smaller, individual version of the schedule strip, where each task is affixed by Velcro. Post simple rules, such as "quiet hands, quiet mouth, quiet feet," in large picture format.


Offer a variety of sensory activities in any program. Some kids may be sensory-seeking, and thrive with opportunities for tactile experience; other kids may be sensory-avoiding, and strongly impacted by any type of sensory input. Offer activities to address this whole spectrum, such as movement activities, therabands, rhymes and songs; and noise-canceling headphones for checkout for kids who may be overly stimulated by noise.


Provide materials in multiple formats. Use big books, sensory books, interaction with flannel boards, pop-up books, copied books that allow parent/child to follow along and read together.


Set up room to minimize distraction. This can include providing defined seating spaces, such as carpet squares, to support kids who might need help with boundaries.
Innovative Program Ideas
Looking to offer something other than sensory storytime? Many types of programs can be used to support library engagement with kids with special needs.
Read to rover or other programs with trained therapy dogs. Dogs can provide excellent opportunities for interaction and emotional support. In researching potential partner organizations, be sure to ask whether volunteers and animals have experience working with children with special needs.


Sensory friendly film. Offer a drop-in movie experience for kids of all ages and abilities. Set clear expectations at the beginning that everyone is welcome to experience the movie in their own way. Leave lights on; make movie volume relatively low; allow the audience to move, talk, sing; and make additional activities available for kids who need something to do with their hands, such as tie-in books, fidgets, manipulatives, coloring sheets, and puzzles.


Support special education class visits to the library. Special education classes often make visits to different areas of the community and may already be visiting your library. How can you support those visits with include rich interaction and learning? Renee has written a blog post describing one such partnership at the Glen Ellyn Public Library.


Market existing programs to a more inclusive audience. Sometimes, an existing program may have all the basic elements to become a program for children of all abilities, as Renee found with a play group program called "Smart Start" at Glen Ellyn Public Library, with stations and themes for families to facilitate learning and exploration for their children.


"This is my library" social story. Help reduce children's potential anxiety about visiting the library for the first time by using a template to create a welcoming, customized library preview. The story can be posted on your library website, and can also be printed and laminated in a binder and circulated through your collection, allowing families to read it through multiple times before their child's first visit.


Parent workshops. Team up with local organizations to offer programs for parents on topics such as apps for children with disabilities.
It is always important to carefully consider where to allocate resources. However, when seeking to reach underserved communities, Renee urges looking not just at the number of people served, but also at the depth and quality of impact on people's lives. Libraries are well positioned to help facilitate connections, provide gathering spaces, increase visibility, and advocate for underserved groups. The benefits of implementing these aspects of an inclusive service model across the library are significant not only for families of children with disabilities, but also for the library and the entire community.
Please visit the webinar archive page for many additional resources to support planning, programming and outreach, including recommended books and blogs. Renee welcomes emails with questions and requests for further information: [email protected]