Unfolding History at Your Library
Betha Gutsche
/
27 April 2017
In our information-saturated and social-mediated world, we are all subject to some filtering of the news we receive. It's a challenge to get the full picture of things happening, especially complex world events. Think back to the information landscape in the critical years leading up to and during World War II. How did calamitous events happening across oceans filter back to US citizens then, in particular those in small and rural communities? How did the representation of that news shape their attitudes?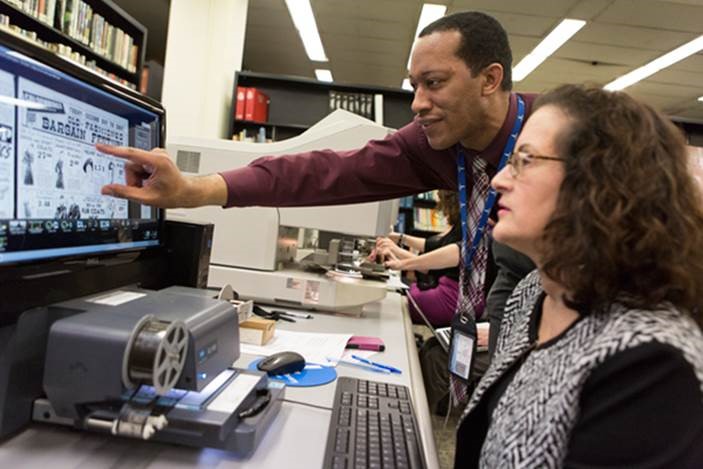 History Unfolded is a nationwide project of the United States Holocaust Memorial Museum (USHMM) in Washington, DC, that is excavating the evidence for what was possible for Americans to have known about the Holocaust as it was happening and how Americans responded. Much of that evidence lies in libraries, large and small, across the country. Libraries of any size can help the Holocaust Museum find out what Americans could have known about the Nazi threat from reading their local newspapers in the 1930s and 1940s.
Citizen history – how it works
Anyone who wants to participate in the project can look in archives of local newspapers for news and opinion about 31 different Holocaust-era events that took place in the United States and Europe, and submit articles they find to a national database. The project name suggests the careful unfolding of brittle, aging newsprint to find gems of bygone journalism. More likely, the historic news record is on microfilm or in digital format. While many of the articles submitted are found using national online aggregators (Google Historic Newspaper Archive, ProQuest, newspapers.com), the project is keenly interested in the more deeply buried views into what each community knew—whether it's general town news or information shared within an ethnic, religious or language community. Elissa Frankle, Museum Experience and Education Specialist at USHMM, says, "We love seeing college papers, papers from the Black Press, and papers that aren't in English."
This unique "citizen history" approach was conceived by David Klevan, the museum's Education Outreach Specialist, who was inspired by citizen science projects. He wanted to go beyond simply crowdsourcing data and create more of a rewarding learning experience. "We want the data, but we want people to contribute to the history, have a fun learning experience and be part of something bigger than themselves."
Libraries – the perfect partners
When a group of these history detectives get together, it's called a research sprint. One of the best places to hold a research sprint is the local library because they have the resources and they are accustomed to inviting the community in for learning events. Discovery in groups is more potent than working alone when participants share what they're finding, celebrate success together and reinforce the sense of contributing something meaningful to their community. In addition to revealing a vivid piece of community history, it's an opportunity for the library to raise awareness of news collections in general and familiarize users with how to do research with microfilm or online. It may also draw attention to other collections in the library, such as a collection of books on the Holocaust or life in the 1930s and 1940s.
Research sprints are an excellent teaching tool for kids. With the element of serendipity that comes with perusing newspapers, they get to see history in the context of what else was going on at the time. Realizing that news that is momentous in historical perspective may have been below-the-fold and minimized in its original context opens ripe opportunities to extrapolate to modern times and current world events. Klevan had initially targeted high school students for school History Unfolded projects, but says, "We're now finding enormous interest from middle schools and universities as well."
USHMM wants to help you host your own research sprint. They've created a Guide to Hosting a History Unfolded Research Sprint, which provides step-by-step recommendations for planning and hosting a sprint event. From finding community partners, deciding what to research, promoting the sprint and gathering materials to producing the actual event, the History Unfolded team is available to support your success – they even offer email contact to help answer your questions.
There are plenty of other supporting resources available on the site, including:
Is there more to discover?
Yes, especially if you're in a smaller, non-urban location. Frankle assures us, "We know there are many more articles that could be found in those smaller communities that are not available online. …we'd love to see what people outside urban centers are finding." The major cities may seem fully covered, but opportunity is there as well to dig for sources other than the readily accessible major newspapers. There is a particular need of help from participants researching locally in Nevada, Wyoming, South Dakota, North Dakota, Kansas, Oklahoma, Alabama, Tennessee, Mississippi, and West Virginia.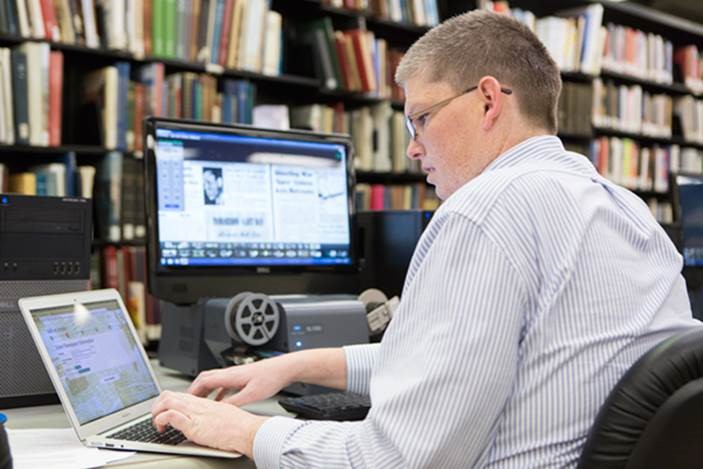 Even for events that look well-researched, the project welcomes more letters to the editor, editorials and cartoons, because these sources reveal more about how members of local communities actually felt at the time. As an example, the event Anti-Jewish Riots Convulse German Reich, which has 585 articles, still has gaps to be filled. Frankle says, "We still need articles from Hawaii, Nevada, and Tennessee, as well as anything from papers outside of mainstream circulation and any opinion pieces, since most of those [585] articles are news articles."
You and your library can play a key role in bringing history to light. The Holocaust Museum truly views this as a community-based effort and welcomes feedback and ideas for the project as it evolves over time. Since libraries house many of the collections being used for the project, you may have new insights about how the museum can best engage your audiences and make use of your newspaper and microfilm collections. It's a wonderful collaboration between libraries and museums.
The citizen research is supporting the development of an exhibition on Americans and the Holocaust, opening in spring 2018, which will have images of articles and interactives that are fed by the History Unfolded database. So, get started on a research sprint. Partner with schools or your local history museum. Engage your community to unfold their local history, heighten awareness of a fraught information environment and feel the pride of joining a national effort.
If you stage a research sprint, please let us know: info@webjunction.org
Images provided courtesy of History Unfolded.