Trailblazer Profile: Norma Fultz, Rio Grande City Public Library
Erin M. Schadt
/
28 June 2016
Library rock stars—we all know a few and can't wait to know more. They are full of passion, constantly form connections and seek to support their community in as many ways as possible. One library rock star we'd like you to know is Norma Gomez Fultz, Director of the Rio Grande City Public Library since 2005, in Rio Grande City, TX, a town of nearly 14,000 that hugs the Mexico border along the Rio Grande River. We have had the pleasure of following Fultz's work since she participated in WebJunction's Project Compass several years ago.
Project Compass launched in the fall of 2009 to investigate job seekers' specific demands on public libraries and what could be done to address their demands more effectively, particularly through state library initiatives. Funded by a grant from the Institute of Museum and Library Services, WebJunction and the State Library of North Carolina formed a strategic partnership to complete this one-year project that soon turned into a three-year effort.
A unique aspect of Project Compass training was the opportunity for library staff to share their knowledge, resources and examples of programs and services they devised to support the needs of job seekers and the unemployed in their community, especially in light of critical new topics that support a technology-dependent 21st century workforce. This on-the-ground expertise was collected and embedded into the curriculum, which continues to be available on WebJunction.
Fultz was encouraged by Peggy Rudd, who at the time was the Director and Librarian of the Texas State Library and Archives Commission (TSLAC), in 2011 to participate in Project Compass. "That was such a unique opportunity and a great experience," recounts Fultz. "I was able to participate in a Project Compass workshop, and it was a unique opportunity to meet librarians from all over the United States who are all experiencing the same thing. We're thinking about job seekers and small businesses and how we can reach them."
In April 2012, Fultz attended the Project Compass National Convening, where she says she "heard what different libraries were doing and it started a fire in me. I couldn't wait to get back home and ask what can we do, what can we tackle first?" All areas of the program interested her, including helping small businesses and entrepreneurs, assisting individual job seekers, increasing digital literacy and strengthening personal financial skills.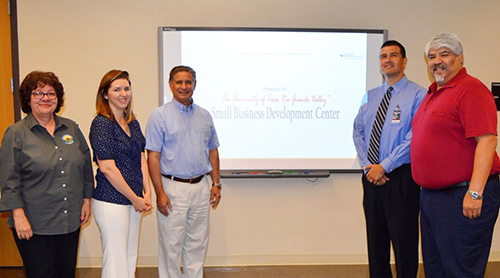 One of the first initiatives Fultz (pictured on the far left) and the Rio Grande City Public Library took on was teaming up with Workforce Solutions. "When people lose their jobs, home internet is the first place they are going to try to cut costs," points out Fultz. Workforce Solutions donated computers and trained library staff to better assist patrons for job seeking, applying for unemployment benefits and the countless other ways that access to technology is critical to job seekers.
In addition, the library sends out weekly hot community jobs updates, and uses Facebook, email and bulletin boards to get the notices out. "Businesses know to post jobs here, and the community knows the library is a place to come and get information on local opportunities and jobs," says Fultz.
Fultz's education includes public relations, and this skill set has been essential time and again.
"Last year, the Texas State Library & Archives Commission's Board of Commission and staff held their meeting in Rio Grande City," Fultz says. "The City of Rio Grande Mayor and Commission, and Friends of the RGC Public Library held a social and invited area school, academic and public librarians to attend. Present at the both events was Texas State Representative Ryan Guillen (District 31) Chairman of Culture, Recreation and Tourism."
As momentum built and word spread about the work Rio Grande City Public Library was doing, people and organizations began reaching out to the library. For example, in 2013, the Rio Grande City Consolidated School District contacted the library because the district was switching to online job applications and were concerned about potential applicants without internet access. "Of course we were delighted and expressed how helping job seekers is a priority for us," says Fultz. "They needed our help getting people ready for this and oriented the library first before rollout."
In 2013 the Texas Library Association created the Workforce Partnerships Task Force to examine this issue, determine how libraries could partner with local workforce solutions boards, and develop resources and strategies to assist libraries in their deployment of robust workforce development services and resources. Fultz was appointed to the newly formed statewide taskforce focused on libraries and workforce development in Texas. She currently serves as co-chair of this Task Force. In fact, the Rio Grande City library's work served as a statewide model for workforce collaborations. Fultz presented on the topic at Texas Library Association (TLA) Annual Conference in 2014 and was on the planning committee for 2015.
When Sharon Amastae became the 2015 TLA President at the time she wanted to involve library staff outside urban areas, she reached out to Fultz for her involvement. Fultz has since been a liaison for the program committee of the TLA Latino Caucus Round Table, a TLA counselor, and attends executive council meetings. She sees this as another opportunity to find partners and collaborate.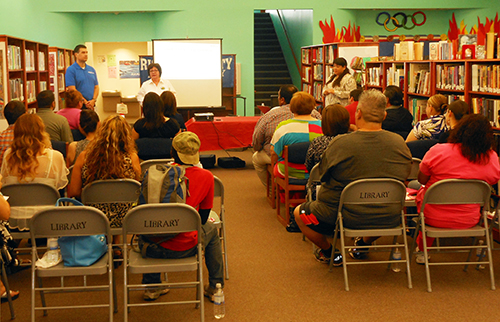 Other examples of the library's efforts to support economic development in this small community include partnering with the University of Texas Rio Grande Valley on small business development, as well as offering workshops on counseling and payroll compliance and a recent seminar on Financing Options for Small Business.
The staff of six, including Fultz, are all full time, and with the many changes over the years, and new workforce initiatives in particular, she says "You realize that you can't do it all if you don't have a good staff. We're all in this together, and they've all stepped up."
For their work, Fultz and the library have been recognized numerous times. They were named Texas Library Innovators in the category of Small Public Library from TSLAC in 2012. In September 2013, city commissioners in Rio Grande City recognized Fultz for her work in the area of child literacy and community involvement, and, in December 2015, Fultz received a Special Recognition Award for bringing distinction to the city at the Rio Grande City Longevity Awards and Employee Banquet. Fultz was even the selected by the parade marshal at a city 2012 Christmas parade by the RGC Chamber of Commerce!
But accolades are decidedly a happy outcome and not the driving force for Fultz. "This is my town. I always thought, if was going to come back it would be to make a difference. I love my job just as much today as when I started. It's changing and we have to change with it."
2019 Accolade Update!
The Rio Grande City Library received both the 2017 and 2018 Achievement of Excellence in Libraries Award from the Texas Municipal Library Directors Association. Of 548 public library systems in Texas, Rio Grande City Public Library is one of only 51 to have received the 2018 award, placing them in the top 10% of all public libraries in the state.
And Norma Fultz was inducted in the 2019 Rio Grande Valley Walk of Fame, recognizing her for her achievements and significant civic service contributions to the community. Congratulations for all your great work and well-deserved recognition!
Photos:
Top: A street view of the Rio Grande City Public Library.
Middle: Presenters from the program Legal Tips for Small Businesses. From left: Norma Gomez Fultz, Director, RGC Public Library; Speaker Amber VanSchuyver, Attorney Texas RioGrande Legal Aid; Dr. Richard Irizarry, Director, University of Texas Rio Grande Valley (UTRGV) Starr County Campus; Balde Morales, Certified Business Advisor, UTRGV Small Business Development Center; and Hector Landez, Program Manager, UTRGV Rio South Texas Regional Procurement. 
Bottom: Patrons attend the program Basics of Payroll Compliance with from left: Balde Morales, Norma Gomez Fultz and Cristina Cantu, Business Advisor UTRGV Small Business Development Center.