Team-Building with the Amazing Library Race
Mantra Roy
/
29 July 2014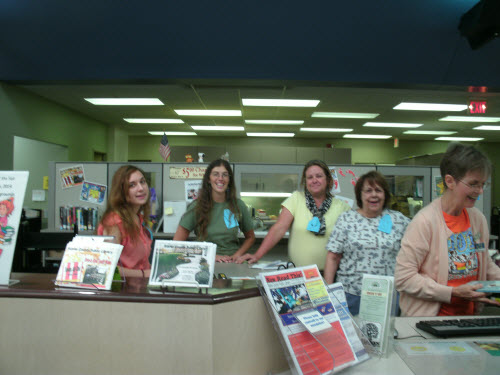 Librarians and library staff at the Starke County Public Library System (IN) recently participated in a race inside the library. Five teams led by assigned captains performed specific tasks within a limited time and had a lot of fun in the process. Sheila Urwiler, Director, with four other team members, set up a race course with five stations where the participants encountered the challenges, as well as clues, that would reflect regular duties for various library positions. The five stations were:
the Business Office - where participants had to use monopoly money to update an actual log sheet;
the Children's Department - where each team had to act out a story time;
Self-Check - where teams had to self-checkout several books and had to use the look-up function if they did not have their library cards on them;
Technical Services - where teams had to put covers and stickers on new books, and;
Circulation - where team members had to check in new books, sort them in order, and place them in the New Books area.
The stations were linked with fun "detours" such as taking team photos or dancing to "Celebrate" by Kool & Gang.
We got in touch with Sheila and chatted with her about this fun event.
WJ: Why did you plan such an activity and how did you think of it? What did you want to achieve?
SU: We heard about the idea at this year's PLA conference, and thought it would be a great opportunity to engage staff in an active team-building activity that was also fun. We wanted to increase engagement between departments and help staff to recognize what other departments do, and how it affects them and their department.
WJ: What kind of feedback did you receive from the participants?
SU: The feedback has been 100% positive. Everyone enjoyed it, even our employees who tend to have a more negative outlook. They said they learned about each other, and how important it was to work together. They said that it was fun, and were glad to do something different for our staff in-service.
WJ: Why did you plan the order of activities in the race the way you did? Would it have gone differently if Children's Services was the first activity and not Business Office?
SU: Originally, the plan was to have each group start at a different station, and move through the stations in the same order, with the hope of making sure they did not all get stuck at one spot. We wanted to try to start them at different places, so it could be an actual race - and we could have a winning team. We even purchased "winner" ribbons and had some inexpensive prizes.
When the decision was made to start everyone at basically the same place, we chose the Business Office because that had the shortest estimated time for completion.
WJ: If you were to conduct the same activity again, what would you add or change?
SU: The main thing we would have changed would be to have everyone start on different stations, to make sure they could go from challenge to challenge without having to wait so long for the group in front of them. We also would have reconsidered some of the team captains; we chose them because we wanted to include them in the planning, but other staff may have made better team leaders.
A big thanks to Sheila and the staff at Starke County Public Library System for sharing their event with us. It is evident that the more we understand what each department does in our libraries, the more we can appreciate their contributions. Events like these can help bring out the team spirit among us, especially when we get to dance and take team selfies while at work.
Looking for more innovative staff training ideas? Check out the Manage Staff Training topic page for more helpful resources. Have your own great staff activity story you'd like to share? Leave us a comment below or click on Share Your Story and tell us all about it!