Social Library, Health & Wellness Edition
Jennifer Peterson
/
07 May 2019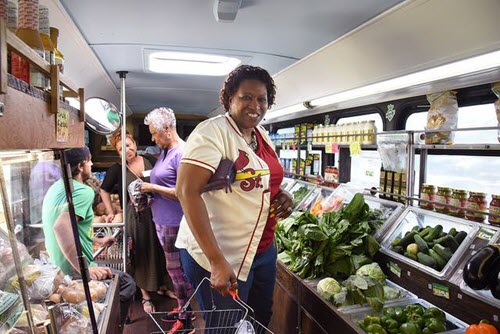 Providing a community with access to health and wellness information and programming is an critical role served by many public libraries. In this edition of the Social Library, all of the highlighted events relate to this important need. And yes, we believe a bakeware swap sits solidly in this category! Other events featured include a mobile farmer's market, a doll hospital, a device detox workshop and a health and wellness fair. If you'd like to see your library featured in an upcoming edition, please let us know via social@webjunction.org or find us on Facebook.
St. Louis County Library in Missouri announced that the St. Louis Metro Market, a mobile farmer's market, will visit the Lewis & Clark Branch every Thursday, offering fresh, affordable produce, along with recipe ideas and meal planning assistance. The kick-off event included cooking demonstrations by Red Circle, including a make-your-own salad bar; a chance to win $500 vouchers from MissouriCare; and a visit from the People's Health Center mobile clinic.
Napa County Library in California hosted a Bakeware Swap. If you don't have the space to manage a collection of bakeware to circulate, why not host a swap! Patrons were invited to bring their clean unwanted items to donate and swap them for new items.

Jaffrey Public Library in New Hampshire partnered with Fieldstone Animal Hospital and Monadnock Community Hospital to host the Monadnock Doll Hospital. "At the Monadnock Doll Hospital, located in the Jaffrey Public Library's Lab, your doll or stuffie gets the care it deserves. The hospital is open throughout the day, so check in at the waiting room and start your path to wellness today!" The young attendees learned some important health tips and were provided with hospital gowns, masks and medical supplies, including stethoscopes and bandages, as you can see in the wonderful photos.
Kenosha Public Library in Wisconsin hosted a Device Detox Workshop for adults during Choose Privacy Week. "Learn to take control of your digital life, safeguard privacy and reduce toxic build-up on devices. Bring your laptops or mobile devices." And in exploring their website, we were pleased to find the short video about the SirsiDynix Power of Libraries Award they received in 2018 for their transformative park revitalization project. Congratulations on your outstanding community leadership!

Muhlenberg Community Library in Pennsylvania hosted the 2019 Heath & Wellness Fair on Saturday, with numerous wellness vendors, kids' activities, refreshments, workshops, free chair massages, a fire truck and ambulance, a Boy Scouts' obstacle course, Chelsea the therapy dog and more! With funding support from the Friends of Berks County Public Libraries Fund of Berks County Community Foundation, the library was able to provide incentive in the form of $5 grocery gift cards, which were awarded to the first 12 adults who attend the Dance Workshop, Make Your Own Jar Salad Workshop and Self Defense Workshop. And tickets were sold for a raffle drawing, with 19 prizes to give away!
WebJunction has collected numerous other examples of health and wellness related programs and services, including through our Heatlh Happens in Libraries project (see Library Profiles) and in this collection of examples, Growing Library Garden Programs. And also visit Let's Move Libraries, a website collecting library examples that include physical activities, also on Facebook and Twitter.