Make New Ideas Routine: Purposeful Innovation Webinar Recap
Erin M. Schadt
/
16 March 2016
This week Christa Werle, Public Services Project Manager, Sno-Isle Libraries (WA), presented the enlightening webinar Purposeful Innovation: Idea Management for Libraries. Werle outlined the need for building a collaborative, transparent framework to support workflows, change, ideas and community engagement in order to create a culture of purposeful innovation.
She described a situation familiar to many library staff: you go to a conference and are inundated with innovation, a buzzword that you can't escape. At the conference, you get inspired with ideas, then overwhelmed and then back to your day-to-day business without a path to deal with all the ideas.
Webinar participants shared ideas they are considering at their library, which included online payments, pop-up libraries, 3-D printers, book bike, science activities and small business/nonprofit resource center, among many others.
So, how to create this culture of purposeful innovation and manage all those ideas?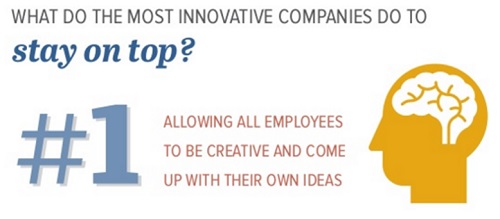 "It takes capturing that inspiration," says Werle. "Not just leaving the conference inspired and then overwhelmed and then into routine. Capturing it, accepting that fear about how to do it—because the dictionary definition of innovation is new, and new ways or new methods or new thinking often mean change, and change can be really scary. We want to provide paths for feeling overwhelmed and not get back into the routine of our jobs, but make new ideas routine."
Key to taking the leap into capturing all those ideas is to create a culture for innovation, and center to that culture is trust.
"Everyone gets along with a shared mission and goals without polarization when you have trust," explains Werle. "You can also have accountability and learning from failure without blame. So, a workplace where it's safe to say, I messed up. This isn't working. Let's fix it. Let's fix it together. When you have this trust, you can capture innovation and accept the fear."
She also said that if rules and policies are barriers to great ideas, get rid of them. For example, at Sno-Isle they are removing the requirement for a parent signature to get a card for children. They have 12,000 kids with blocked cards, so they made the change that any child can come into the library and walk away with at least one print book in order to keep kids reading.
A culture of innovation is great, but a process of innovation or a path for idea management is going to get those ideas that are sitting on a flip chart or jotted down at our desks and into a process to be vetted. Werle says that the innovation process is too important to leave to chance, and having structure and a path is how we take the fear out of innovation and make it doable.
She emphasized that there isn't a one-size-fits-all solution for managing ideas. Sno-Isle is spread out geographically with 21 locations and more than 460 employees, so having idea management software that everyone can contribute to electronically is very important. But for smaller library systems or libraries that have one location, a bulletin board with note cards may be just as effective.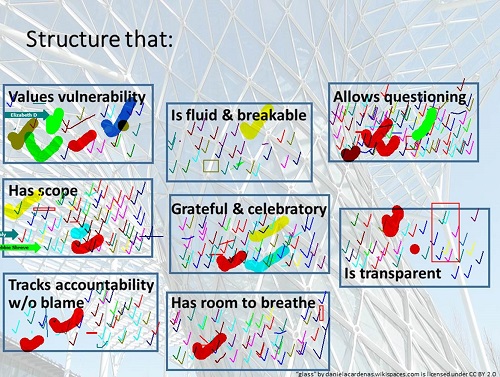 What it comes down to is having a way to generate new and creative ideas, and a structure to select the most promising ideas. Scope, transparency, accountability without blame, celebratory were some of the characteristics important to that structure. (See the slide at right for more on that structure and what webinar participants see as important at their libraries.)

This isn't a suggestion box, rather this is process and platform. Below are the questions that staff at Sno-Isle should consider and answer when they submit their idea, and Werle was clear that management did not create the questions nor do they have a role in enforcing them at the first decision point in the process, which is a peer review stage.
What is the demand for this idea and how does it benefit our strategic plan?
What outcome (change in the customer experience) could be measured for this idea?
Is the impact of this idea found locally, regionally, or system-wide?
What or who inspired this idea and who have you already talked to about it?
Once you can answer these questions, she says the idea has strategic readiness. Having criteria also made it possible for reviewers to have a focus.
She shared lessons learned at Sno-Isle and shared the process map (visual flowchart) for their system, emphasizing again that this is what works for them not all.
The webinar Purposeful Innovation: Idea Management for Libraries was rich with much more information and advice, and can be watched anytime in our archives. The page also has slides, chat, captions, a learner guide and related resources.