New York State Library Provides Opioid Overdose Guidance to All Libraries in the State
WebJunction
/
04 April 2019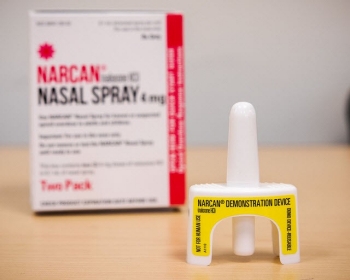 In New York, state law was recently changed to allow public libraries to administer naloxone, the opioid overdose reversal drug. This prompted the New York State Library and several partnering organizations to collaborate in developing guidance, resources and technical assistance to support New York's 756 public and association libraries in their efforts to develop formal programs to address the growing opioid overdose crisis in local communities across the State.  
Frank Rees, Library Development Specialist, is leading the State Library's efforts on this statewide partnership initiative. The New York State Library, the State Education Department, the State Department of Health, the New York Library Association, the Public Library System Directors Organization, and the Harm Reduction Coalition created the guidance and the State Library is making it available to the public on its website. The guidance documents outline the policies and procedures needed for a library to administer naloxone nasally. New York State Library staff and partner organizations have disseminated this information widely throughout the state.
After surveying libraries on the uptake and use of the resources, the State Library discovered that most libraries are not implementing formal opioid overdose prevention programs. Instead they are implementing a Good Samaritan program where interested individual staffers voluntarily receive training on administering naloxone. Libraries indicated they are taking the Good Samaritan approach because of liability concerns with implementing a full program and fear of creating a public perception that their library building is a safe haven for drug addicts. In response to the survey findings, the State Library and a committee composed of several public library system directors are reevaluating all of the materials on the website with an eye to creating more tools and guidance documents for those who are employing the Good Samaritan approach. The goal is to support libraries in implementing the Good Samaritan approach by developing more tools and resources like those developed for formal naloxone administration programs. The State Library hopes that this work will be completed later this year. Frank reflects on this approach by sharing, "Even though some libraries are concerned about creating a perception for the general public that their library isn't a safe space, library leaders in New York are moving forward
with implementation of strategies to address this serious health challenge because they want to save lives."
There are a number of libraries and library systems in New York State who have success stories to share. For example, the Suffolk Cooperative Library System on Long Island now has naloxone kits available for use at all 62 Suffolk County libraries and over 200 employees have been trained to administer naloxone. Since June 2017, library employees in Suffolk County have successfully reversed at least six opioid overdoses through administering naloxone. In Southeastern New York, Middletown Thrall Library (Orange County) has increased their security staffing, checks patrons for signs of possible overdose, implements frequent bathroom wellness checks, and has trained library staff in naloxone administration.
---
The project, Public Libraries Respond to the Opioid Crisis with their Communities, is made possible with funding from the Institute of Museum and Library Services. More information about the project and activities is available through WebJunction.