Library Partnership Saves Family From Eviction, Secures Over $7K in Unpaid Unemployment Benefits
New Orleans Public Library
/
20 October 2021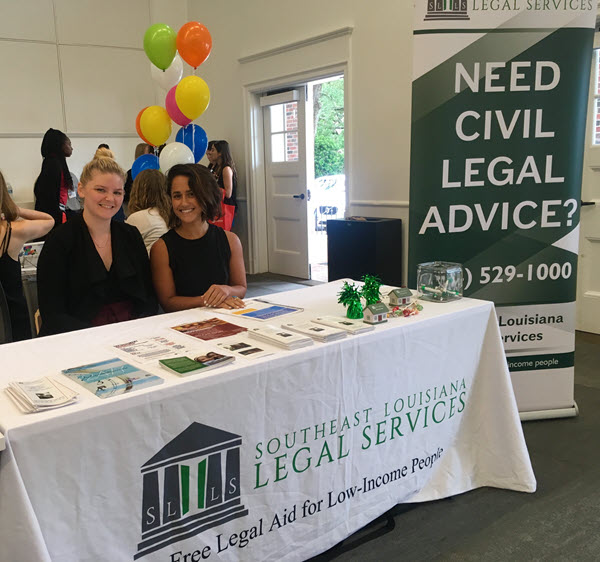 Originally published on October 22, 2020, republished here with permission from New Orleans Public Library.
Facing eviction, temporarily out of work, and with no stable income, Theresa Morgan was at her wit's end, desperate to keep a roof over the heads of her four children, until she learned she could find help in a seemingly unlikely place – the Library.
Since July (2020), the Library has been partnering with Southeast Louisiana Legal Services (SLLS) to offer free Virtual Legal Clinics to eligible Library users twice a month, focusing on assisting low-income families and individuals with civil legal issues.
Morgan, whose name has been changed in this article to protect her privacy, has been separated from her husband for several years. She temporarily lost her job due to the COVID-19 Pandemic and was left with no income due, to a problem with her unemployment benefits. Morgan heard about the SLLS clinics on the local news, and called the Library right away.
Soon after signing up for the clinic, Morgan talked with an SLLS intake worker who determined she was eligible for immediate help, due to her eviction emergency. She was quickly connected with an SLLS housing attorney, who convinced her landlord to work out a payment plan and accept rental assistance, halting the eviction and saving Morgan and her family their home.
The housing attorney then connected Morgan with another attorney, specializing in unemployment compensation issues, who worked diligently to get the $7,870 Morgan was owed.
A short time later, she was called back to work with reduced hours. Morgan said she was thrilled to know that even though she is working less than before the pandemic, she can continue providing her family with a home and food on the table. Without the Library and SLLS, Morgan said she wouldn't have that peace of mind.   
Laura Tuggle is the executive director of SLLS and said stories like Morgan's are a great example of why it is important for them to partner with libraries.
"Partnering with the Library just makes so much sense," Tuggle said. "Libraries are naturally a place people go to for information. Not only that, but they are so often a pillar of the community, and one that people trust."
SLLS was working with the Library prior to the COVID-19 Pandemic to provide in-person legal clinics, which Tuggle said were always a success, for those same reasons.
During the pandemic, Tuggle said their services are arguably more important than ever, so while they were forced to suspend their in-person clinics, stopping them outright was not an option.
"We were thinking about our trusted community partners, and the Library immediately came to mind," Tuggle explained. "So we reached out to the person we worked with before COVID, and asked them if the Library would be interested in figuring out a way to reach the community in a safe way. Which is how we came up with the virtual clinics, and we've been so pleased with the response we've gotten."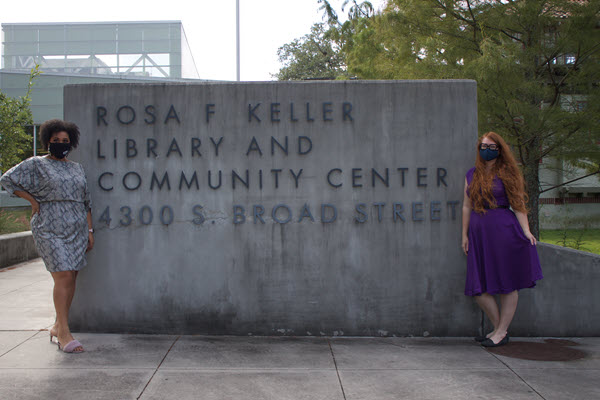 Cydney Menina works for SLLS and was integral to getting the program running, alongside Rachel Bailey, the assistant manager at Rosa F. Keller Library & Community Center — where many in-person clinics were held — and Diana Issokson, a library associate at Nora Navra Library, who worked with SLLS in the past.
Since July, the Library has connected almost 100 people with SLLS attorneys for help regarding civil legal issues including evictions, landlord-tenant disputes, federal tax issues, employment, public benefits, foreclosures, bankruptcies, consumer issues, divorces, and more.
"Right now, more people are out of work than ever. More people are depending on unemployment and navigate public benefits. Eviction court was stopped for awhile, but people were still facing housing problems or issues with landlords," Tuggle said. "We're so grateful that we've been able to make the transition to virtual clinics, and we're thankful for partners like the Library who make it possible for us to reach those who really need us."
Their successful partnership with the Library in New Orleans inspired Tuggle to explore opportunities within other public library systems, leading to virtual collaborations with St. Bernard Parish Library, St. Charles Parish Library, East Baton Rouge Parish Library, and more.
While Tuggle looks forward to a day when they can get back inside libraries and connect with their clients in person, she said she hopes to keep the virtual clinics an option as well.
"I refuse to use the term silver lining when it comes to COVID, but I will say that we had never considered connecting with clients in this format before, and I think we will continue to offer it in the future," Tuggle said. "In some ways, it eliminates things like transportation barriers and allows us to cast a wider net for people to use our services."
While most of the clinics are conducted via Zoom, clients also have the option to meet with SLLS over the phone.
In addition to SLLS, Library users seeking legal help can find it through e-resources like Gale Legal Forms, an online database with thousands of official documents covering hundreds of legal subjects and issues. Library card holders can download and explore them for free, as well as access in-depth legal Q&As, a law digest, legal definitions, and a local attorney directory.
Plus, the Library is participating in the Louisiana State Bar Association's Lawyers & Libraries in honor of National Pro Bono Week, which is celebrated October 26 through October 30. Through this partnership, the Library is hosting [in 2020] three webinars focusing on employment law on Monday, October 26, housing and evictions on Wednesday, October 28, and wills and succession on Friday, October 30. Each webinar will be held from 12-1pm.
Tuggle said she thinks it's wonderful the Library is invested in providing resources and services to insure that every member of the community has access to representation, regardless of their income.
"No one should be kicked out of their home or be blocked from their public benefits because they can't afford an attorney. We know the Library shares our mission to ensure equal access to resources for all, and that is another reason we are proud to have them as a partner," she said.
More information about Southeast Louisiana Legal Services can be found here and Lawyers & Libraries here.