Librarians Who Wikipedia: Jean King, West Hempstead Public Library
Monika Sengul-Jones, OCLC Wikipedian-in-Residence
/
08 February 2018
Wikipedia + Libraries: Better Together is an OCLC project that is building bridges between public libraries and Wikipedia. In the fall of 2017, WebJunction ran a nine-week online training program for US public library staff. Librarians Who Wikipedia is our series of interviews with library staff who engage with Wikipedia.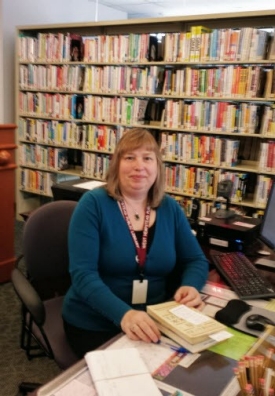 When Jean King, an adult reference librarian at West Hempstead Public Library, registered for the Wikipedia + Libraries: Better Together online training course, she'd never edited Wikipedia before. "It's a popular reference that frequently comes up in internet searches," she said. "That's all I knew." King, who was a journalist before her 20-year tenure in libraries, was curious about accuracy. It wasn't long before she was applying her learnings about Wikipedia to library work. Her post-course plan was to continue to edit from the reference desk. We caught up with King to find out how that's going, and see what advice she has for other library staff just getting started.
Editing Wikipedia at the reference desk, tell us how do you do it?
I just do it when I can, I weave it in. I edit in pieces. I know the articles I'm working on and when I know things are going to be slower, I'll do the research. I'll print out newspaper or journal articles—once in a while, I interloan books on my topic—I'll highlight and take notes on what I want to use. Then, often at another time, I'll use those references to edit.
As you know, the #1lib1ref campaign is underway. One of the hardest parts is figuring out where to get started. How do you decide what to edit?
I didn't use the citation hunt tool. Well, I did look at it. But the topics that came up … I didn't even know where to begin. Instead, I got started during the course when I got an email that a nearby Japanese-style garden was reopening after being closed for almost two years. Well, I thought, I've been there, I have photos and it's open again. Let me try and put something about this garden in Wikipedia. There was an article, but it had no references (article development as of October 19, before Jean began editing). I started researching and digging deeper. The garden has a history--it started off as part of a private estate and has switched ownership a couple of times. I've now been improving the article since October.
Start local, that was right for me. And the thing is, once you get started, you'll find more things to do, more things to think about. Oh wow, you'll say, look at this! Then just go on from there.
What's it like working on existing articles?
It's hard to dig up citations for another person's specific claim. Time consuming, like a detective job. I have only been able to find citations for some claims, and I had to search and search to do it.
With underdeveloped articles, there's room to add new information. Which also takes effort, to surface new, relevant information from sources and to paraphrase the information succinctly. Citing all your claims, all your information in an article per Wikipedia's sentence-by-sentence reference style, that's time-consuming. But accuracy is important. I want to be sure that the reader can find where I got the information, so I take care to include the correct source for all the information.
You were a journalist before you worked in libraries, do you see overlaps in the work?
There are. I am impressed with Wikipedia's focus on neutral point of view. I didn't realize this was a central pillar.
A neutral point of view is helpful for patrons using Wikipedia to get information. When you are editing information about a topic, you aim to be balanced. This can, of course, be tricky. On Wikipedia you don't want to weigh information too much one way or another.
We saw examples of articles of articles that are skewed, depending on the sources and development. Readers need to examine the origin of the sources in an article.
How does editing fit in with your work as a reference librarian?
I like knowing that I am making Wikipedia articles more reliable, even if I am doing it on a small scale. I like that I can add sources that are credible and I am able to find information using my databases that others don't have immediate access to. The newspapers that I use here can improve coverage of local topics. I really like that—as an individual—I can make improvements on my own schedule.
Editing seems to be the way to reach out to people who are searching on the internet. People often start their research on their own on personal devices or home computers. They're not necessarily coming to the reference desk. Editing Wikipedia is helpful in general. I can bring bits and pieces of information together from my library, edit and share that out.
What would you say to other librarians who are thinking about getting started with Wikipedia?
Start with an article that you are curious about and where you'll have access to reference information. Once you've gotten started, you will see that it's not all that difficult. You will be more confident to keep going. We learned in the course that you are not going to break anything. And, well, you can do it! Give it a try! I find Wikipedia editing is quite enjoyable. You get a feeling of satisfaction when you see the article grow over time; you're like, wow, it's really turned into something, and I did this.