A Slice of Maker Pie: Stories from Three Learner Labs
Jenny Powell
/
17 November 2014
Think about the last time you ordered pizza and the numerous considerations that influenced your decisions. You may have weighed surroundings including dine-in versus carry-out or perhaps delivery, contemplated crust style and toppings, and evaluated the number of servings needed to satisfy everyone's appetite - all while ensuring that you stayed within budget. There were likely multiple configurations that impacted your overall dining experience and framed opinions toward future purchases.
In parallel, I recently chatted with three libraries who navigated a more serious route toward which slice of 'maker pie' would be most palatable to their communities and staff. Each one offers a distinct perspective based on library attributes and community needs, and openly shares their personal journey in selecting the appropriate environment and the foundation on which to build their digital media lab, teen hub or makerspace.
---
Tim Miller, Branch Manager - Simla, Colorado
Simla Branch – Pines and Plains Libraries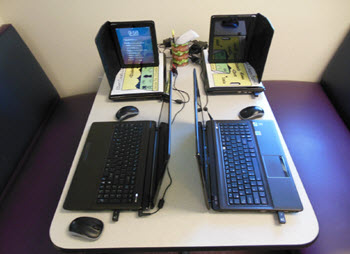 The Simla Branch of Elbert County District Library is a small, one room 2,000 square foot library, dictating the need for portability with room to move and to grow. The emerging movement of makers caught Tim Miller's eye and launched his interest in learning labs. "I'm not sure what I saw as the end outcome. There was no clear path and the opportunities backed into our need", he explains.
Miller read the book "Anarchist in the Library: How the Clash Between Freedom and Control is Hacking the Real World and Crashing the System" by Siva Vaidhyanathan and became very inspired. He also read "Makers" by Cory Doctorow, a YA author, further supporting his desire to create a unique experience. Prior to Simla, Miller worked at the Douglas County Library and became inspired by Jamie LaRue, citing multiple reasons to explore digital labs and makerspaces.
Miller expressed "This has been a very personal journey for me. I really enjoy electronics, am a musician and a collaborator, and this mission became actualized through the library." He also shares an experience with a social media site called hitREcord', run by actor Joseph Gordon Levitt, an open production site for creative types where anyone can remix. "I created a punk song and another artist did a show tune overlay with digital drums, creating a radical electronic version. It sounded like a zombie musical. For me, this made me personally aware of distance collaboration."
In the Simla library, Miller enjoys exploration and collaboration based on informal learning, with no concrete decisions or plans. Approximately 50% of their marketing and programming is deemed toward teens, but targets adults as well. Miller recognizes that local youth are a tough niche and often their free time is fragmented and trumped by sports, 4-H or church, so they need a good reason to come to the library. "With arts and musical programming dying out in many schools, where can they get exposure?" he asks. He went on to express that given the setting, critical thinking versus creative thinking is extremely hard to communicate to his rural culture.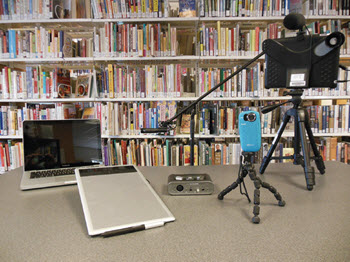 To build the lab, Miller pursued a BTOP grant to purchase digital media equipment and a Colorado state grant to help them maximize their potential. The branch contained eight laptops with business applications and 4 iPads locked away prior to Miller's arrival and no one knew of their availability. Instantly, they were repurposed for use in the labs, affording the addition of GarageBand and Moviemaker software, along with open source and tech savvy easy-to-use products. He also elected to move toward CreationStation and digital media.
Additionally, Simla's lab activities include stop motion animation workshops and looking to other libraries to learn what they are doing. The library desires to add a 3D printer and they are contemplating the addition of Lego Mindstorms, Arduino, Raspberry Pi , circuits and robotics. "The problem, if it is a problem, is that this gets everyone thinking and we want more – like one gigantic playroom except we accomplish things too", he adds. He also confides they are in a constant state of setting up, looking at and determining how to do, remarking "libraries that do this need to be flexible."
Locals have taken advantage of many tools that support their business and the infrastructure of the community. Miller explains that the Historical Society records oral histories using the equipment and Simla's Weather Underground station uses hardware and creates training videos. The Hen House, a local restaurant utilizes the equipment to create menus, and often the library Skypes with authors and creates personal photos for patrons. "Helping people is important whether it's through having this equipment available, teaching children, getting people comfortable with technology or giving freedom and encouragement" he notes.
Miller cautions that technology intimidates and this is a barrier they work through continually, not only with participants, but with staff. They encourage people to use the items, browse, and become comfortable. "Our stuff is their stuff", he says, "and you need to coach staff to sell services. They need to be salespeople and talk up benefits, uses, and the 'why' they need this."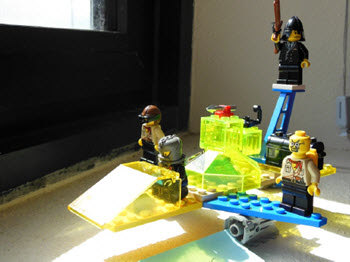 So, what does Miller recommend as his go-to resources for peer libraries considering digital labs? Get online and plan to spend lots of time looking at other libraries or makerspace shopping sites for an idea of the types of hardware available. Then investigate what things do, and determine if you need or might use any of that. Remember to select low-tech items for new exposure and something more meaningful for those who really have a knack and want to explore more. Experience organic opportunities and make or do something and try it out. Easy tools include an invention kit from Makeymakey (example: hook bananas up to a circuit,) the Make Magazine on Google+, and Makershed, which has an online store for ideas of easy-to-use items. For ideas, Miller also depends on ALA's Think Tank.
In the future, the library intends to look into the scope of education, careers, learning skills, participatory learning environments and tools to facilitate learning. Miller concludes "you've got to have a passion toward learning, making change and just doing!"
---
Mary Glendening, Director - Lima, PA (Philly suburbs)
Middletown Free Library | CreateSpace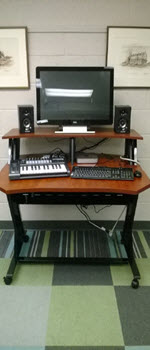 Mary Glendening had been at the Middletown Free Library only one month when a board member and owner of a small company involved with Arduino became interested in the maker movement for the purpose of developing new skills and expressing creativity. "I really didn't have a lot of knowledge to go on at this point and spent a lot of time looking up info online about other libraries", she confesses. The library's multi-purpose room was already available and could be used to store all lab and maker equipment.
"My major point of interest was YouMedia via Chicago Public Library, though they are very large and different from us. Our youth service coordinator suggested pursuing the LSTA grant, which we were awarded and purchased equipment with the funds," she explained. She goes on to share there were no outward surveys, focus groups or 'asking' before the grant to justify the need, but they did utilize Survey Monkey following the grant to hone in on what should be should done and purchased.
Given the one time funding, Glendening admits they really had to think about their immediate service area of 15,000 and purchases, which included two Mac Minis, a Lenovo ThinkStationC30, photo scanner and large format printer, drawing tablets, two ghost action videos, green screen kits, and tabletop movie making kits. Their makerspace includes a 3D Makerbot printer, two Silhouette craft cutters, sewing machines, LittleBits, Raspberry Pi, Arduino and Minecraft circuits. Additionally, CreateSpace was awarded a small MakerCamp grant, geared toward ages 14-18 and they determined a makerspace and digital media lab could co-exist.
Glendening is careful to point out that in looking at other libraries, they noticed many had either/or, but not both. "We find we hook more kids with the digital media, but with hands on, they learn they appreciate both [making]. In order to use our technical equipment, we received minimal outside training due to the fact my husband is an audio engineer and is employed at the local vocational tech school. His connection has been instrumental in helping to garner interest with the new principal there and I'm not sure how we could have learned otherwise."
Staffing is mostly handled by library personnel, though a professional illustrator visited the library and learned the automation software in order to conduct training for patrons. While they noticed there was not a huge turnout, Glendening admits that quality matters and there were dedicated attendees who truly wanted to learn. "This is new thinking, as we've typically measured success in the number of attendees" she remarks.
Minecraft In Real Life, Coder Dojo, Hour of Code, CuriosityHacked, LittleBits, audio and video workshops, digital drawing and animation, and Young Makers geared toward ages 8-18 are all a hit at the library and the hands-on environment also attracts the homeschooling community. She reveals "We don't necessarily need a dedicated space for this because much is in the mind and is portable. We are pleased we decided to pursue this."
As a key resource, Glendening admits she refers often to Tony Wagner's Creating Innovators. "I relied on this book heavily, as he interviewed people at Google and Apple which goes to the core of what type of people they are hiring --- many with the same skills as the young people who become involved in 'making'. I'm hopeful these skills will help the people who come in to MFL. In a way, we are 'winging it' and adapting as we go", she explains. Additional resources the library turns to include Exploratorium, Coursesera, the social entrepreneurship company partnering with Stanford University, and www.facebook.com/groups/librarymaker. She also advises peer libraries to seek out a MakersFaire to watch participants make something while noticing their inspiration and conversation that it sparks.
When asked what challenges the library has experienced, Glendening is quick to disclose that the hardest part for her is that she's not a teacher and doesn't always know if she is connecting. She explains "I teach myself things then roll it out to participants and often, we don't always get feedback, though we see movement happening. Much of what we do is self-directed and the kids are in charge. You really don't need to be a teacher, but to have someone present." She went on share how wonderful it is to see boys ages 8-12 with sewing machines working with textiles such as light up thread and notes the cool factor overpowers their fears or perhaps stigmas of operating a sewing machine.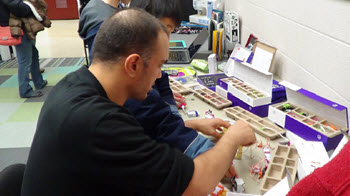 Noting that CreateSpace has uncovered a new realm and invited in the youth segment which hadn't been captured, Glendening proudly offers advice to peer libraries. She suggests treating your space, even if portable, as a separate entity, commenting "yes, it's still the library, yet, it isn't." Too, it is important to explore single resources (e.g. websites and books), and is a great necessity to collaborate. Consider both 'teaching how' and 'developing projects' --- the two are very different and it is easy to miss the 'how' and look at what to make or experience digitally. While projects are often self led by teens, it is helpful to have a framework or design in place to begin to lead and let them take over --- they don't actually follow. It's more important to explore the medium than to think about the end product. "Here, we enjoy our failures and then ask how we can make things work. It is okay when things don't go well and we've learned to accept different turns and to have it still be fun" she adds.
For now, Glendening finds that 'making' and maintaining their digital lab requires continual resources and a commitment of time to get started, learn, enact, and manage, but is well worth seeing the positives that come out of it ---creativity, fun, collaboration and freedom to create.
---
Kathy Robins, Library Information Systems Coordinator - Billings, MT
Billings Public Library | TECH - Teen Education and Creation Hub 
The Billings Public Library Teen Education and Creation Hub (TECH) began as the result of a new staff librarian who noticed the library was not effectively engaging teens. Though not assigned to the YA area, this young librarian proposed starting a blog and creating a webpage for teens, and then discovered the Learning Labs in Libraries and Museum grant available from the McArthur Foundation.
Kathy Robins has four sons and personally understands that technology helped them through their life but ironically notes "I didn't necessarily think about it here ". Before pursuing the lab, Robins approached the library's foundation and board to seek permission, citing 'technology is a neat idea'. "It was something I did and didn't want to do," she explains, acknowledging they were in the process of building a new library and already had approval for the new floor plan. While plans designated a space for a teen reading room, there was no immediate capacity for the TECH lab. After researching and looking at other libraries and maker sites, it made sense to Robins to pursue, especially since the grant was nearly $100,000.
"We really backed into the project", Robins notes, and as building plans were being revisited in the library, their community was also changing. An alternative high school was closing and students --many of whom were aged 19 and 20, were given the option of going back to regular high school or just dropping out. This became an attraction for this group to learn skills and keep them focused. "Many of those kids from the alternative school are excited to learn again and they are staying in school and pursuing careers. They learn as they go and are not afraid to explore", explains Robins.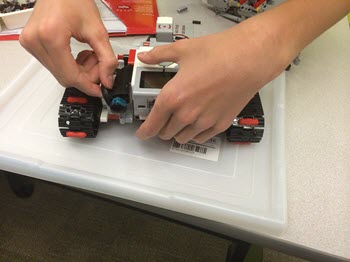 TECH, which opened in June '14, is an 800 square foot lab featuring maker activities and digital learning with some of the newest technology. Students can create music, podcasts, art, robots, light crafts, maker activities and is considered a STEAM lab, with the inclusion of arts. The lab doesn't host projects that include welding, sawing or 'dirty' activities because of the setup, but teens in this metropolitan area of 165,000 residents enjoy the second space with reading, computers and sitting area. The library uses mobile carts to house many of the lab items including a portable sound booth, midi board and 5 desktop MACs.
Staffing is a mixture of people from the library and community, and because BPL is part of the city government, paid support cannot easily be added which has precipitated some stress. Robins reports they were able to hire two Vistas placed in a marketing outreach role, generally geared toward speaking to kids, identifying donors, and ideation and research of workshops appropriate for students. She admits they delayed opening the lab by several months to better prepare staff and outsiders for a 'teacher role' which also meant asking for a grant delay from the McArthur Foundation, which was approved.
The grant requires nearly 25 grantees to attend monthly online meetings and periodic national convenings, which have provided an assortment of key learnings. Robins explains "it has been more than worthwhile being able to share, ask questions and touch samples. We are not learning all this on our own and have a network to share, which has been wonderful. YouMedia of Chicago Public Library has been a large part of our support network and for every participant it seems to be a work in progress."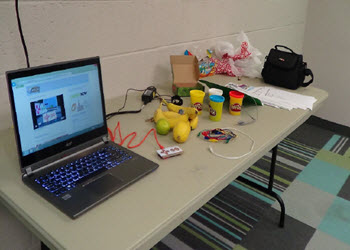 Community partnerships also support TECH, and they have invited agencies including the YMCA, Human Resources Development Council, United Way and the Native American Group to come and use the space. To maintain a fresh perspective, it was decided no one would be the 'lab owner' so they could keep the inner workings organic. To identify specific needs and desires, TECH has partnered with area schools to have access to students and also created a steering committee. Robins points out that this committee and the library's foundation identify areas where specific support is needed from the local TV stations, colleges and key individuals, citing this as a best practice learned through grant cohorts. They have included a tech trainer for teachers, a teacher who has relationships with homeless children (pointing to socioeconomic access where there is a higher danger of dropouts), a representative from Native American Education (Billing's largest minority population which represents up to 20% of the total population), and they turn to a variety of local business leaders.
In the first two months of operation, attendance exploded with a 23% increase in the number of teens. In comparison, other teen programs never realized that large of an increase in a six-month period for the more successful programs. To serve this young segment, the library beefed up staff geared to help coordinate activities and continues to seek donations and provide internships to college students by offering a small stipend. Robins explains this can go on their resume and is a sweet spot which doesn't seem like work since this falls into their age group, and supports their natural tendencies and abilities. She adds "It isn't like the typical library setting and this requires more 'security' – not so much in the 'safe' way, but in a guiding and reassuring way."
What advice does Robins offer to those who are thinking about creating a lab? For starters, she encourages libraries to look for informal or formal partners and don't go this alone. Once the space is set up, conduct open houses --- don't just show the space, but show it in use. Be sure to hire someone who is good with teens and has appropriate training, noting they found that with challenged teens, especially when they are doing a hands-on activity, they often will strike up personal conversations and workers need to know how to be caring, yet not get entangled in those personal lives.
Robins expresses "I sincerely hope more libraries will investigate creating similar spaces for their teens and patrons in the future. This has not only been life changing for our library and staff, but for the young folks in our community who come here. We were in the right place at the right time, and we would have probably not pursued it anytime soon --- simply because we didn't recognize the need or have appropriate and in-depth knowledge about spaces like these. This absolutely came from having 'new blood' walk into our library and point out where we were lacking. I suppose too, we didn't realize that not having teens was such an issue. We're quite thankful now."