Training Library Staff Around the World
Zola Maddison
/
31 January 2013
When thinking about how we can improve library staff training and opportunities for learning, it's easy to feel that the challenges meeting our goals are overwhelming. We are facing stretched budgets and reduced staff, often large distances between libraries, and occasionally unmotivated learners. While these challenges can feel daunting, the good news is we are not alone in our efforts to move past them. Around the world, library trainers are finding innovative solutions to engage and energize their library staff in learning opportunities.  Below are some common training challenges with examples of solutions from trainers around the world:
Overcoming geographic barriers
In Mexico, face-to-face training is a very expensive way to train. We could train only 20 percent of librarians, while librarians in remote locations were not trained because of the travel expense. To address this problem, the General Direction to Public Libraries (DGB, Spanish acronym) created new versions of basic courses using two distance education methods: a DVD tutorial with a learning guide that can play in any DVD player or computer, and an online distance education model that uses Moodle for librarians with an Internet connection (either their own or the library's).
The new distance training methods allow DGB to train more than 50 percent of librarians annually, depending on the amount of materials available for distribution and the online courses offered and attended. These methods also allow DGB to offer new course topics beyond the "Basic Function of the Public Library" that we were previously limited to with face-to-face training.
Understanding library staff training needs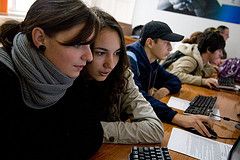 In order to perform the training needs assessment in Romania, we use a practical approach to understanding staff needs. We conduct interviews with librarians who have participated in the pilot program, use questionnaires to understand needed competencies, hold focus groups with librarians, and conduct interviews with library users. We have also asked experts in the field and the community what they would envisage a librarian may need, and the types of competencies librarians need most in performing their work and bringing more members of the community to the library. Finally, we consulted a list of IT competencies drafted by experts and compared these to the competencies that were documented by the librarians who already used computers in their work. Where these lists matched, we determined that these are the competencies we need to train on.
When we first asked librarians the competencies they would need, our survey results were inconclusive because librarians considered all of the competencies we listed as most important and reported that their current level of proficiency was low. With these results, we would have needed the time and resources to design a training course on 20 sets of competencies! As a result, we decided to ask a consultant to help us. She provided a list of activities a librarian would do in the US. Then we asked Romanian librarians about these activities during a series of focus groups, using both future-oriented questions and questions related to their attitudes on proposed changes in their work patterns. This approach gave us quality findings that allow us to set the objectives for training. And, an unexpected benefit to building our courses based on focus group needs assessments was that the librarians were happy to be asked about their activities, were open to our questions, and became more engaged in training.
Finding the right format to deliver training
During an initial survey of Lithuanian librarians' needs, we found that 69% preferred face-to-face training classes, 28% preferred training in the workplace, and only 5% preferred distance learning. A primary factor in responses was the age of the librarians. The survey shows that 34 percent of responding librarians are older than 50, and we've found that distance learning can be challenging for older generations. Also librarians favor face-to-face training classes because they don't have to combine work and learning at the same time.
These results determined our approach to training. For all basic programs, face-to-face training was chosen. For independent learning, video lessons were created that were available in the workplace at anytime. Two distance learning programs were offered to librarians after they became familiar with technologies through a special course on distance learning. About 2,500 librarians finished face-to-face training programs, 1,150 librarians finished distance learning programs and video lessons were accessed 141,864 times. In all types of training, theory was combined with practical tasks and individual work so that skills and knowledge would be solidified and librarians would improve their understanding of how to apply the skills and knowledge in their daily work.
A few of the lessons we learned with our combined training approach include:
Although our survey showed that librarians have a negative attitude toward distance learning, there were more people in the courses than we expected. We believe this might be because we provided advance preparation for distance study and offered interesting and relevant topics.
None of the training or learning methods was more successful than others. In our opinion, all of them are equally effective according to the needs and wishes of the public.
For a higher level of e-environment interaction, smaller groups trained by tutors work best. We had one tutor train 20–25 people; it would have worked better to have fewer people in a group.
When selecting training methods, it's necessary to consult with librarians, to pay attention to their needs and wishes, and to understand the specifics of the public, including their previous experiences.
Evaluating the effectiveness of our training programs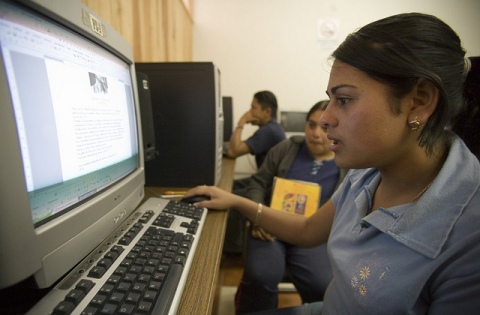 Chile uses a variety of evaluation tools to collect information about the training program aimed at improving skills and competencies among library staff.
Library staff attend a five-day training session (average length) at the regional training labs twice a year, where several courses and workshops are conducted. At the end of the week, each training participant completes an online, anonymous survey that includes questions about overall satisfaction with the training received, the trainer and perceived learning improvement.
In addition, the training department implemented an 'observation evaluation' process. This process involves a member of the training department attending the training sessions and completing an observation survey that includes questions about the trainer's use of communication skills, topic knowledge, training skills, etc. The results of that survey are discussed in-person between the observant and the trainer so that, together, they can design a short- or medium-term support plan for the trainer and/or learn about additional training needs.
The observation evaluation process is also used at the library level since regional trainers also visit libraries and attend the computer classes that library trainers provide to the community.
With this information, the Chilean training department is able to constantly assess and revise its training program in order to better meet the library staff training needs.
In each of these examples, we see library trainers assessing their current services and evaluating their implemented programs. The results have led to a better understanding of how library trainers can maximize resources and apply practical solutions that meet library staff training needs across their country, in any country.

[The library training programs in this article are part of Global Libraries country grant programs funded by the Bill & Melinda Gates Foundation. Photos of libraries are courtesy of the Bill & Melinda Gates Foundation on Flickr; World in His Hand photo courtesy of Brave Heart on Flickr.]