Employment and Training Resources for Spanish Speakers
Department of Labor, Employment and Training Administration
/
23 August 2013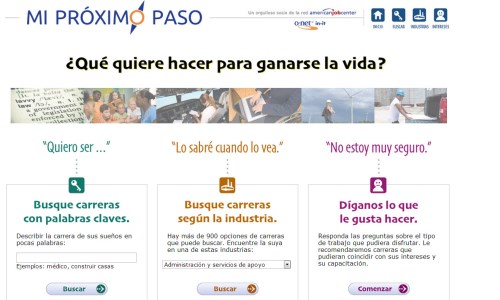 Could you use resources to help Spanish speakers with job search, training, or career exploration questions? The U .S. Department of Labor's Employment and Training Administration (DOL/ETA) offers several Spanish resources, both online and in print. Follow the links below to free products for your patron's needs. The Spanish-language versions can be accessed at the top right corner of each site.
The CareerOneStop suite of websites offers a Spanish translation feature on several products, including:
CareerOneStop also offers brochures and flyers in Spanish, describing the above and other DOL/ETA career, training, and job search resources. To download, print, and display these materials for your clients, visit http://www.careeronestop.org/Audience/Professionals/OutreachandTraining/SpanishLanguageMaterials.aspx.
WebJunction is pleased to update you on these free resource part of an ongoing collaboration with DOL/ETA and the Institute of Museum and Library Services (IMLS). In the coming months we'll be featuring other new electronic tools made available via the Department of Labor, including many of those listed in this overview resource made available on WebJunction.org. And stay tuned for details on a November 2013 webinar, featuring DOL/ETA staff as well as libraries that are supporting local workforce development efforts.
Also be sure to access the many resources made available on WebJunction.org's Workforce Services section.