Create a Culture of Learning
Zola Maddison
/
12 February 2013
Despite the fact that libraries are in the business of creating a culture of lifelong learning in our communities, we often find it next to impossible to make time for our own learning. But if we don't make time to learn and increase our professional capacity, we—and ultimately our patrons—lose out. So, what if your library made continual learning a professional expectation? What would that do for you? What would it do for the culture of your library? What impact would that make on your community? In our recent webinar Self-Directed Achievement: If you give library staff an hour, we heard how Jami Carter, Rachel Gull and Steve Peay at Tooele Public Library in Utah changed the paradigm at their library to ensure that all staff had one hour a week for continual learning.
The team at Tooele started their professional development efforts, like many libraries, with an annual, 8-hour staff learning day. However, they found that, alone, this wasn't enough to engrain an internal culture of learning. "We needed to find something that helped us improve more than once a year because we help people every single day," stated Jami. "Users are waiting on us to address our own learning to provide better services." In an effort to find professional development strategy that helped her staff meet patron needs immediately, the Tooele team developed an approach that is both consistent and agile, and offers individualized approach to staff development in a climate of constant change—Self Directed Achievement (SDA).
"The biggest way SDA has affected me is that it has changed my expectations that I have for myself. I realize that if there is something that I want to learn or change about myself, there is usually a way to incorporate that into an SDA goal. That is an empowering feeling." – Tooele staff member
In concept, SDA is a relatively simple, weekly process between a supervisor and a staff member. During their short, weekly 15-minute meetings:
The supervisor asks 3 questions:

Did you accomplish your goal last week?
If not, what got in your way?
What is your goal this week?

The staff member communicates their SDA goal for the week;
The supervisor schedules the SDA hour for their staff member;
The staff member uses their SDA hour, knowing their learning won't be interrupted;
The staff member records their learning in their training log.
The process requires staff members to come to their meetings prepared, communicate successes and challenges honestly, and remain accountable for their own learning. It also requires that supervisors actively listen, remove barriers, and find ways to encourage and guide their staff.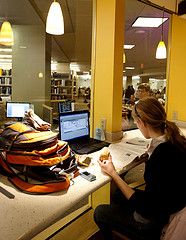 It also requires concise, achievable goals—and just knowing where to begin can sometimes be a challenge. At Tooele, they recommend that SDA goals be achievable in 1-hour (and if it's bigger than an hour, break it into smaller goals), and that the goals center on 21st century skills and/or library service skills. Their formula is: I will use (tool) to strengthen (goal statement).
When the Tooele team first began implementing SDA, they asked everyone to prepare 5 goals and then share those goals with the group. By the end of the meeting, everyone had at least 25. So in the spirit of sharing goals to inspire your own learning, here is the amazing list of goals generated by our webinar participants:
Would like to learn to use Tumblr to highlight library events
Learn about cloud computing via a state library webinar.
I will use webinars to broaden my library knowledge since I am in my first year of librarianship
I would like to be able to help patrons with all types of ebook devices.
I will use the branch Kindle to download an ebook.
Photo editing for instruction
Twitter tutorial
Creating a libguide
Learn about how to use Pinterest for my library
I will use RDA Toolkit to begin to develop a departmental workflow for books.
Research the housing department in my city via websites - to be ready for a city meeting
I will use online video instruction to learn how to use the new Integrated Library System that will be installed at our library.
How to utilize self-pickup of holds to enhance patron's experience
My goal is to obtain anymeeting software and evaluate for use at the library for book discussions
I will use SharePoint to learn about project management potential
Learning about instructional design, or assessment?
I will borrow a Library e-reader and read a book on it.
I would like to use online learning to learn Access better (probably more than one week)
I will use OCLC's website to learn how to set up OCLC WorldCat Local Quick Start for our library.
I will use Zinio to read a magazine.
Tutorial on Google Drive
Will use SimplyMaps tutorials to be better prepared to help patrons with business and demographic questions.
I will download music from Freegal
Find out about Google hangout
I would like to learn how to use Facebook to promote library programs and events, including putting in pictures and having the teens put in book reviews
Learn how to copy a database in Sharepoint
I will watch an online tutorial about Photoshop to develop better marketing materials.
Excel tutorial to better understand how to create budget spreadsheets
My staff wants to do some safety training this year, like the blood kits and fire extinguisher use and tornado drills
I will enroll in class using Universal Class that is relevant to my position.
To learn more about SDA and how to improve your library's learning culture, you can view the webinar archive and view the related resources.
[Photos courtesy of New Jersey Library Association (top) and Ohio State University Library (bottom) on Flickr.]