Create a Buzz at Events
Last Modified: 30 June 2015
Taking part in local events is instrumental toward educating the public about library funding and local needs. Use this campaign as an opportunity to get involved with events normally not represented by the library. Surprise your community and they will take notice.
Plan ahead
Many community events require registration or a small fee for space, so be sure to research and plan your event schedule ahead of time. 
Promote the event. Display information in the library and submit information to community calendars, and include updates on your Web site and on your online social networks. Use postcards as invites!  
Ask event organizers about anything you might need, such as tables and chairs, so you are prepared. Also, remember to inquire about any advertising or promotional opportunities available prior to or during the event, and what you need to provide. (For example, event brochures often include information about exhibitors.)  
Be sure to invite local media to stop by your booth or table. We recommend a short e-mail and a follow-up call prior to the event, or mail postcards.
Research approximate attendance and make a list of the materials and number of staff/volunteers you will need. (A good guideline is to have enough material for approximately 1/3 of the attendance amount.) Be sure to schedule adequate staff and volunteers, allowing time for staff breaks and rotation. 
Discuss options and make a plan for how you set up the booth/table.
Think about any additional items that might be useful during the event such as contact information for staff, printed schedule, map of the event, water, etc.
Brief staff/volunteers prior to the event about the campaign and what they should communicate to the public—also provide a printed sheet with expanded information and details about the event, including the address and a map. 
Make an impression
Arrive early for set-up of the table or booth. This process usually takes at least an hour. 

Be sure to have a staff member who is a leader of the campaign at set-up. In addition to ensuring everything goes according to plan, this leader can also brief all staff/volunteers about changes, updates, etc. 
It's beneficial to provide staff/volunteers with a printed reminder of what they should say about the awareness campaign. 

Use posters or printed signs to create a fun space. Campaign-branded table clothes and banners also draw attention to your booth.
Encourage event staff to wear campaign or library t-shirts, stickers or a name tag.
Geek boards are always a hit. Engage the public by asking them to write on them about what they geek.
Use a digital photo frame to display the campaign images and key messages.
Hold contests! The public loves to win something—especially at events. Create simple contests that allow for multiple winners throughout the event. T-shirts make great prizes! Be sure to follow contest guidelines for your state and community, and those set forth by event organizers.
While you have their attention, encourage the public to explore geekthelibrary.org, your own campaign website and related social networking sites
Give it away
Give everyone a campaign handout. 
Stickers are always a hit. Ask staff to wear some and give one to everyone who stops by the table or booth. Posters and bumper stickers are also popular giveaways.
People who love libraries love bookmarks. Print cards with local funding information that the public might not know and use a paperclip to attach a bookmark. Give them to all interested event goers.
Use biodegradable bags printed with campaign/library information for the giveaways—they help garner interest at the event as walking billboards. Make sure they are manageable for people to carry. Include something as simple as the handout, a bookmark and a piece of candy.
Document Your Success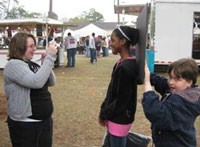 Hire a photographer or ask staff to take pictures or video, and upload them to your Flickr account, and add to the Geek the Library Flickr group.
When taking and sharing photos or video, be sure to:
Follow normal library guidelines for photography. It's a good idea to always post photo release signs around the event to make sure people are aware that photos may be taken and used for marketing purposes. 
If you take individual photos, it's important to get a signed individual photo release from each person who is photographed. (Please use our photo release documents as guides.)