Examples of Partnership Power
Last Modified: 23 June 2015
Community partnerships—of every size and shape—are an important component of your campaign. It is our hope that you can use your local campaign to build on the relationships you already have and create new promotional and collaborative bonds. Chelsea District Library in Michigan wanted to ensure that locals knew that while Geek the Library was about their library, it was a community campaign. The initial focus was on community organizations in posters and promotions, and what began as a small project working with a handful of people has, according to Marketing Coordinator Anna Cangialosi, taken on a life of its own. "Now people are calling us," she said, "And they want to include their entire staff."
Prior to launch, Cangialosi made a big effort to introduce the campaign to local organizations, explaining not only how it works, how they can take part and the mutual benefits, but also the overarching goals about shedding light on the value of the library and the need for support. This step is important, she noted, as people can get caught up in the fun of the posters. (Also, once the campaign gets rolling this step can be easily overlooked, so be sure to find ways to incorporate campaign information into your conversations as you work on specific partnership projects. For example, if you have a photo shoot set up for a group of people, take time to discuss the campaign and provide some takeaways, so that participants understand the key messages and feel empowered to push the messages forward to the rest of their organization, and friends and family.)
After photos are taken and the posters created, Cangialosi provides the organization and each individual with printed copies and a digital file. This is key. They are asked to hang the posters within the organization, she said, but also to share online—especially via social media. Cangialosi hopes that this additional direction will translate into more engagement and action in relation to the campaign, and help campaign awareness grow organically. "People really relate to the campaign and everyone is so excited to take part and share something about themselves."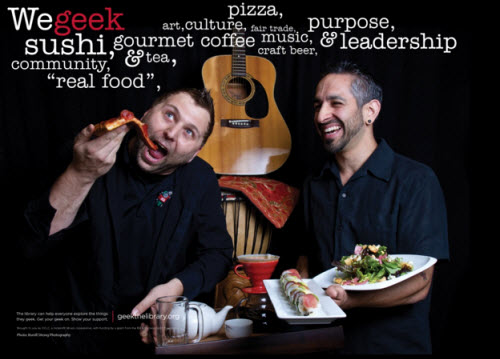 Be sure to look for partnerships beyond your usual supporters and don't be afraid to ask for help—you never know what will come of it! The Chelsea District Library team worked with a photographer to take five initial photos for launch, and that relationship morphed into support for the campaign on many levels. The photographer donated his time, and posted online about the photos and the campaign on a regular basis. He even went on to be nominated as 'Citizen of the Year' for his contributions to the library and community.
As you approach partners for your local campaign, be sure to plan ahead and utilize every interaction. Even if you are just asking an organization or an individual to be featured in posters or advertising, think about all the potential ways they could support the campaign. In doing this, you are being efficient with your time and with their time, and not missing out on any opportunities. It might be as simple as suggesting that someone hang their poster in a specific area of the building or including a mention in the company newsletter, or as substantial as asking someone to act as an ambassador for the library at an event handing out goodie bags and even speaking or writing about the campaign from their perspective.
Use your local campaign as an opportunity to grow!