Research into practice: Latino Perception of Public Libraries
Last Modified: 21 March 2012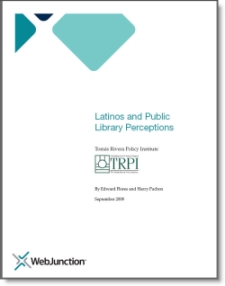 In September 2008, WebJunction published a national study in partnership with the Tomás Rivera Policy Institute exploring Latino perception of libraries. The objective was to determine how Latinos perceive public libraries to better inform library outreach to Latinos. Panelists will share the project overview, methodology, and results. Information about relevant research will also be presented along with best practices for utilizing research to inform strategic planning, advocacy, and outreach. The esteemed panel of presenters include Loida Garcia-Febo, assistant coordinator, New Americans Program and Special Services, Queens Library, and incoming REFORMA president; Kathy Sheppard, development consultant, South Carolina State Library, and South Carolina's Spanish Language Outreach coordinator; and Zola Maddison, Community Services Consultant at WebJunction.
Key Resources
Loida Garcia-Febo's Presentation
Latinos & Public Library Perceptions Report: Includes PDF of study and the Survey Instruments used in the study.
Resources from the Spanish Language Outreach Program:
Spanish Language Outreach Action Plan Guide: A template providing a step by step guide for creating an outreach action plan to help inform your outreach activities. Steps include:
Making the case
Who are your Spanish-speaking customers?
Cultural differences
Marketing
Planning an outreach activity
Activity Planning Guide: An abridged template for planning 3 outreach activities, including needs assessment, action steps, marketing and evaluation planning.
Suggested Outreach Activities: A matrix of the suggested outreach activities with links to related resources on WebJunction.

This work is licensed under a Creative Commons Attribution-Noncommercial-No Derivative Works 3.0 United States License.
This work is licensed under a &nbspCreative Commons Attribution 3.0 United States License