WebJunction's Spanish Language Outreach Online Course
Last Modified: 21 March 2012
Spanish Language Outreach Online Course
Your library may already be involved in efforts to reach out to Spanish speakers in your community, or it may just be starting outreach. In either case, WebJunction's Spanish Language Outreach Online Course will provide useful resources and tools for reaching out to Spanish speakers in your community in order to define and better meet their needs and, ultimately, to help them bridge the digital divide that separates many Spanish speakers from the benefits of information technology.
This self-paced course provides learners with information on proven marketing techniques, understanding cultural differences, providing technology training, and partnering with local community organizations serving Spanish speakers.  Learners are provided with resources, best practices, case studies, and templates to help them create an outreach action plan.  Learners can also access the Spanish Language Outreach Course Group on WebJunction, to ask questions, talk about ideas, and share resources with other library staff as they begin implementing their outreach action plans.
For more information or to get started using the online course, visit WebJunction's Online Course Catalog.  There you can enroll or view more information about the course's specific learning objectives.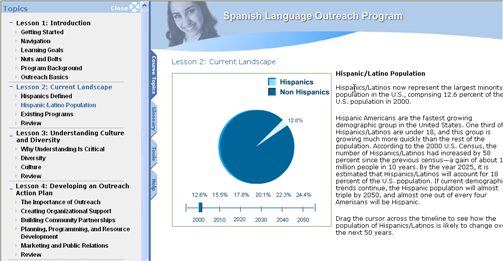 The course was developed with funding from the Bill & Melinda Gates Foundation as part of WebJunction's Spanish Language Outreach Program, a nationwide program that is partnering with state libraries to provide on-the-ground outreach workshops in 40 states and is fostering an online community of library staff committed to serving the needs of Spanish speakers.
This work is licensed under a &nbspCreative Commons Attribution 3.0 United States License